Team Secret has registered for The International 6 Open Qualifiers. Kurtis "Aui_2000" Ling and Secret's coach, Theeban "1437" Siva, appear to be listed as potential stand-ins.

According to the team's FACEIT profile, Clement "Puppey" Ivanov, Jacky "EternaLEnVy" Mao, Artour "Arteezy" Babaev, Theeban "1437" Siva, Kurtis "Aui_2000" Ling are clearly listed as "team members".
"Lorne-malvo" and "peanutpie" are potential aliases for Kanishka 'Sam' "BuLba" Sosale and Johan "pieliedie" Åström, respectively.
As stated by FACEIT's rules, "all teams will be able to register five players and two stand-ins which they will be able to use in the Closed Qualifiers".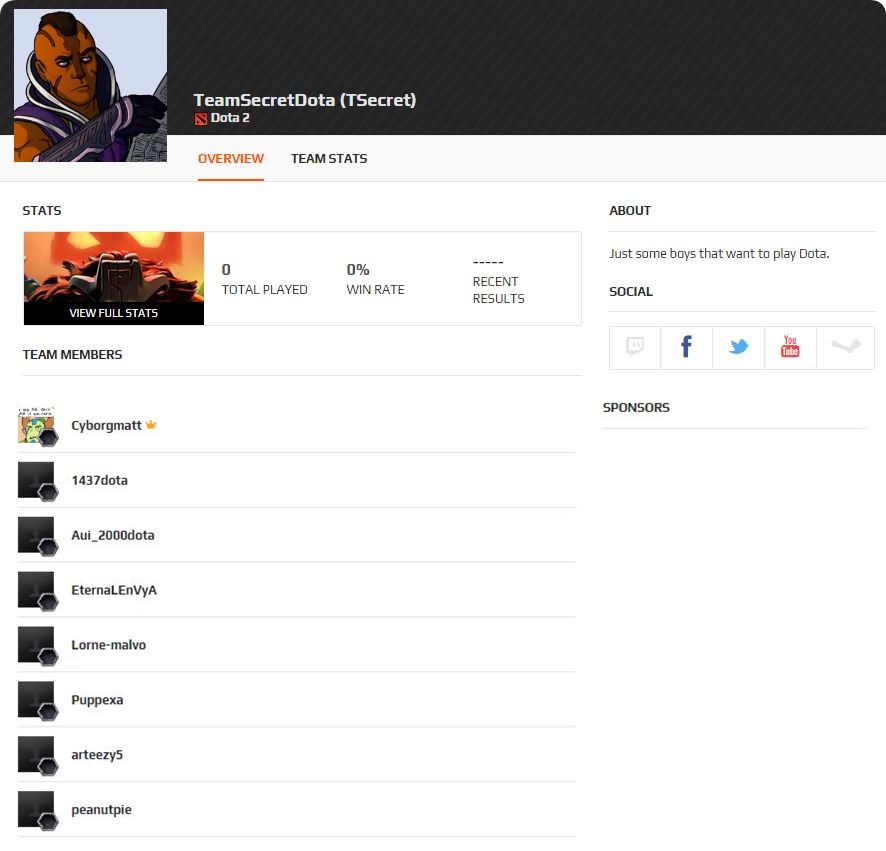 An unexpected pre-TI shuffle was set off last week, when Secret's Team Director, Kemal Sadikoglu, took to Twitter to announce Saahil "UNiVeRsE" Arora's departure to EG, in the middle of the Manila Major. Team Secret has since sought out a replacement: former EG player Kanishka 'Sam' "BuLba" Sosale. Furthermore, Kurtis "Aui_2000" Ling has been let go from EG and replaced with Ludwig "zai" Wåhlberg.
Teams hoping to receive invites to the Valve-sponsored events were required to finalize and register their rosters by March 27th. With this roster lock remaining in place until after The International 6 – the longest and most important one so far – many teams failed to keep their lineups unaltered and have thus forfeited their chances of receiving any type of invites.
Team Secret, Evil Geniuses, Polarity, Kaipi, Team Spirit, ProDotA Gaming, Infamous, TnC Gaming are some of the teams that have violated the roster lock requirements and are no longer eligible for direct invites to The International 6 or The International 6 Regional Qualifiers. In compliance with Valve's roster lock stipulations, teams that make changes to their registered rosters outside the transfer window are forced to take the long, quivering road to The International 6, through the brutal best-of-one Open Qualifiers.
The International 6 Open Qualifiers registration is now open for Europe, Southeast Asia and the Americas, on the FACEIT platform. Up to 1024 teams per region can compete for spots in the Regional Qualifiers. The Open Qualifiers will take place between June 21st-24th, followed by the Regional Qualifiers, set to begin on June 25th. All the registration details and rules have been released by the hosts, FACEIT.