The dust has cleared from the Red Bull Battle Grounds 2015 EU regional qualifier and the newest victor has emerged. Team Secret will head to the offline playoff at the Red Bull Studios in Santa Monica, where they will be joining Team Malaysia, Invictus Gaming and Hell Raisers to compete for the $75,000 prize pool.
Congrats to @TeamSecretDOTA2 on a decisive win in the Red Bull #BattleGrounds Europe Qualifier! See you in Santa Monica for playoffs!

— Red Bull ESPORTS (@redbullESPORTS) April 17, 2015
Team Secret swept through Alliance and then Ninjas in Pyjamas en-route to the grand finals. Despite drawing first blood, Alliance struggled to subdue Team Secret and fell to the Lower Brackets to face Cloud 9 who were sent there after being punished by the rising Swedish stars NiP. C9 showed their strength and pushed past Alliance to take on NiP who then ended up falling to Team Secret in the Upper Brackets. After defeating NiP, Cloud 9 were two games away from going from the bottom to the top in the series and taking the LAN spot. Team Secret had not lost a game yet in the series and were ready to prove themselves once again, sweeping through the best of three grand finals with a 2:0 decisive victory.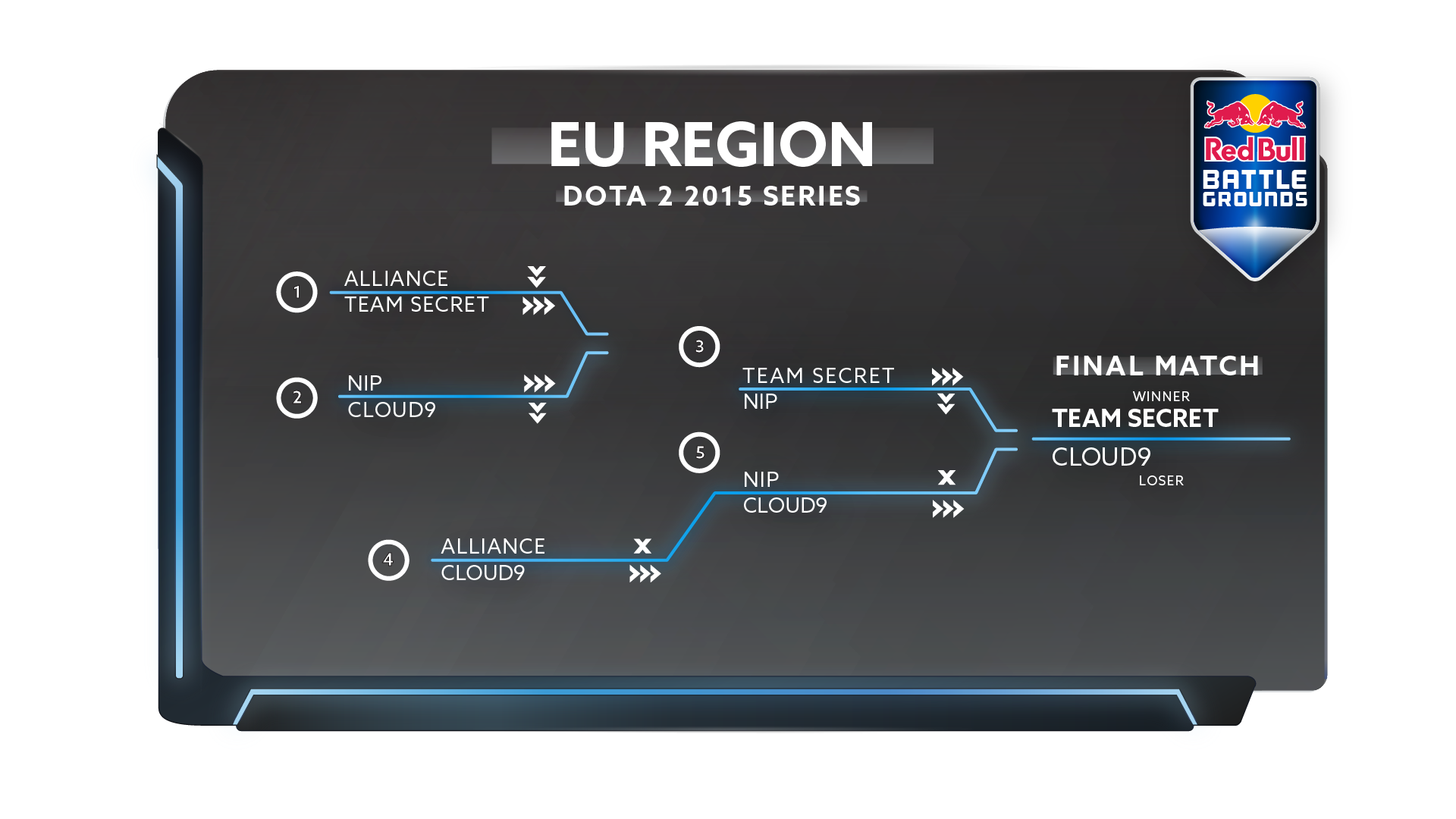 Team Secret will head to Santa Monica to compete in the Red Bull Battle Grounds 2015 playoffs, hoping to secure one of two spots for the grand finals to be held in San Francisco a few days later. They will also make an appearance at the so-called "Fan Day" event, aimed at increasing audience participation and creating a fun festive atmosphere between the playoffs and finals. The NA region is the last qualifiers to be played and will take place on April 28, with Root Gaming replacing Monib Baray, who had since disbanded.
Team Secret have recently appointed Kemal Sadıkoğlu (37) – son of Turkish magnate Kahraman Sadıkoğlu, who owns several marine construction and petroleum businesses worth billions, as their new Team Director.
Team Secret roster

Artour "Arteezy" Babaev


Gustav "s4" Magnusson


Ludwig "zai" Wåhlberg


Clement "Puppey" Ivanov


Kuro "KuroKy" Salehi Takhasomi
NA Teams
Team Tinker
Summoner's Rift
Not Today
Root Gaming