D2CL Season 6 will kick off tomorrow with 16 European teams competing for the $50,000 prize pool. The event will take place over the next several weeks with the playoffs and Grand Finals being held online. Team Empire will be defending their title from the previous season and will be joined by teams such as (monkey)Business, Na'Vi, 5Jungz, and Kaipi.
We`re happy to announce you a new season of D2CL. 16 teams, 4 groups, a lot of fun Full info: http://t.co/0kpMO6KCUf pic.twitter.com/hJ1F3Gs7tT

— D2CL (@d2cleague) September 20, 2015
The new season of Dota 2 Champions League has been announced and boasts a new improved league format.
Sixteen European teams will fight for the championship title and the $50,000 prize pool. Among the 16 teams, a mixture of veteran teams and newly formed teams – all trying to prove their strength and secure a chance for the upcoming Dota 2 Major.
D2CL Season 6 format
Sixteen invited teams from the European region will compete in two separate stages – Group stage and Online playoffs:
Group stage
16 invited teams divided into 4 groups
4 teams in each group
Best-of-three format
Top two teams of each group advance to the online playoffs
Online playoffs
Single elimination
Best-of-three format
Grand Finals and 3rd place decider will be best-of-five series
D2CL Season 6 participating teams
Na`Vi
CIS Rejects
Team Empire
Ninjas in Pyjamas
NewTeam123123
Alliance
Monkey Freedom Fighters
5Jungz
Golden Boys
HellRaisers
(monkey)Business
No Logic Gaming (the new stack featuring Nikolay "Nikobaby" Nikolov, Dimitrios "ThuG" Plivouris, Niclas "Niqua" Westergård, Milan "MiLAN" Kozomara, Giwrgos "-SsaSpartan-" Giannokopoulos)
Arcade.PowerRangers
4 Clover & Lepricon
Pries (ex Yellow Submarine)
Kaipi (featuring Armand "bOne7" Pittner)
D2CL Season 6 groups and schedule
Group A
Team Empire
No Logic Gaming
5Jungz
newteam123123
Schedule:
September 21st 16:30 CEST -Empire vs. NLG
September 22nd 20:00 CEST -5JuNGz vs. newteam
Group B
Ninjas in Pyjamas
4 Clovers & Lepricon
Natus Vincere
Golden Boys
Schedule:
September 25th 17:00 CEST -NiP vs. 4C&L
TBA -Na'Vi vs. GB
Group C
The Alliance
PRIES
HellRaisers
Monkey Freedom Fighters
Schedule:
September 21st 20:00 CEST -Alliance vs. PRIES
September 24th 20:00 CEST -HR vs. MFF
Group D
(monkey)Business
ARCADE.PowerRangers
Kaipi
CIS Rejects
Schedule:
September 23rd 20:00 CEST – Monkey vs. ARC.PR
September 24th 17:00 CEST – KP vs. CISR
D2CL Season 6 broadcast and tickets
Official broadcasts will be provided in English, Russian, Swedish, German, Spanish, and other languages.
The English broadcast will be presented by joinDOTA studios, while the Russian broadcast will be provided by Storm Studio.
The purchase of the D2CL Season 6 ticket will provide access to the event from the in-game client and sales will contribute to increasing the prize pool.
D2CL Season 5
Team Empire overtook ViCi Gaming in a clean 3:0 sweep, claiming the previous D2CL season's championship title.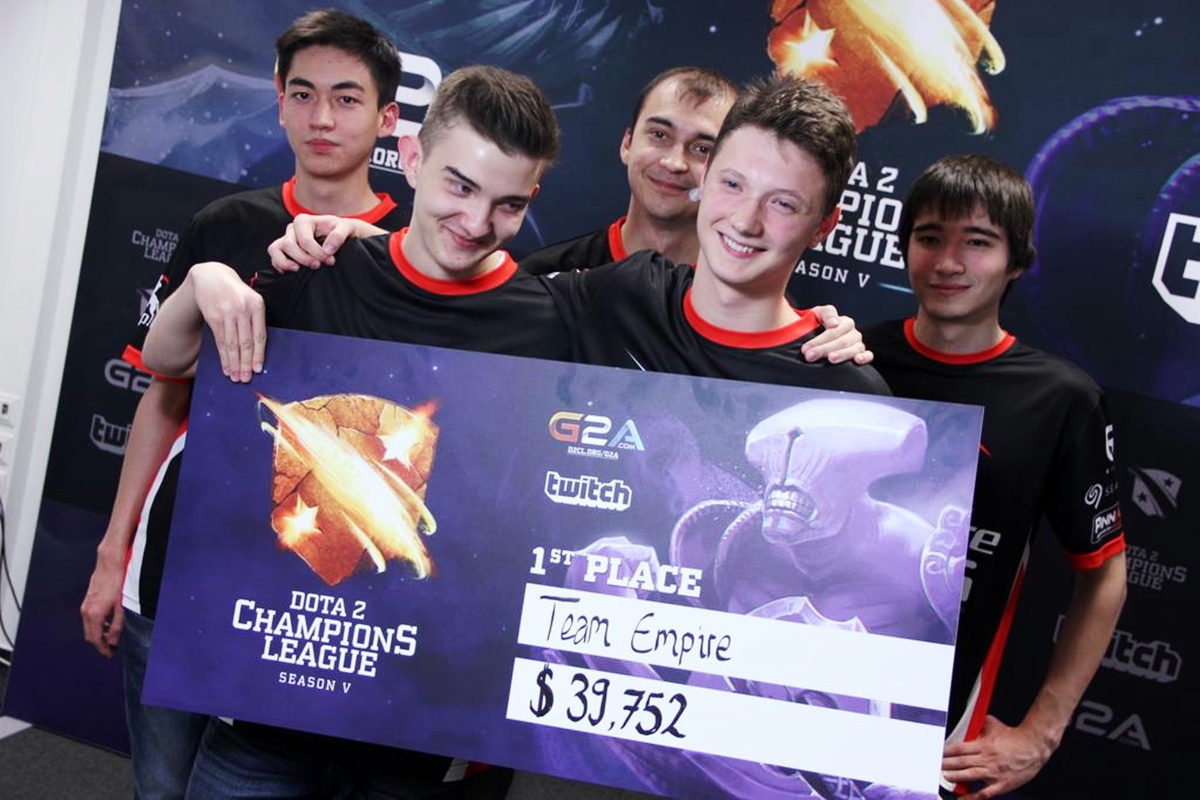 The total prize pool reached $79,504:
1st place – $39,752 – Team Empire
2nd place – $19,876 – Vici Gaming
3rd place – $11,926 – Burden United
4th place – $7,950 – Ninjas in Pyjamas