SL iLeague StarSeries S3 European Qualifier seemed almost too easy for Team Liquid to cinch one of the two allocated spots for the LAN main event. Finishing with almost double the points of their strongest competition, the European mix proved to be on fire once again. Team Liquid joins Wings Gaming, VGJ, iG.Vitality and TnC Pro in Shanghai, China February 23-26th. One more team will be directly invited. Two more teams – one from Europe, one from Americas – either Team NP or Digital Chaos will qualify. Qualifiers end tomorrow, February 2nd.
SL iLeague StarSeries S3 European Qualifier is winding down to the final days.
While several teams still have yet to compete in Team Liquid is able to kick back and relax with their secured place in the SL iLeague StarSeries S3 LAN set to take place February 23-26 in Shanghai China.
The European mix ended the group stage with a record 4:3:0, resulting in an astounding 15 points – almost double that of Team Secret, Cloud 9 and Ad Finem who are currently tied in the second place position with 8 points.
Team Liquid unleashed an onslaught of aggression, precision and talent during the group stage of the qualifiers. Without dropping a series, they had a solid all around performance seen late last year when they swooped in for the DreamLeague Season 6 title.
Cut throat competition is still underway. One additional team will still have the opportunity to attend the LAN and compete alongside Team Liquid for the $300,000 prize pool.
Team Secret, Cloud 9 and Ad Finem are still not out of the woods yet with matches still left to play. Riding on their coattails is Na'Vi with 7 points, holding on with a song and prayer to slide into the coveted second place position.
Things all come down to the wire for the teams over the next two days. Next match will take place between Na'Vi and Cloud 9 tonight, February 1st at 18:00 CET.
SL iLeague StarSeries S3 European Qualifier
There have been a total of 3 phases for the European Qualifiers
Phase 1
Two open qualifiers
Dec 26 – Dec 30
Single-elimination brackets
Best-of-one matches
Finals Best-of-three
Winner of each open qualifier advanced to Phase 2
Open Qualifiers #1 – LQ
Open Qualifiers #2 – Digital Company
Phase 2
Invitation Qualifier
Jan 05 – Jan 19
Two single-elimination brackets
6 invited teams – FRIENDS, EMPIRE, Horde, Vega Squadron, January 25th, Cloud 9
2 teams from Open Qualifier – LQ, Digital Company
Best-of-one matches
Winner of each bracket advanced to Phase 3
Bracket #1 – Horde
Bracket #2 – Cloud 9
Phase 3
Group Stage
Jan 24 – Feb 04
6 invited teams – Alliance, Team Liquid, Team Secret, Ad Finem, Na'vi, Vega Squadron*
2 teams from Phase 2 – Horde, Cloud 9
Round-robin group
Matches are two game series
Top two teams qualify to LAN Finals
*Vega Squadron replaced Virtus.Pro
StarLadder iLeague StarSeries Season 3
Eight teams will compete in the third iteration of the joint series between Starladder and iLeague.
The LAN finals are to be held February 23-26 in Shanghai China at the International Gymnastics Center with eight teams competing for the $300,000 prize pool.
The International Gymnastics Center was built in 1997 and is 24,900 square meters to accommodate up to 4,000 viewers.
Direct invites: 2 teams – Wings Gaming/TBD
China: 2 qualified teams – VGJ/iG.Vitality
Europe: 2 qualified teams – Team Liquid/TBD
America: 1 qualified team – TBD
South East Asia: 1 qualified team- TnC Pro
Team Liquid roster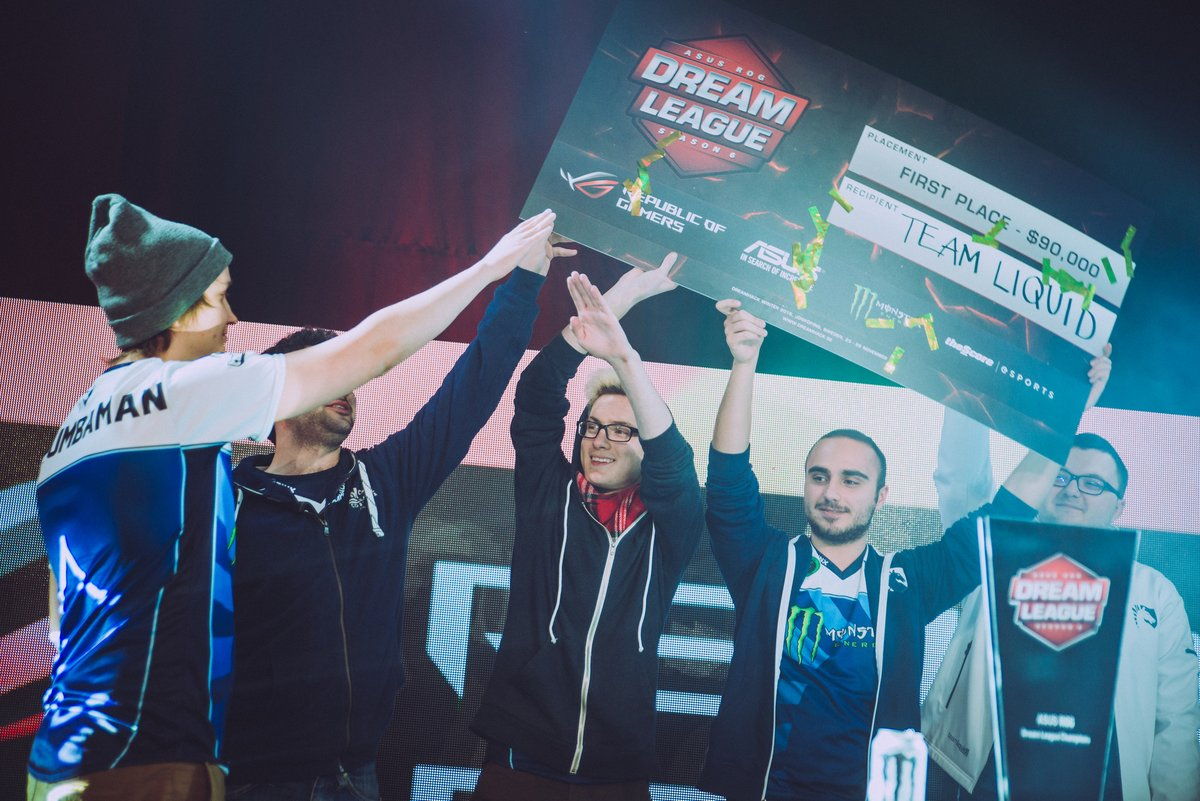 Post TI6, the team's reshuffle bid farewell to both Jesse "JerAx" Vainikka and Adrian "FATA-" Trinks – while welcoming Kanishka 'Sam' "BuLba" Sosale and famed 9k MMR player Amer "Miracle-" Al-Barkawi. The fans were hyped for the new roster, but quickly disappointed in the team's less than prominent presence.
Falling short of qualifying for Boston Major, and struggling through the season the team dropped out of Northern Arena Beat Invitational due to roster changes. Although nothing was officially announced, shortly after Maroun "GH" Merhej began to play the support role in BuLba's stead.
The reconstructed European team reignited spectacular performances and former grandeur and seized the championship title for DreamLeague Season 6.
On January 4th Team Liquid completed their new roster, officially adding Maroun "GH" Merhej to the lineup.
Team Liquid roster

Kuro "Kuroky" Salehi Takhasomi


Amer "Miracle-" Al-Barkawi


Maroun "GH" Merhej


Lasse "MATUMBAMAN" Urpalainen


Ivan "MinD_ContRoL" Borislavov