SL iLeague StarSeries S3 champions are none other than Team Liquid. The Europeans outmaneuvered VG.J 3:1 in the Grand Finals, on the heels of a three game streak to victory. After an adjustment in roster for the new season, Team Liquid have had a spate of cogent performances and victories. Little doubt remains that the team has risen to the top ranks once again.
Team Liquid are the Grand Champions of the Starladder iLeague StarSeries Season 3. #Dota2 #SLTV pic.twitter.com/5ZGjIsD5eX

— Wykrhm Reddy (@wykrhm) February 26, 2017
SL iLeague StarSeries S3 champions – Team Liquid have proven they are in top form and deserving of a nod of acknowledgement from Valve for the Kiev Major.
Team Liquid landed the top spot of their group, dropping only their opening match against VG.J. Their game play was pristine and their performance mesmerizing.
In the playoffs, they toppled over TnC Pro with a tidy and clean sweep.
Once again, VG.J were able to grab the opening match in the series against Team Liquid, but as history often repeats itself, Team Liquid rebounded quickly and with a powerful force to easily surmount the challenge.
Eight teams competed in the third iteration of the joint series between Starladder and iLeague.
The tournament is the last major LAN event before Kiev Major invites are announced – being held February 23-26 in Shanghai China at the International Gymnastics Center with a $300,000 prize pool.
SL iLeague StarSeries S3 playoffs: recap
After three days, four teams – OG, Team Liquid, TnC Pro and Team VG.J had emerged from the depths of the groups to compete in the playoff phase.
Team Liquid barreled through TnC Pro with a convincing 2:0 sweep. The Filipino team had been turning heads and raising eyebrows with their risky moves and strong performances, but Team Liquid were the ones calling the shots. Controlling both games from the first moments, both Lasse "MATUMBAMAN" Urpalainen and Amer "Miracle-" Al-Barkawi were unstoppable and menacing.
Relentless, the European team was the first Grand Finalists.
OG and VG.J went head to head with a full three game series. In what would end up becoming a major upset, VG.J outplayed one of the tournament favorites as they surmounted OG with a 2:1 victory. After a crushing defeat in the first game, the Chinese veterans stepped up to the plate with a resounding victory in game 2. Filled with back and forth leads and outstanding plays, the second match turned out to be one of the most exciting battles of the event. As the crowd went wild for the home team, the third game seemed to be a cinch for VG.J as Sun "Agressif" Zheng pranced around the enemies.
VG.J's resurgence brought them to the Grand Finals.
Riding high on the wave of momentum, VG.J charged forward in the first grand finals game to take the lead with the first victory. In stark contrast, the second match belonged to Team Liquid and closed out in only 24 minutes with perfect rounds for Kuro "KuroKy" Salehi Takhasomi and Lasse "MATUMBAMAN" Urpalainen. Tied up at one a piece, the third game was a heartstopping base race to the finish, as Team Liquid outplayed and outsmarted VG.J in the final moments.
A third confident and solid performance in a row granted Team Liquid the championship title – a well deserved reward that should pay off with a Kiev Major invite.
WE ARE YOUR #STARSERIESS3 CHAMPIONS!!! #LETSGOLIQUID pic.twitter.com/AZ00jSTCQS

— Team Liquid (@TeamLiquid) February 26, 2017
SL iLeague StarSeries S3 champions SL iLeague StarSeries S3 champions SL iLeague StarSeries S3 champions SL iLeague StarSeries S3 champions
SL iLeague StarSeries S3: Prize Pool
The total prize pool is $300,000.
1st place – $135,000 – Team Liquid
2nd place – $60,000 – VG.J
3rd-4th place – $30,000 – OG/TnC Pro
5th-6th place – $15,000 – Team Secret/Wings Gaming
7th-8th place – $7,500 – iG.Vitality/DC
SL iLeague StarSeries S3 champions SL iLeague StarSeries S3 champions SL iLeague StarSeries S3 champions SL iLeague StarSeries S3 champions
SL iLeague StarSeries S3 champions: Team Liquid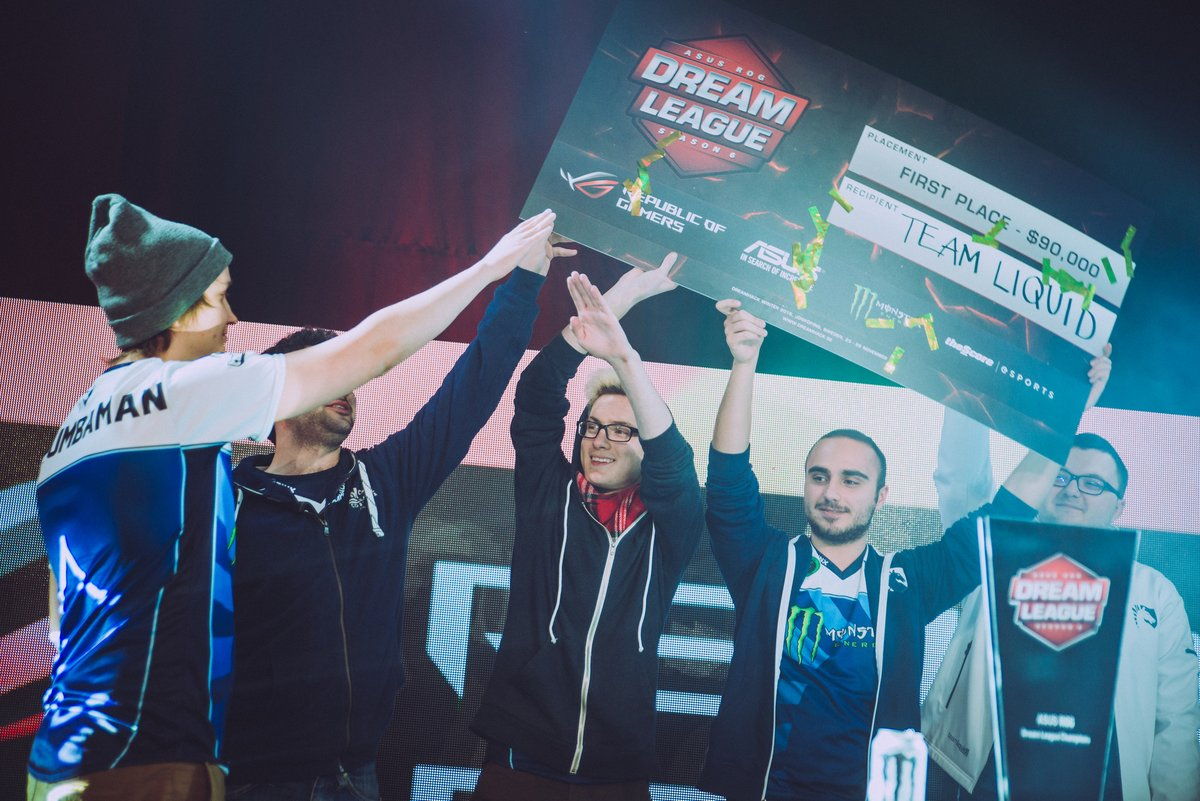 Post TI6, the team's reshuffle bid farewell to both Jesse "JerAx" Vainikka and Adrian "FATA-" Trinks – while welcoming Kanishka 'Sam' "BuLba" Sosale and famed 9k MMR player Amer "Miracle-" Al-Barkawi. The fans were hyped for the new roster, but quickly disappointed in the team's less than prominent presence.
Falling short of qualifying for Boston Major, and struggling through the season the team dropped out of Northern Arena Beat Invitational due to roster changes. Although nothing was officially announced, shortly after Maroun "GH" Merhej began to play the support role in BuLba's stead.
The reconstructed European team reignited spectacular performances and former grandeur and seized the championship title for DreamLeague Season 6.
On January 4th Team Liquid completed their new roster, officially adding Maroun "GH" Merhej to the lineup.
A championship title in SL iLeague StarSeries S3 and two back to back qualifier wins, DAC 2017 Europe Qualifier and StarLadder i-League StarSeries Season 3 European Qualifier, the team has been on a hot streak for the month of February.
Team Liquid roster

Kuro "Kuroky" Salehi Takhasomi


Amer "Miracle-" Al-Barkawi


Maroun "GH" Merhej


Lasse "MATUMBAMAN" Urpalainen


Ivan "MinD_ContRoL" Borislavov
Featured image courtesy of NoobFromUA‏