Shanghai Major results give way to our first Grand Finalists -Team Secret. The European squad breezed in the upper bracket finals 2:0 over Team Liquid who drop to the lower bracket finals. Team Secret wait in the Grand Final spot for their opportunity to claim the championship title and trophy. The Shanghai Major will continue with lower bracket rounds between Evil Geniuses and MVP.Phoenix at 11:30 CET.
Team Secret – First Shanghai Major Grand Finalist. Two back to back Dota Major Grand Finals for them. Congrats. Well played.

— Wykrhm Reddy (@wykrhm) March 5, 2016
Another series of amazing performances by two teams that have proved themselves as being first class. Team Secret have revitalized their synergy and coordination to produce some of the best plays and clutch moments of the event. After a slump leading up to the event, Team Secret have erased all doubts of still having what it takes.
Team Liquid have had a remarkable run, handling pressure with finesse and out-playing, out-drafting some of the best teams in the world. The European squad will have another opportunity to seek a rematch as they will drop to the lower bracket finals.
The Shanghai Major is starting to wind down as the fourth day is already underway. The eliminations continued early this morning in an All American showdown between Evil Geniuses and compLexity Gaming. The TI5 championship team cleaned up the lower brackets, 2:0, as they brutally fought their way to advance.
compLexity was the eleventh team to drop out of the event.
Fnatic being eliminated erases twelve teams from contention.
One more team will be eliminated today as Evil Geniuses and MVP.Phoenix battle it out to survive until the end.
Shanghai Major results: Upper Bracket finals
Team Liquid vs. Team Secret
The upper bracket finals started out even between the two teams. Around the mid game, Team Secret started to pull away, at first slowly and then quickly. Fantastic team plays and coordination helped to propel Team Secret to the victory. Jacky "EternaLEnVy" Mao had an unbelievable game, along with Aliwi "w33" Omar and a perfect game by Rasmus "MiSeRy" Filipsen,


The second game was completely nerve wracking with back and forth swings, throws, advantages and action. After Team Liquid started to take a substantial lead about 30 minutes into the game, several mistakes were made. Team Secret seized it back less than 10 minutes later and charged right to the end with Divine Rapier in Eternal Envy's hand. Another stellar performance by Eternal Envy and w33 continue to take control of their opponents.
Shanghai Major results: Team Liquid 0:2 Team Secret. Team Secret continues to the Grand Finals as Team Liquid drop to the lower bracket finals.
The Shanghai Major main event
The Shanghai Major main event will take place between March 2nd-6th, at the Mercedes-Benz Arena, in Shanghai, China. Viewers and visitors are in for dawn to dusk action. The Grand Finals will take place on Sunday, March 6th.
Shanghai Major brackets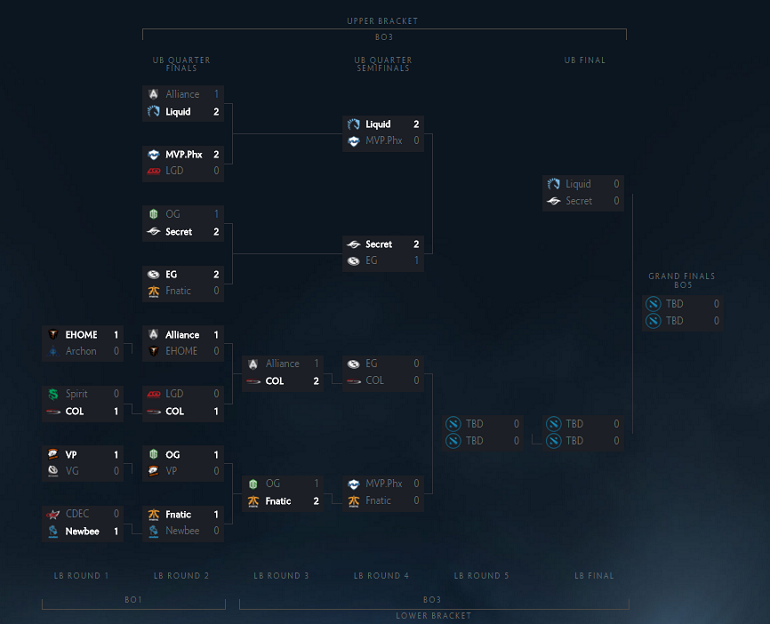 Shanghai Major main event schedule – Day 4
Saturday, March 5th, starting at 03:00 CET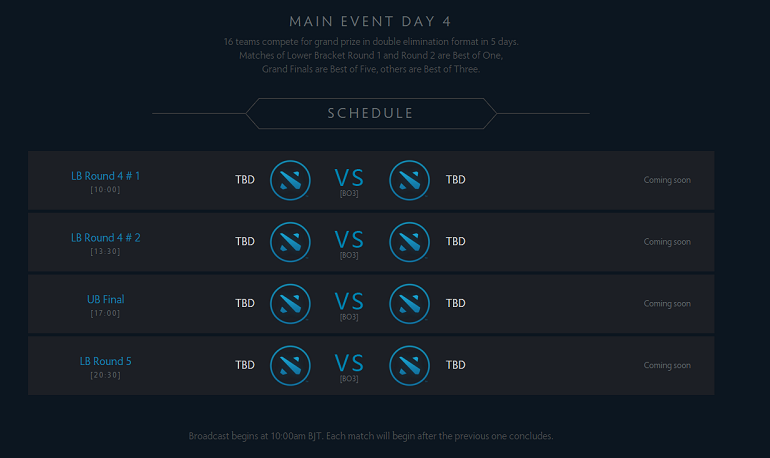 Format
Sixteen teams will play a double-elimination bracket.
Eight teams (top two teams of each of the four groups) will start the main event in the Upper Bracket. Eight teams (bottom two teams of each of the four groups) will start the main event in the Lower Bracket.
All the Upper Bracket match-ups will be best-of-three series.
The first two rounds of the Lower Bracket matches will be best-of-one elimination series. The following rounds will be best-of-three elimination series.
The Shanghai Dota Major Grand Finals will be best-of-five series, with no winners' advantage.
Shanghai Dota Major streams