SEA Kappa Invitational Season 1 gets kicked off today at 1030 CET with the debut of the reformed lineup of Rave Dota against Young Wild. The event features sixteen teams – eight invited and eight qualified- from the SEA region competing for the $10,000 prize pool.
The SEA Kappa Invitational Season 1 will begin with a bang, featuring the highly anticipated and recently reformed new lineup of Rave Dota including Jio "Jeyo" Madayag, Michael "Ninjaboogie" Ross and Ryo "ryoyr" Hasegawa.
The event will begin at 10:30 CET with Rave vs Young Wild (winner from the Vietnamese qualifiers) in a best-of-one showdown. The event will span 10 days with the grand finals expected to take place on March 22nd.
SEA Kappa Invitational Season 1 First Round schedule
The tournament is scheduled to take place over the next 10 days. The first best-of-one rounds will be played out over the course of the weekend and early week.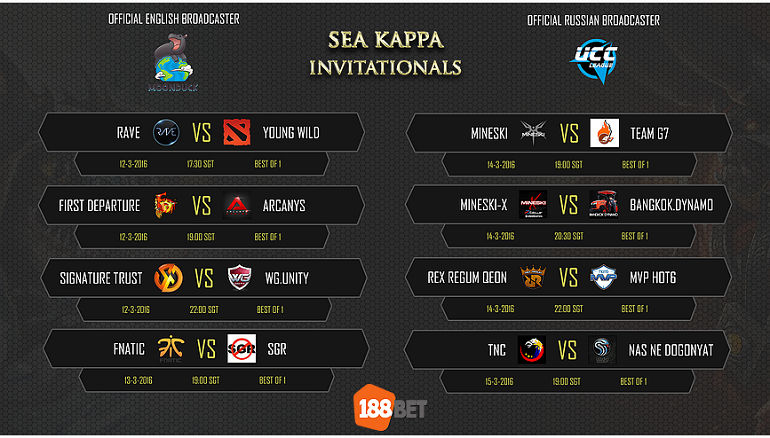 SEA Kappa Invitational Season 1 invited teams
Rave Dota
Fnatic
Signature.Trust
Mineski-X
TnC Gaming
First Departure
Rex Regum
Mineski
Sea Kappa Invitational Qualified teams
WG.Unity (Malaysian qualifier winner)
Bangkok Dynamo (Thai qualifier winner)
Nas Ne Dogonyat (Indonesian qualifier winner)
SG Rejects(Singapore qualifier winner)
Young and Wild(Vietnamese qualifier winner)
Arcanys Gaming (Philippine qualifier winner)
Gse7en (Rest of SEA qualifier winner)
MVP HOT6ix (non SEA qualifier winner)
SEA Kappa Invitational Season 1 format
Double elimination brackets
Round 1 Upper Brackets best-of-one series
All other Upper Bracket rounds best-of-three series
All Lower Brackets best-of-one series
Ground Finals best-of-five series
SEA Kappa Invitational Season 1 prize pool
The total prize pool of this online tournament is $ 10,000
1st place: $7,500
2nd place: $2,500
Broadcast