Ninjas in Pyjamas return to Dota 2 picking up the revamped Ex-Escape Gaming squad – January 25. The organization is primed to bounce back into the scene after over a year long hiatus. As the Swedish organization welcomes back Adrian "Era" Kryeziu, they pick up the revamped roster that screams of talent and synergy. The team will be competing in the DAC 2017 European qualifiers beginning next week.
The Return To @DOTA2 .https://t.co/DeKTZSytlD pic.twitter.com/3zZmcJg86F

— #GONINJAS (@NiPGaming) January 25, 2017
Ninjas in Pyjamas return to Dota 2 picking up the Ex-Escape/January 25 squad.
Adrian "Era" Kryeziu was a member of the previous NiP team in 2015, making his return as the organization once again ventures into the scene.
2016 was an exciting year for Ninjas in Pyjamas with great developments both in- and out of game. As we enter 2017, we are eager to continue our expansion to further manifest ourselves as a multi-gaming organization competing across several large titles with top tier players and lineups. We are therefore extremely excited to bring the majority of an iconic Dota 2 lineup back together as we announce our return to the scene. We are happy to have five extremely professional, experienced and talented players to share this journey with in order to provide our fans with more great NiP moments and experiences. Welcome Troels, Adrian, Kalle, Max and Kai to the Ninjas in Pyjamas family, we are looking forward to seeing them competing carrying the NiP name and legacy.

– Hicham Chahine, CEO of Ninjas in Pyjamas
NiP parted ways with their previous Dota 2 lineup in November 2015 after being with the organization since January 2015. The team had limited success in premier tournaments, despite maintaining a steady presence in the scene and seizing several commendable placements and championship title at MLG Pro League, X-Games.
Escape Gaming roster turned Ninjas in Pyjamas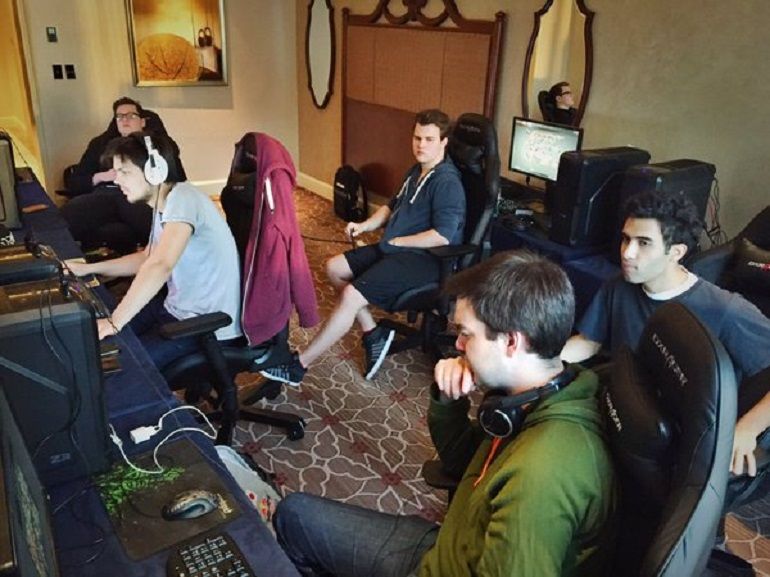 The European mix made its debut performance in the EPICENTER Moscow EU qualifiers, with Ludwig "zai" Wåhlberg on board. zai was unable to fully return to competitive gaming at that time, due to school commitments. Instead, the team picked up Maurice "KheZu" Gutmann, an addition that seems to have played perfectly into the mix.
The squad defeated Power Rangers in the EPICENTER Moscow EU qualifier, 3:1, and ultimately finished the wild card series in third place, ending their run before the main event.
Since then, they had maintained a solid presence in the European scene, seizing the wild card spot for TI6 and advancing into the main event, where they eventually placed 13th-16th.
The team made no roster changes into the Boston Major season but failed to qualify for the main event after being directly invited to the regional qualifiers. It was following then that KheZu went to Team Secret.
They then went on to take first place in DreamLeague Season 6 League Play and second place in Royal Arena #1 and DreamLeague Season 6 with Kalle "Trixi" Saarinen as a stand in, but shortly after, during the Kiev Major team registration period that Yazied "YapzOr" Jaradat departed for the new team B)ears with Adrian "FATA-" Trinks.
On January 6th, Escape Gaming parted ways with the 3 remaining members of their Dota 2 squad.
At the time Troels "syndereN" Nielsen reported the three teammates would stay together and bring on board two more players – announced in the near future. Many hoped to see both Kalle "Trixi" Saarinen and return of Kai "H4nn1" Hanbückers to their lineup – pleasing fans around the world when it came to fruition.
Ninjas in Pyjamas return roster

Adrian "Era" Kryeziu


Max "qojqva" Bröcker


Troels "syndereN" Nielsen


Kalle "Trixi" Saarinen


Kai "H4nn1" Hanbückers