The second day of the Nanyang LAN playoffs has come to an end. Three more teams were eliminated and Team Secret have advanced to the Grand Finals. Only four teams remain in contention. The action resumes in Singapore tomorrow, at 05:00 CET, with the Lower Bracket series between Team Liquid and EHOME.
The second day of the Nanyang LAN playoffs began with the best-of-one "do or die" match between LGD and CDEC. The latter managed to school LGD in the art of aggression, rotations and team cohesion.
LGD were eliminated and CDEC faced EHOME later, but were unable to hold their ground this time around and were knocked out of contention as well.
EHOME were completely on spot with their plays. They will face Team Liquid in the Lower Brackets, tomorrow, October 30, at 05:00 CET.
The second day also saw the brutal elimination of Virtus.Pro by Team Liquid on the back of an incredible Huskar pick that the CIS team seemed to be no match for.
Team Secret have advanced to the Grand Finals after sweeping ViCi Gaming, 2:0.
Nanyang LAN playoffs
The playoffs stage is played in a double elimination bracket format. The first two rounds of the Lower Brackets are brutal best-of-one series and all the other matches, apart from the Grand Finals, are best-of-three series. The Grand Finals will be played as best-of-five series with no Upper Bracket advantage.
Nanyang LAN brackets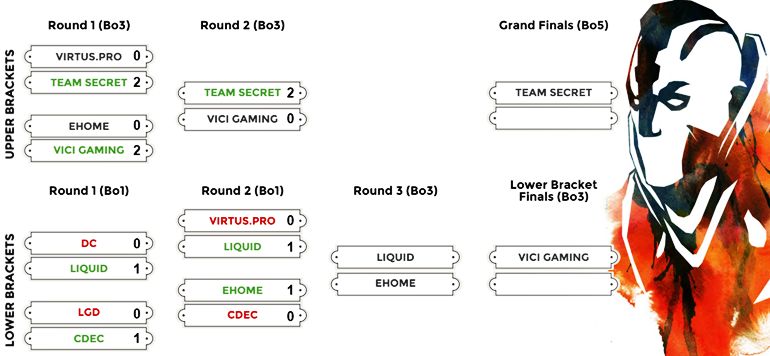 Nanyang LAN results
Nanyang LAN results: Playoffs, Lower Brackets, day 2
CDEC 1:0 LGD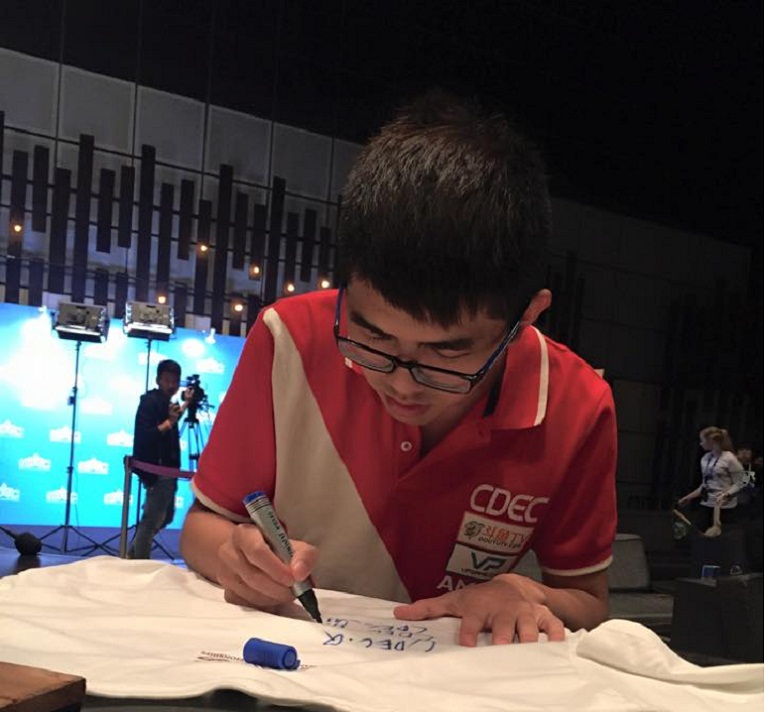 CDEC schooled LGD in the best-of-one elimination game. CDEC demonstrated their signature aggression and amazing cohesion, team plays and rotations and managed to destroy their former mentors, 31:7, in 48 minutes. While the game took longer than expected for such a dramatic and heavily one-sided game, CDEC were still completely in control and dominating throughout. Sun "Agressif" Zheng and Huang "ShiKi" Jiwei had amazing performances, as usual.
Nanyang LAN results: CDEC have advanced in the Lower Brackets to face EHOME later today, after eliminating LGD from the tournament.
Virtus.Pro 0:1 Team Liquid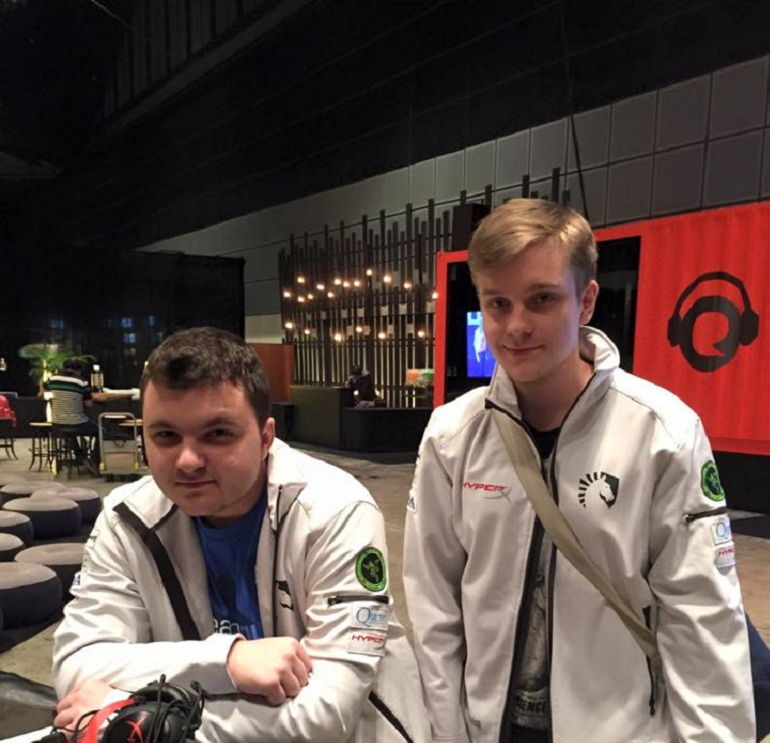 Team Liquid drew first blood and the following kill, displaying a very aggressive intent. With a very solid performance and a well executed strategy, they were able to completely dominate Virtus.Pro, calling an end to the game in about 31 minutes, with a score of 20:10. With their unconventional Huskar pick going 11:1:5, and their map control and mobility, Team Liquid have secured themselves another day at the event.
Nanyang LAN results: Team Liquid have advanced in the Lower Brackets, after eliminating Virtus.Pro from the tournament.
EHOME 1:0 CDEC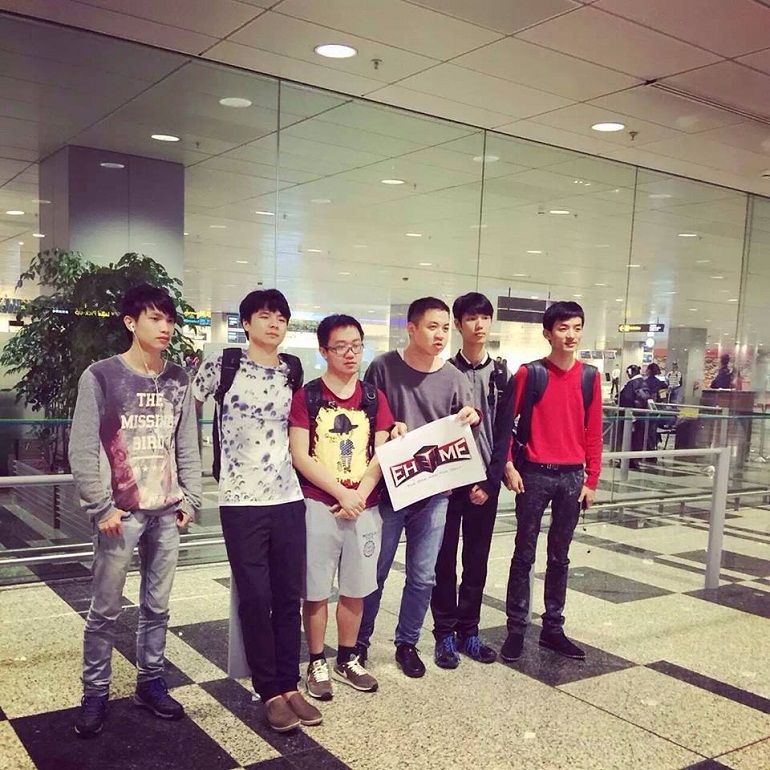 EHOME took first blood with Io on Spirit Breaker, in an attempt to keep him under control. CDEC's well coordinated rotations were reciprocated well by EHOME. With both teams roaming a lot and playing aggressively, the game started with kills, clutch saves, close calls and much excitement. EHOME had most of the advantage throughout the game, and Chen "Cty" Tianyu had an incredible match, pushing EHOME ahead considerably by mid game. EHOME ended the game in under 30 minutes, with a five-man wipe and smoke.
Nanyang LAN results: EHOME have advanced in the Lower Brackets to face Team Liquid, while CDEC have been eliminated.
Nanyang LAN results: Playoffs, Upper Brackets, day 2
Team Secret 2:0 ViCi Gaming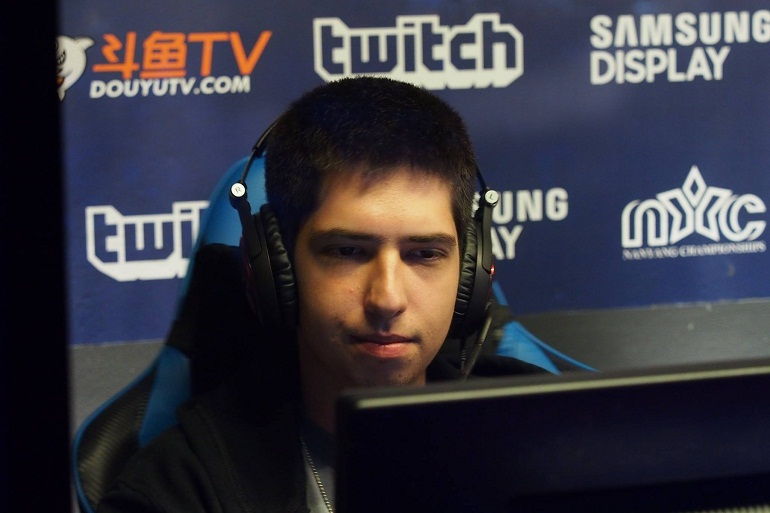 In the first game of the series, ViCi Gaming's draft seemed very balanced with fighting heroes and the Alchemist to farm, while Team Secret took Wind Ranger for Aliwi "w33" Omar and an unconventional Magnus for offlane. ViCi Gaming secured first blood and then continued to set the tone for the match with a clear domination early on. Xie "Super" Junhao's Alchemist became so strong that Team Secret were completely unable to take him down in a fight. A big team fight at minute 47 was a turning point for Team Secret as they took down four heroes and swung the gold and experience to their favor. Team Secret then used that momentum to push forward and take the first game, in over 60 minutes.
The second game started with two kills from Team Secret on ViCi Gaming before the creeps even spawned, giving the first blood to Ember Spirit. With w33 on Wind Ranger again, getting kills and landing shackles nonstop, Team Secret were well on their way to a second victory. They managed to break ahead with multiple kills in the team fights and kept taking one objective after another. Despite ViCi Gaming turning many of the team fights around, Team Secret were able to outplay their opponents, sending them to the Lower Brackets.
Nanyang LAN results: Team Secret have advanced in the Upper Brackets, after knocking ViCi Gaming to the Lower Brackets.
Nanyang LAN playoffs, day 3 schedule
Lower Brackets, best-of-three
Team Liquid vs. EHOME, October 30th, 05:00 CET
ViCi Gaming vs. TBD, October 30th, 09:00 CET
Nanyang LAN playoffs broadcast