Valve has completed the patch update 6.85b, bringing with it a new Halloween mode, Haunted Colosseum, revamping the Custom Games overview page and releasing the second Tribute treasure for Fall Compendium owners.
Enter the Haunted Colosseum https://t.co/O9I1OGwZ0w

— DOTA 2 (@DOTA2) October 29, 2015
Patch update 6.85b arrived with a large download, causing an hour disruption in the WCA Open Qualifiers for teams and delaying the start of day 3 for the Nanyang Championship LAN playoffs. The patch is an update to 6.85, released in September.
In addition to the typical updates and bug fixes, some minor changes to Doom and Broodmother have been made:
Scepter Doom no longer increases damage
Scorched Earth damage and heal reduced from 12/24/36/48 to 12/23/34/45
Scorched Earth cooldown rescaled from 60/55/50/45 to 55
Spiderlings Poison Sting slow reduced from 12% to 8%
Valve stated that The main client will be updated with the 6.85b changes after the conclusion of the Nanyang tournament
In addition, there have been updates to profiles for displaying tournament tickets, viewing and managing downloaded replays, support for offline solo play, a new matchmaking region in Tokyo with connectivity to Taiwan and Korea, and some balance changes.
Valve has released a new custom game mode for Halloween – Haunted Colosseum. The new mode is decked out in a spooky and pumpkin-filled setting, getting into the spirit of the season.
The Custom Games overview page has been revamped to help players discover Custom Games and enhance their experience.
Released on October 3rd, the Fall Compendium owners will now receive the second Tribute Treasure, The Tribute of the Sharpened Feather.
Haunted Colosseum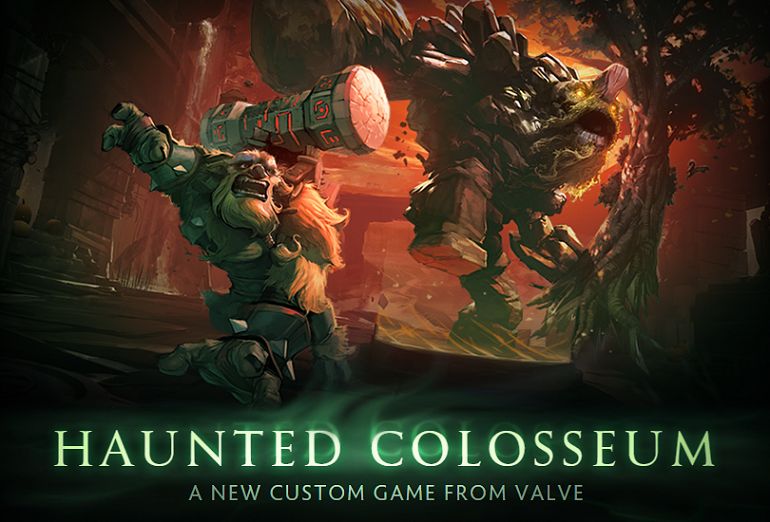 "Haunted Colosseum is a new 5-on-5 battle for territorial control, complete with Capture Points, devilish traps, and warrior behemoths".
The year grows colder. In the dancing hearth-light, tales are told of the warring Ancients and their quest to conquer a source of power hidden deep in the mountain forests: the Haunted Colosseum. Once a site of warriors' ordeal, the colosseum's nefarious hierarchs are said to have captured and collected the souls of the unworthy into points of potent energy.

Prepare yourself for a new kind of battle full of clever mischief and cruel treachery!
Capture Enemy Points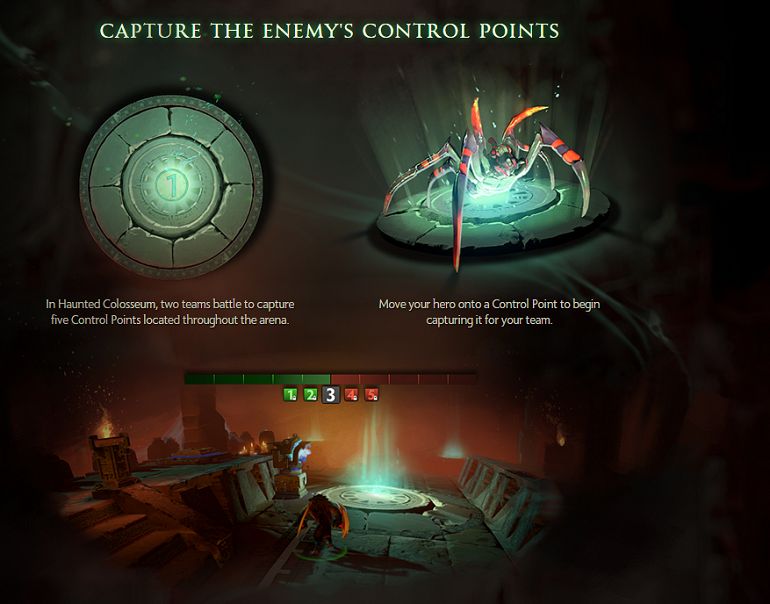 Own three Control Points and your team's score will rise.
Own more than three, and your team will score points even faster
THE FIRST TEAM TO SCORE 5,000 POINTS WILL WIN THE MATCH.
Set Traps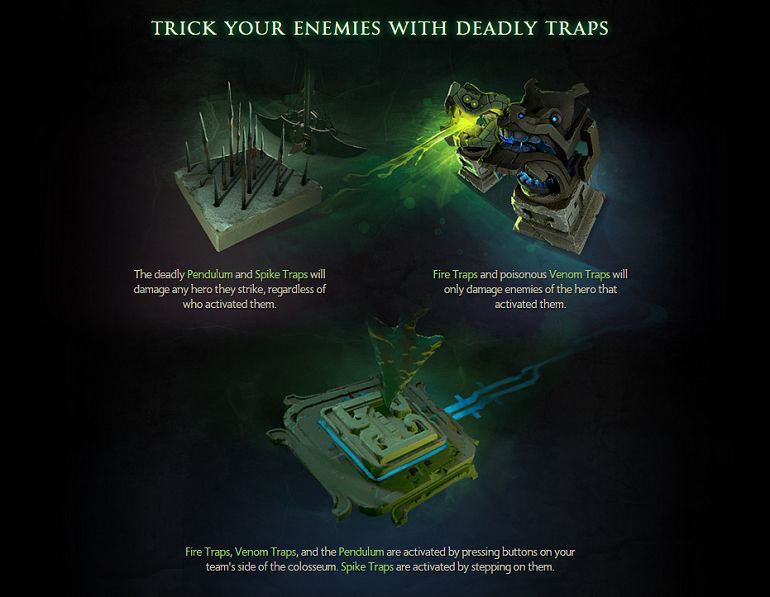 Use Deadly Traps to trick and stop your opponent
Get Treats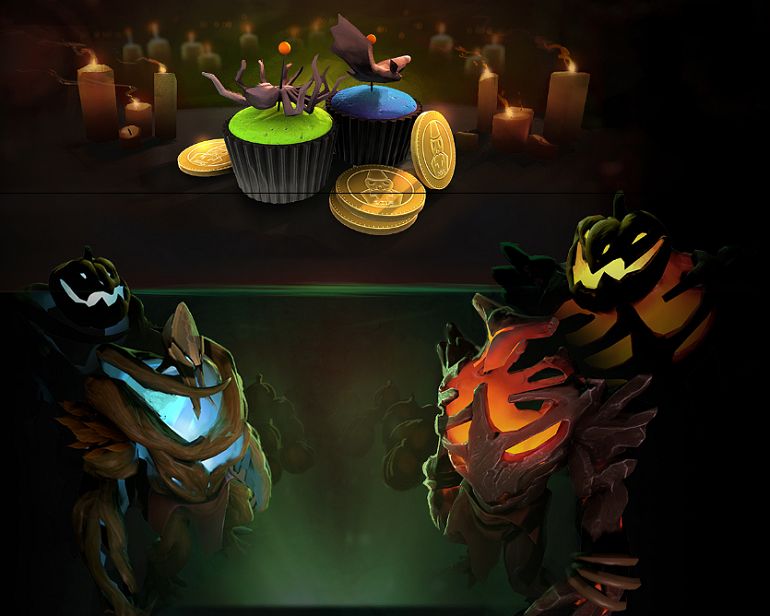 Claim treats from fallen foes
Slay your enemies to discover precious treats which restore your health, your mana, or grant additional gold to empower your hero with items
Defend yourself with "Spooky Behemoths"
If your enemy scores 1,000 points they will trigger a Milestone, causing powerful Behemoths to appear to defend you
Behemoths are immune to Magical Damage, and have True Sight
Custom Games overview page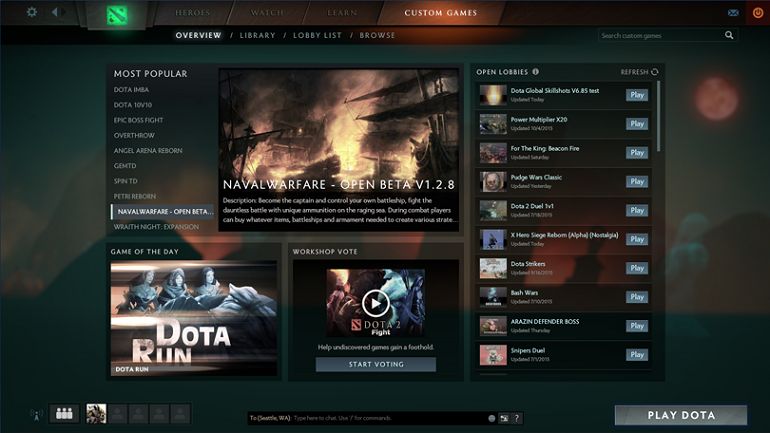 The Custom Games overview page has been revamped to promote the discovery of Custom Games and to get players in the games quickly.
Replaced the "Suggested Games" list with an "Open Lobby" list
Added a new panel which highlights an automatically-chosen Game of the Day
Fall Compendium Tribute Treasure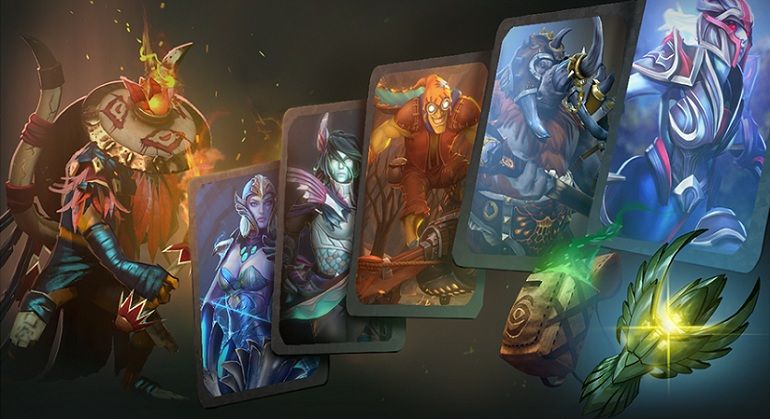 The update also includes the second Tribute treasure for Fall Compendium owners: the Tribute of the Sharpened Feather.
It features new sets created available exclusively to Compendium owners. Each set within the Tribute contains an item which can be permanently upgraded with special ambient effects.