Fnatic were knocked out of the ROG Masters Asian Tournament earlier than expected today. The Malaysian team was upset by an EHOME.X sweep 2:0 in the quarter finals. Only four teams remain – EHOME.X, Team Secret, Execration and Mineski. The event boasts a $150,000 prize pool and is being held in Kuala Lumpur, Malaysia November 10-13th.
Fnatic were eliminated from ROG Masters Asian Tournament during the quarter finals. EHOME.X upset the local favorites when they wiped them out in a 2:0 sweep.
Chai "Mushi" Yee Fung and friends were invited to directly participate in the event while EHOME.X had survived the brutal best-of-one Chinese qualifiers for their spot.
ROG Masters Asian Tournament continues tomorrow with the semi finals – the remaining teams – EHOME.X, Team Secret, Execration and Mineski will be battling it out for a chance to survive one more day and advance to the Grand Finals.
EHOME.X will now face Execration, another formidable opponent looking to continue their dominance in the region.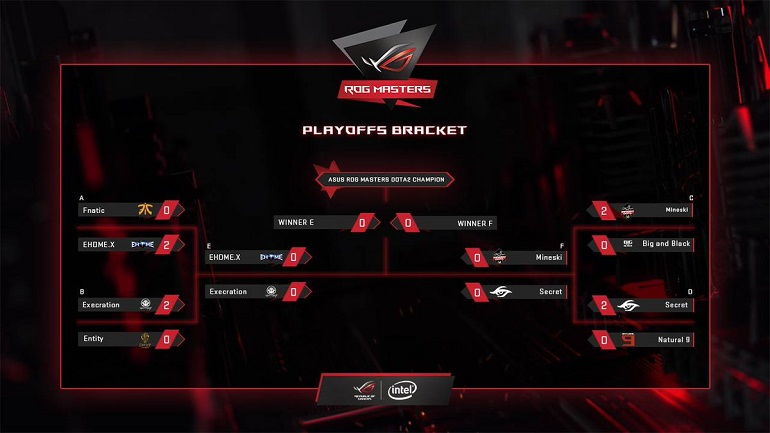 ROG Masters Asian Tournament
At the end of August, ROG Masters announced a new Asian tournament boasting a $150,000 prize pool. The event incorporated five regions competing for 10 spots in the Grand Finals to be held in the City Center of Kuala Lumpur, Malaysia, on the 12th and 13th of November.
Toby "Tobiwan" Dawson, Gareth "Gareth/Durka" Bateson, Soe "Soe" Gschwind-Penski, Chan "WinteR" Litt Binn, Danelie "Danelie" Purdue and David "Luminous" Zhang are on hand to bring all the action to fans across the world and is being hosted by none other than Paul "ReDeYe" Chaloner.
The main event LAN is free for spectators to attend in the City Center of Kuala Lumpur, Malaysia and also features CS:GO with a $50,000 prize pool.
ROG has sponsored multiple events in Dota 2 including ASUS ROG DreamLeague, PlayitCool and products being featured and used in the International 5 and 6 All star games among other Major Dota 2 events.
ROG Masters invited teams
ROG Masters five regions and teams
Oceania (OCE): Natural 9, Big and Black
East Asia (EA): The Mongolz, MOL
Southeast Asia (SEA): Mineski, Execration*
China (CN): EHOME.X, MAX.X
Rest of Asia (ROA): ENTiTy eSports, Aggressive 5
*Execration replaced Next Generation
Fnatic
On September 7th Fnatic completed their roster. Jimmy "DeMoN" Ho, Nico "eyyou" Barcelon and Marc Polo "Raven" Luis Fausto joined the Malaysian based squad for the upcoming Fall Major season. The three known players teamed up with core members of Fnatic Chai "Mushi" Yee Fung and Chong Xin "Ohaiyo" Khoo – both of whom have been playing on the team since June 2015.
The team has also been invited to participate in ESL One Genting 2017 – another tournament that Malaysia will be hosting in January.
Most recently the team took fourth in MPGL Southeast Asian Championship and third at the SEA Summit 6 qualifiers.
The team seems to be struggling as Fnatic withdrew from Dota Pit Season 5 admid rumors and leaks of an impeeding roster change.
Fnatic roster

Chai "Mushi" Yee Fung


Chong Xin "Ohaiyo" Khoo


Jimmy "DeMoN" Ho


Nico "eyyou" Barcelon


Marc Polo "Raven" Luis Fausto