Valve has released the Fall Major 2016 Battle Pass bundled up nicely with new items, new quests, level rewards and the Boston Major Compendium. As with the previous Major compendiums, sales will not contribute to the Boston Major prize pool. In addition to the Fall Major 2016 Battle Pass, the new Battle Cup season will give players in each region a chance to qualify for a spot in the Spring Major Regional qualifiers. The Fall Major 2016 Battle Pass did not release the long awaited Monkey King as hoped for, but does tease a hint at the same time revealing there will be no updates until December 12th.
Fall 2016 Battle Pass. https://t.co/LYCRzsQNsR pic.twitter.com/IwPyGJyShq

— Wykrhm Reddy (@wykrhm) October 5, 2016
Included in the patch updates, Valve has released the Fall Major 2016 Battle Pass. This new "companion" features in-game quests, wagering system and level rewards.
The Fall Major 2016 Battle Pass contains various treasures and rewards but for some, the most exciting aspect will be the the opportunity for winners of each region during the season to obtain a spot in the Spring Major Regional qualifiers.
The update also includes the addition of the Items section in the Learn menu. Now the descriptions, stats, and recipes of every item in the fountain, secret, and side shops are available to view inside of the Dota 2 client. It also includes the Boston Major Compendium.
The next update is not expected to be until after the Boston Major, on December 12th, and contains a subtle hint that many hope point to the release of the hero Monkey King.

Fall Major 2016 Battle Pass
This "companion" for the fall season – the Fall Major 2016 Battle Pass, is now available to purchase for $7.99.
The Fall Major 2016 Battle Pass contains a variety of in-game quests, a wagering system and exclusive treasures and rewards.
Fall Major 2016 Battle Pass Points
Earn rewards each time you increase your battle level. Increase Battle Level by completing quests, winning in-game wagers and earning achievements
Choose your Path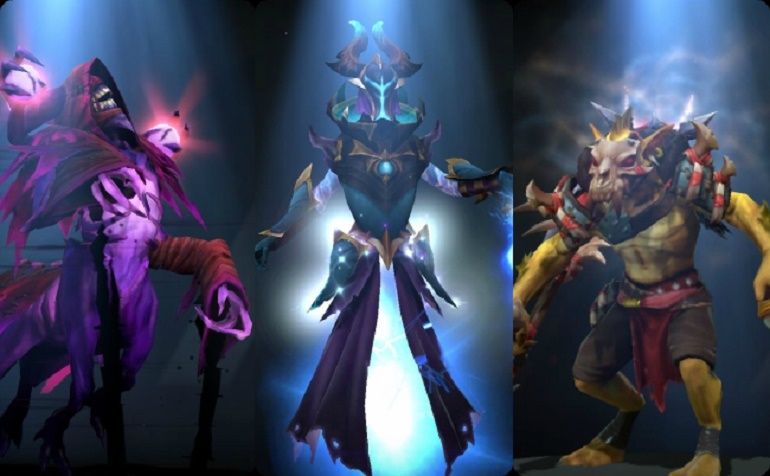 At the beginning of each game, players will choose their quest and path.
Earn Battle Points by completing quests. This season Valve has removed the hero dependent quests until the last quest of each path. Each path offers a unique reward upon completion. Complete the quest with at least 40 stars to unlock a special style for that reward.
Path of the Protector: Bane – Helpless Dream
Path of the Dominator: Razor – Redirect Current
Path of the Saboteur: Bounty Hunter – Hunting Party
Fall Major 2016 Battle Pass Wagering
Players will receive a balance of weekly Tokens to use for wagering on matches. Double the wager amount by winning games, lose the wager to the enemy for each loss.
The weekly balance of 1,000 Tokens will only be valid for that week. Unused tokens will expire. Players will make a wager within the 30-second time period. Victories will give the player double the amount in the form of Battle Points. The loser's wager will be split evenly among the winning team also as Battle Points.
Each winning token equals one Battle Point.
Right after destroying the ancients, reward either a teammate or an opponent with some of the winnings.

Fall Major 2016 Battle Pass access
For the duration of the fall season, there are a variety of exclusive features available to all of the companion owners that each player will start out with. The season ends January 2nd, 2017.
SEASONAL TERRAIN – Autumn
Battle Cup Season Pass
Treasure 1
Fall 2016 Battle Pass loading screen I
Fall Major 2016 Battle Pass Level Rewards
Complete Quests and Challenges to earn Battle Points and increase your Battle Level! As your level increases, you will unlock level rewards available only from increasing Battle Levels verses purchases to unlock treasures. Keep track of your progress and upcoming rewards on the Fall Major 2016 Battle Pass homepage.
In addition, as players level up they will receive:
FALL SEASON COURIER: Wibbley Courier with multiple unique style upgrades
FALL EMOTICON PACK
FALL LOADING SCREENS
FALL WARDS AND EFFIGIES
SPECIAL IN-GAME EFFECTS & NEW TAUNTS: Increased Battle Rewards will unlock exclusive in-game effects for Euls, Forcestaff, Blink, Teleport, and Fountain Healing. Venomancer and Undying receive new taunts as well
RYLAI'S WINTER BLESSING: Earn chances to spin Rylai's Wheel of Winter Blessing with increased Battle Rewards
Track Progress
The new Fall 2016 Battle Pass homepage allows players to view or change current path, keep tabs on the week's wagers and track Battle Level Rewards. It also allows you to monitor friends on leaderboards and keep track of your daily and weekly challenges, stats and achievements.

Fall Major 2016 Battle Cup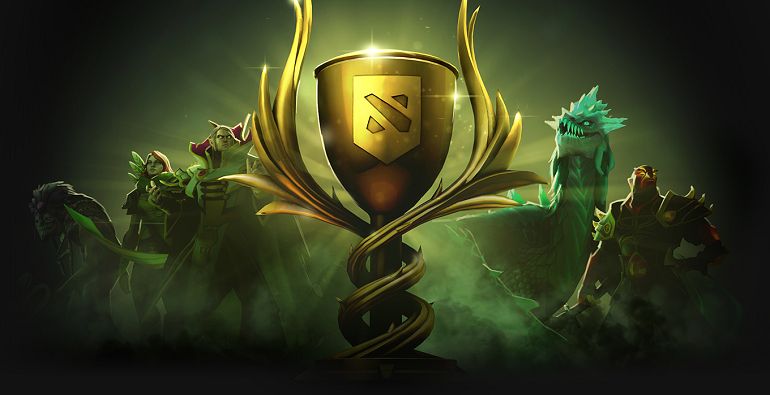 Fall Major 2016 Battle Cup features an eight-team, single-elimination, Captains Mode tournament bracket. Players of any level and age are invited to become part of the action.
Fall Major 2016 Battle Cup schedule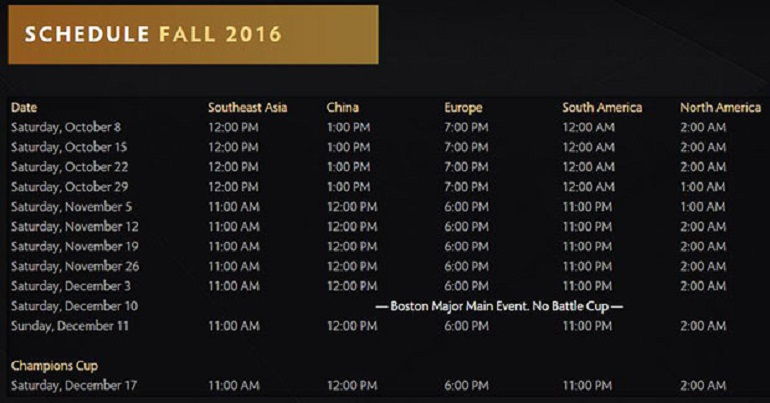 Fall Major 2016 Battle Cup participation details
Full details and FAQ can be found HERE.
Players do not need to have a Battle Pass or even a calibrated MMR. Any account with a profile badge over level 25 is eligible to join the tournament.
Registration for teams begins at the start time scheduled for each region.
Teams have one hour from start to enter the queue and find an opponent.
Matches begin as soon as an opponent is found.
Tournament matches are determined by tier and geographic location – MMR and language preferences are not calculated in. Each Fall Major 2016 Battle Cup player has an individual tournament tier, which is initially determined by MMR. After the initial tier value is set, player MMR is not used in any way in the Fall Major 2016 Battle Cup.
Individual tournament tier increases with multiple wins and decreases based on early losses.
Team tier is determined by the highest individual tier on the team.
Teams may elect to enter the Fall Major 2016 Battle Cup at the next higher tier to increase individual tier faster if they win.
Forfeits, byes and refunds are all possible during the Fall Major 2016 Battle Cup, based on team queuing and opponents.
Once the Fall Major 2016 Battle Cup tournament begins, no substitutes are allowed.
Incomplete rosters or individual players can check the meetup chat room in each region's tournament division to help find players.
Server crashes will result in ticket refunds and team tournament stats updated.
Each player receives a Fall Major 2016 Battle Cup score for the duration of the season which is visible on the Friends' Leaderboard.
All Fall Major 2016 Battle Cup participants earn 10 points for joining, 20 for advancing past first round, 40 for reaching the finals and 70 for winning the tournament.
Fall Major 2016 Battle Cup rewards
Each player on the Fall Major 2016 Battle Cup Championship team will receive:
15 Battle Pass Levels if the player already owns a compendium.
In-game trophy to be displayed on the profile, which tracks number of Fall Major 2016 Battle Cup tournaments won.
Champion Prestige effects for one week as reigning champions – includes champion status, streak counter, emoticons and the Champion Effigy.
Fall Major 2016 Battle Cup tickets

All compendium owners are given 1 free ticket and then another 5 after reaching level 29.
Additional Fall Major 2016 Battle Cup tickets are available for purchase for $0.99 in the Dota 2 store.
Each team is required to provide 5 tickets for entrance – there is no restriction on how the five tickets are gathered. One player can use five tickets, each player can use one or any combination to equal five.
Fall Major 2016 Battle Cup tickets are not tradeable or giftable.

Fall Major 2016 Champions Cup
Your Road To The Spring Major 2017. #Battlecup #Dota2 https://t.co/m9y9zPHlgC pic.twitter.com/A8TR0DZlig

— Wykrhm Reddy (@wykrhm) October 5, 2016
New for the Fall Major 2016 Battle Pass is the addition of Tier 8 – the highest tier of the cup.
The Champions Cup is a special Battle Cup tournament held after the end of the regular season
Players earn the entry fee to this exclusive event—a golden ticket—by obtaining a sufficiently high Battle Cup Score in their tier.
Battle Cup Score needed to qualify will be announced later in the season.
Players interested in reaching this goal can maximize their chances by participating each week at the same tier—and winning.
In addition to the established route through Open Qualifiers, the Champions Cup offers a new path for any player to compete in the Dota 2 Majors.
Starting with the Spring 2017 Major, one slot from each Regional Qualifier will be filled by a team of tier-8 Champions Cup winners from the previous Battle Cup season.
Once the Fall 2016 Champions Cup has concluded, every player that won a tier-8 Champions Cup will be eligible to form a team with other tier-8 champions to compete in one of four Spring Major Battle Cup Qualifiers, with the winners of each earning a spot in their Regional Qualifier.

Boston Major Compendium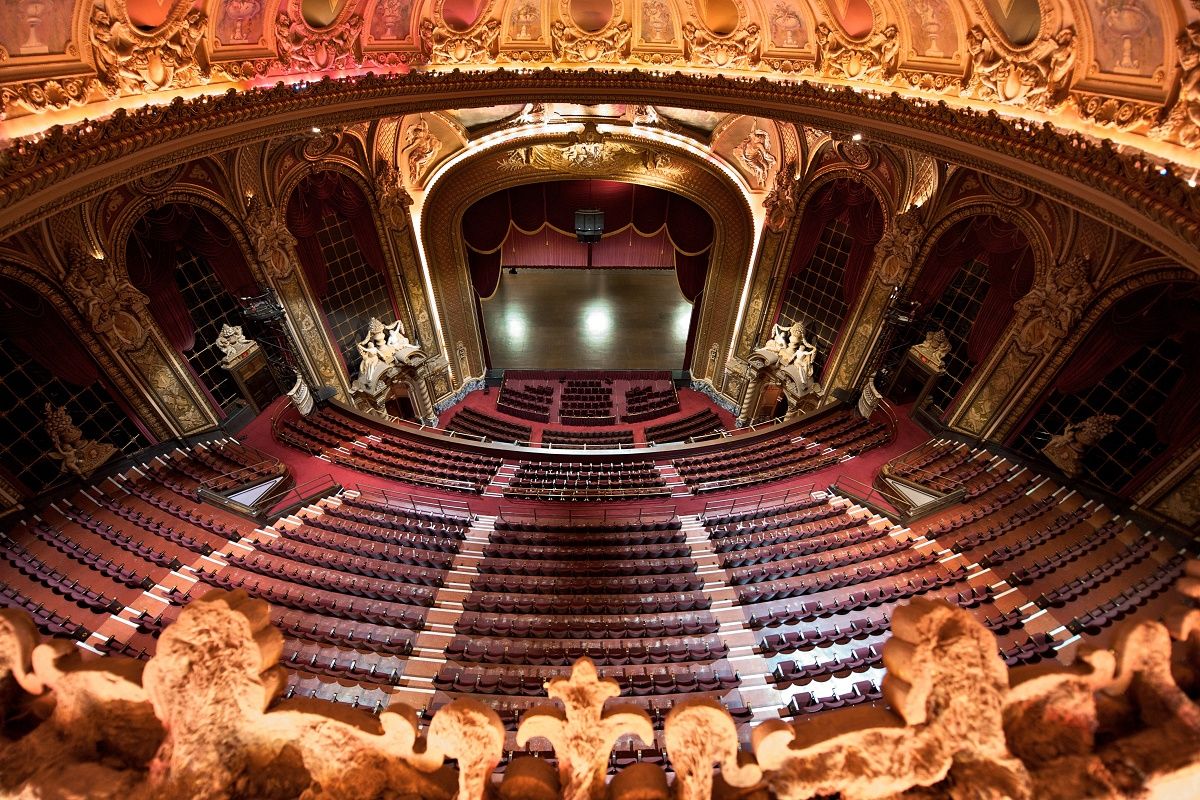 The 2016 Boston Major Compendium is included in the Fall 2016 Battle Pass and will be updated with more information and activities related to the event as it draws closer. Team profiles, qualifier information, event predictions, tournament brackets and more will be updated.
One new feature for the Shanghai Major Compendium is the Recap page. Learn more about the teams and their journeys to Shanghai on the new Recap page.