The first day of ESL One New York has concluded with some surprising twists and perhaps the biggest upset of the tournament: Vega Squadron eliminated TI5 champions, Evil Geniuses, in a 2:0 sweep. Vega, Invictus Gaming, CDEC and Team Secret advance to the semifinals to continue their journey towards the championship title and a share of the close to $290,000 prize pool.
Not many, if any, can boast they predicted the ESL One New York results for the first day correctly. In addition to what seems to be a first class tournament, the twists and surprises give an extra air of electricity and intensity that makes this first LAN of the season stand out.
While Team Secret were expected to show strength, Fnatic's new lineup and especially the rising star Djardel Jicko B. "DJ" Mampusti looked equally formidable. Team Secret suffered the first loss in a manner that suggested they might not be as strong as expected, however they turned the series around, with overwhelmingly convincing back to back wins, sending Fnatic home early.
Being picked up by Team Archon on the eve of the event, the North American FIRE roster landed much buzz coming into the series. CDEC's stability and signature team play were too much for the newly formed Team Archon to control and the Chinese advanced towards the semifinals of another LAN event.
Invictus Gaming were a last minute addition to ESL One New York, replacing EHOME who weren't able to secure their visas on time. As the Chinese giants had struggled to maintain top placements leading up to and including TI5, they experienced a change in roster, which had still been unproven. In addition, they were playing with their coach Zhou "KingJ" Yang as a stand-in for Su "Super" Peng. Virtus.Pro, on the other hand, have survived un-phased during the post TI shuffle. With three fairly quick and one-sided games, the teams took turns dominating each other. IG were the ones to claim the deciding win.
The last series of the night yielded the most shocking results of the tournament thus far. Vega Squadron, the wildcard team which had failed to advance and compete in the main event of TI5, were seeded against the TI5 champions. In a dramatic turn of events, Vega Squadron were able to maintain their control of the first game and then crush their opponents in the second match. Vega swept EG, 2:0, and advanced to the ESL One New York semifinals.
ESL One New York results, day 1
Team Secret 2:1 Fnatic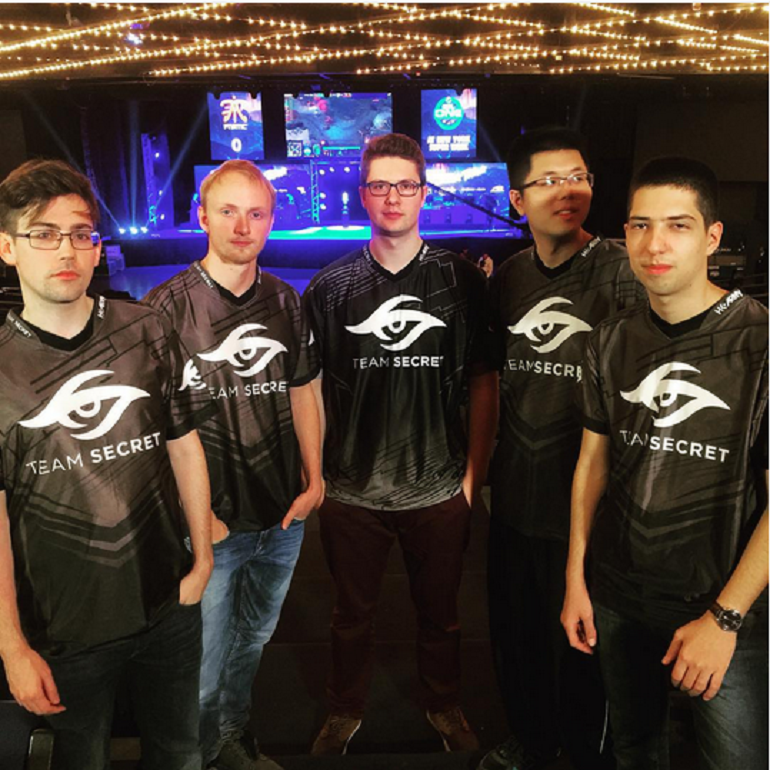 Fnatic started out the first game of the tournament with a first blood from Djardel Jicko B. "DJ" Mampusti on Clement "Puppey" Ivanov, on the top lane. The game was relatively even, with back and forth exchanges between the teams. While Team Secret were able to maintain a slight lead in both gold and experience, once Fnatic managed to take Roshan around minute 20, they were able to gain control of the advantage and use the momentum in their favor, to claim the first victory in 39 minutes.
In the second game of the series, Team Secret chose a Necro-Io combo and a classic Meepo for Omar "w33haa" Aliwi and roared out of the gates with the first three kills before Fnatic were able to get a kill on the board. The Europeans continued to snowball, dominating with map control, experience and gold until the end of the game at only 22 minutes with a score of 26:5. With Aliwi "w33" Omar's perfect game on Meepo, the team was able to even out the score and force a third game decider.
Team Secret and Fnatic went head to head in Game 3, both fighting to remain in the tournament. With an incredibly executed strategy and a strong performance by Puppey on Venomancer, the team was able to easily claim the game.
ESL One New York results: Team Secret turned the series around in their favor to eliminate Fnatic, 2:1.
CDEC Gaming 2:0 Team Archon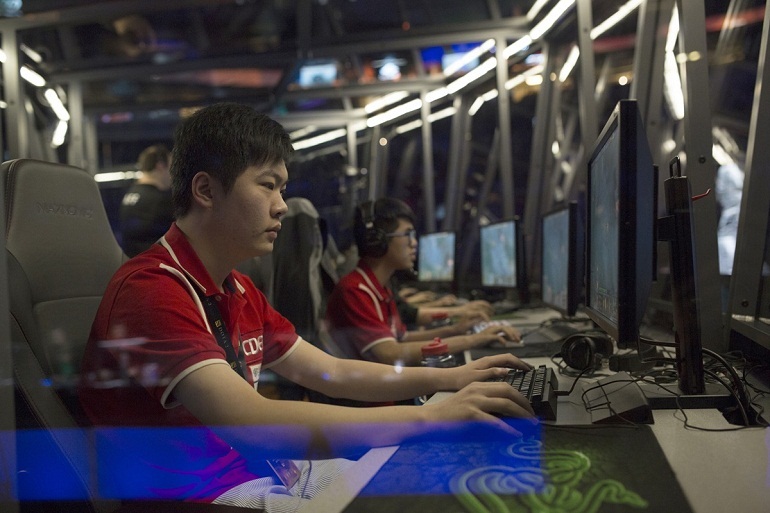 The first game between CDEC and Team Archon started with an interesting pick from Team Archon, featuring Nyx Assassin, Medusa and Chaos Knight in the lineup. First blood was drawn by Brian "FLUFFNSTUFF" Lee, for Team Archon. Despite the early kill to lead off the game, CDEC demonstrated a strong performance and were able to grab control for the entire game.
In the second game of the series, CDEC grabbed the first blood, but Team Archon quickly answered with two kills of their own, showing they were not going to roll over so easily. In the first five minutes there were 9 kills on the board and incredible amounts of aggression coming out from both sides. The graphs continued to swing in both directions through the early and mid game, keeping it open for either team to take it. Bryant "whiteBeard" Lehwald's Crystal Maiden was 9:1:2 15 minutes into the game, but CDEC were able to apply constant pressure and their movements and rotations were always on par, just as seen in their TI5 performances.
ESL One New York results: CDEC eliminated Team Archon in a 2:0 sweep.
Virtus.Pro 1:2 Invictus Gaming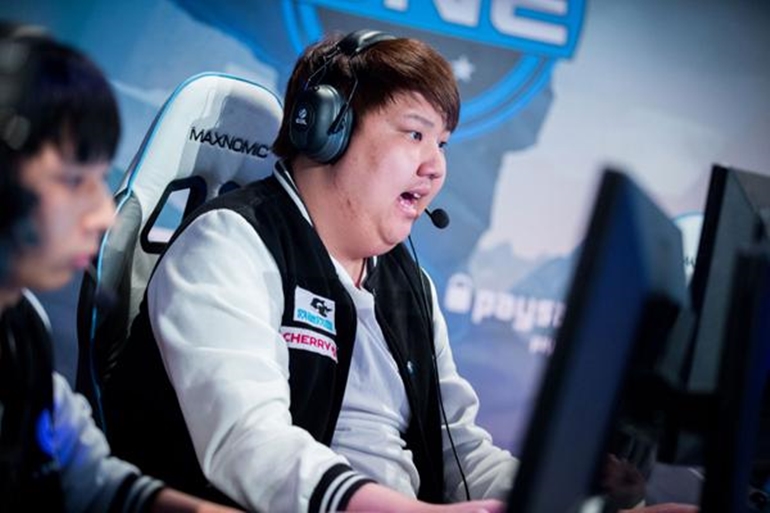 The first game of the series started out with an unconventional draft from IG, with Alchemist on the midlane for Luo "Ferrari_430" Feichi. The strategy was effective and Ferrari was able to rush a 17-minute radiance among other items and left VP scrambling to find openings and pick-offs. IG played patiently and were able to secure the first win in 34 minutes.
The second game of the series saw Ferrari on one of his signature heroes, Shadow Fiend. Sergey "G" Bragin (with help from the supports) was able to keep the Chinese player under control, minimizing his damage. With early pick-offs and Ilya "Illidan Stormrage" Pivtsaev's impressive Luna, the game was heavily one-sided. Virtus.Pro took the win in only 19 minutes and a crushing 25:6 score. The CIS team was able to force a deciding third game.
For the third game, both sides drafted some uncommon picks, including Skywrath Mage, Nightstalker and Legion Commander. After a few unsuccessful and questionable fights, VP's consecutive losses gave IG a larger margin of advantage, helping them to move forward quickly. This time, the heavy one-sided match was in favor of IG with a staggering 31:9 score in less than 30 minutes.
ESL One New York results: IG eliminated Virtus.Pro, 2:1.
Evil Geniuses 0:2 Vega Squadron
In the first game of the series, EG drafted Naga, Wyvern and Sandking – a so-called "TI5 draft". Vega Squadron took on Broodmother and Ember Spirit. The game was relatively even from the start, with both teams being able to take the advantage or lead at any time, until Vega managed to pick off Clinton "Fear" Loomis' Naga Siren and take the Roshan uncontested. Pavel "9pashaebashu" Hvastunov's Ember Spirit ended up being too much for EG to handle and Vega were able to upset the NA giants in the first game.
The second game of the series saw Andrey "Mag" Chipenko on his signature Broodmother. As a counter, EG chose an Axe for Sumail "SumaiL" Syed Hassan. The Axe was played on mid and proved to be much weaker against Queen of Pain mid. The game was much more heavily one-sided in favor of Vega than many expected and, in less than 30 minutes, the rising CIS team eliminated the TI5 champions, with a 22:8 score.
ESL One New York results: Vega Squadron upset Evil Geniuses, 2:0, and eliminated them from the tournament.
ESL One New York schedule, Sunday, October 4th

11:00 – 14:00 EDT/ 17:00 – 20:00 CEST – Semifinal #1 Team Secret vs CDEC

14:00 – 17:00 EDT/ 20:00 – 23:00 CEST – Semifinal #2 Invictus Gaming vs Vega

17:00 – 20:00 EDT/ 23:00 – 02:00 CEST – Grand finals
ESL One New York tickets
Tickets can be purchased online through the ESL website, at Ticket Master or at the Madison Square Garden Box Office, at prices ranging from $39 to $169.
Ticket prices have been reduced and refunds will be provided for those visitors who have already purchased their tickets.
The ESL One New York in-game ticket is available for $1.99. 25.0% of the proceeds of each sale contributes to the tournament's prize-pool.
ESL One New York prize pool distribution
The base prize pool is $250,000. As of September 30, the total fund has reached $286,564 through crowdfunding.
1st place – $114,626
2nd place – $57,313
3rd place – $28,656
4th place – $28,656
5th place – Evil Geniuses – $14,328
6th place – Virtus.Pro – $14,328
7th place – Team Archon – $14,328
8th place – Fnatic – $14,328
ESL One New York venue

Madison Square Garden (sometimes called MSG or The Garden) is a multi-purpose indoor arena in the New York City borough of Manhattan, New York. It is the oldest and most active major sporting facility in the New York metropolitan area and is home to the New York Rangers of the National Hockey League, the New York Knicks of the National Basketball Association, and the New York Liberty of the Women's National Basketball Association. MSG is the fourth-busiest music arena in the world in terms of ticket sales, with a seating capacity of over 18,000.
Madison Square Garden sits directly atop a major transportation hub in Pennsylvania Station, featuring access to commuter rail service from the Long Island Rail Road and New Jersey Transit, as well as Amtrak. The Garden is also accessible via the New York City Subway.