ESL One Genting 2017 champions have been crowned! Digital Chaos showed extraordinary resilience, synergy and stamina as they outlasted and outplayed Newbee 3:2 in the Grand Finals. This is the North American team's first LAN championship title and the first LAN title awarded for the new year.
Our first LAN title! Amazing work put in by @MiSeRyDOTA @Resolut1on_ @MoonMeanderated @Saksadota @w33haa @Blitz_DotA

— Team Digital Chaos (@DIGITALCHAOSgg) January 8, 2017
The ESL One Genting 2017 champions are none other than Digital Chaos.
In an electrifying five game series, Digital Chaos – when pushed to their limits, rebounded with miraculous plays and riveting performances.
Going into the the third game of the series, the North American team was behind in the series with two strikes against them. Newbee had taken the first match from them with sheer dominance on the back of Song "Sccc" Chun's perfect OD. Digital Chaos drafted a Naga Siren and Ursa for mid lane to take the victory in almost one hour for the second match, giving themselves a tie and hope for more victories to come – but Newbee seemed to be once again calling the shots with another uncontested performance by Sccc and tidy victory.
Seemingly unphased by their precarious position, Digital Chaos showed grace under pressure. Roman "Resolut1on" Fominok had two of the most phenomenal and flawless performances on Slark and LifeStealer. Clutch plays, full chaos, aggression and thrills – Digital Chaos delivered in a big way.
.@Resolut1on_ holds up the first trophy for @DIGITALCHAOSgg after their 3-2 victory over Newbee at ESL One Genting. pic.twitter.com/6JUTw2Xf54

— Richard Hibbert (@TeamHibbert) January 8, 2017
The victory for Digital Chaos marks their first LAN victory despite an incredibly successful 2016 and notable performances. The team will head out to Croatia next for DotaPit Season 5 LAN January 20 – 22nd.
ESL One Genting 2017: Prize Pool
The base prize pool for the tournament is $250,000.
1st place – $100,000 – Digital Chaos
2nd place – $50,000 – Newbee
3rd-4th place – $25,000 – Wings Gaming/Virtus.Pro
5th-8th place – $12,500 – Fnatic/Warriors Gaming.Unity/Team NP/Execration
ESL One Genting 2017 champions: Digital Chaos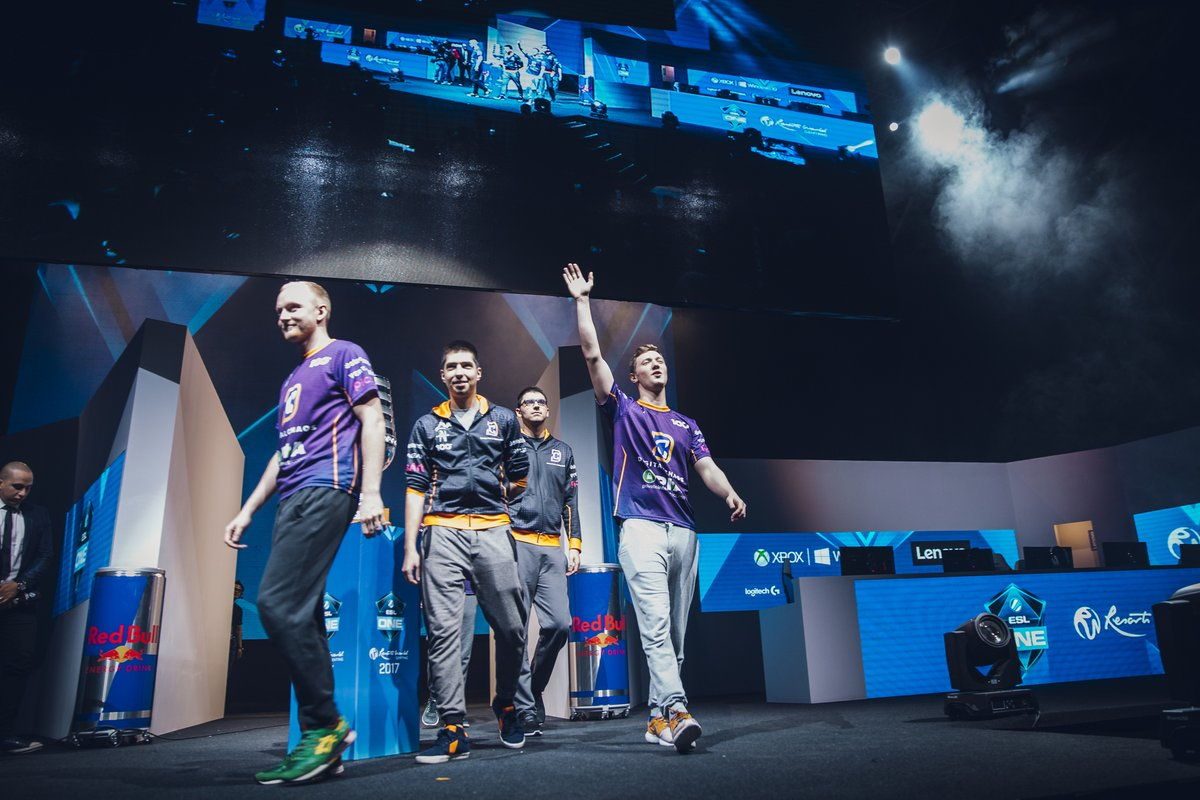 The North American team has not made any changes in their roster since the last season.
The season had been relatively quiet for the team – they took 5-6th place at The Summit 6 and 4th in the offbeat favorite- Elimination Mode 2.0 but then made a much noise at the Boston Major where they took an impressive 3-4th place finish.
Weeks ago they participated in China Top 2016 coming in 3-4th place for the four team exclusive event.
New Digital Chaos roster:

Aliwi "w33" Omar


Roman "Resolut1on" Fominok


David "Moon" Tan


Martin "Saksa" Sazdov


Rasmus "MiSeRy" Filipsen