DreamLeague Season 4 playoffs are around the corner, starting November 26th. The talent list includes fan favorites from the league season -Sheever, Draskyl, ODPixel, Shane and Luminous, who will be joined by other popular casters and stars such as Peter "ppd" Dager and Troels "Synderen" Nielsen. The six qualified teams, featuring OG, Alliance, Vega, 4CL, MFF and Empire, will be competing over three days for the $150,000 prize pool at DreamHack Winter 2015 November 26-29th in Jönköping, Sweden.
Nvidia join Corsair, Monster Energy and ASUS to sponsor the finals of ASUS ROG DreamLeague https://t.co/c6zxq1z4CG pic.twitter.com/oJm4bBhiLn

— ASUS ROG DreamLeague (@DHDreamLeague) November 20, 2015
DreamLeague has announced the final details for the upcoming DreamLeague Season 4 playoffs taking place at DreamHack Winter 2015 in Sweden November 26-29th.
Six teams have qualified during DreamLeague Season 4 league play and will now fight for the prize pool of $150,000. Virtus.Pro defeated Na'Vi in the Grand Finals of DreamLeague Season 3.
DreamLeague Season 4 teams
OG
Empire
4CL & Lepricon
Alliance
Vega Squadron
Monkey Freedom Fighters
DreamLeague Season 4 brackets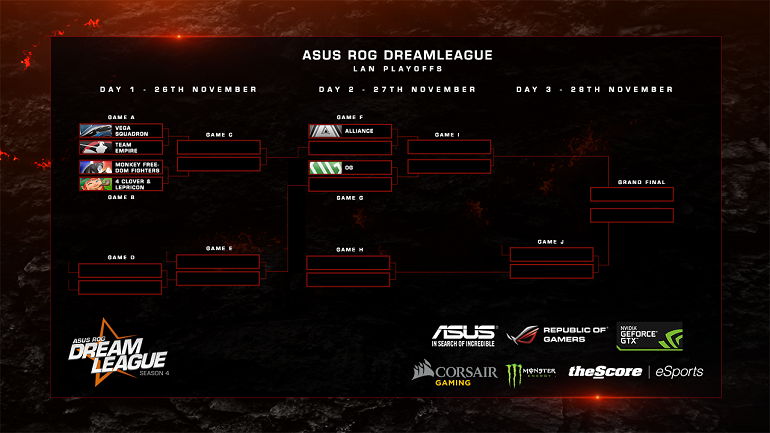 DreamLeague Season 4 Playoff Schedule at DreamHack Winter 2015
November 26
13:30 – Preshow
14:00 – Match A – Russia Vega Squadron vs Russia Empire – BO1
15:15 – Match B – europe 4 Clover & Lepricon vs europe Monkey Freedom Fighters – BO1
16:30 – Match C – Winner of Match A&B – BO3
19:00 – Match D – Loser of Match A&B – BO3
21:30 – Match E – Loser of Match C vs Winner of Match D – BO3
November 27
13:30 – Preshow
14:00 – Match F – Sweden Alliance vs Winner of Match E – BO3
16:30 – Match G – europe OG vs Winner of Match C – BO3
19:00 – Match H – Loser of Match F&G – BO3
21:30 – Match I – Winner of Match F&G – BO3
November 28
13:30 – Preshow
14:00 – Match J – Winner of Match H vs Loser of Match I – BO5
18:30 – Grand Final – Winner of Match I&J – BO5
DreamLeague Season 4 Talent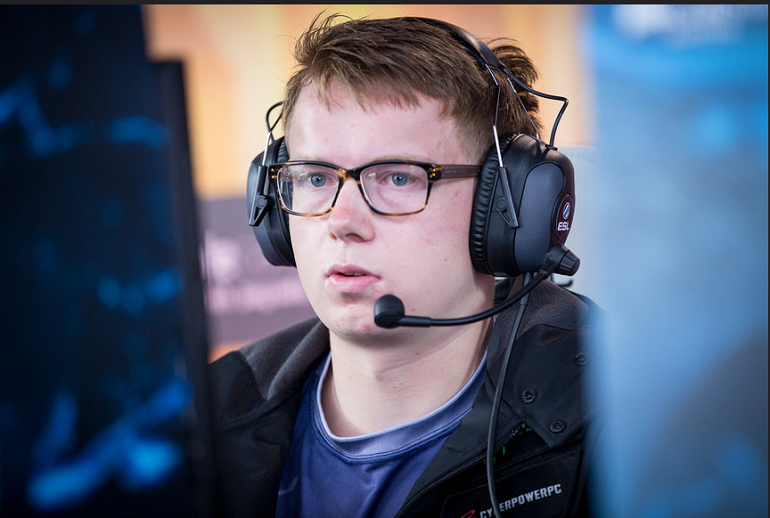 Peter "PPD" Dager will be a guest in DreamLeague as a member of the analyst team and also casting a few of games.
Jorien "Sheever" van der Heijden
Shane "Shaneomad" Clarke
Andy "Draskyl" Stiles
Owen "ODpixel" Davies
David "Luminous" Zhang
Peter "ppd" Dager
Troels "syndereN" Nielsen
DreamLeague Season 4 prize pool
1st place – $55,000
2nd place – $30,000
3rd place – $20,000
4th place – $15,000
5th place – $12,000
6th place – $10,000
7th place – No Logic Gaming -$5,000
8th place – NIP -$3,000
The six teams that qualify for the playoffs at DreamHack Winter will receive $5,000 each in travel support.