Dota 2 Radiant & Dire Cup 2015 LAN yielded some unexpected series and results. EHOME has taken the championship title after defeating CDEC.Youth 2:1. Veteran teams struggled harder against the ambitious youth to create a twisting series of evens. CDEC made an early exit from the event being defeated by CDEC.Youth and then IG.Vitality, who eventually took a commendable fourth place. LGD gaming were eliminated in the lower brackets and ViCi Gaming claimed the third place.
Congrats @EHOMECN , great AM games from Cty, and tons of potential coming out of CDEC.Youth squad. Was fun casting Dota this Christmas 🙂

— David GoDz Parker (@BTSGoDz) December 27, 2015
EHOME has secured the last championship title of 2015 with their victory at Dota 2 Radiant & Dire Cup 2015 LAN. The team has been showing great promise and results during the last two seasons and are looking good as potential candidate for the Shanghai Major.
After much renewed success and promise, it was surprising to find EHOME drop to the lower brackets in the first round after being defeated by CDEC.Youth. However, Chen "Cty" Tianyu and company trudged through the lower brackets to bring themselves back. The team battled ViCi Gaming in the lower bracket finals, finally coming out on top 2:1 and advancing to the Grand Finals.
CDEC Gaming also dropped to the organization's youth team. The veterans were swept by the younger team in a 2:0 wipe that knocked them into the lower brackets. They were then eliminated by another youth team, IG.Vitality. IG.Vitality were able to claim an impressive fourth place after defeating CDEC.
After defeating CDEC Gaming, CDEC Youth then went on to best ViCi Gaming 2:1 and advanced directly into the Grand Finals.
The Dota 2 Radiant & Dire Cup 2015 LAN began for the Christmas Holiday, December 25-27th. The tournament hosted by Perfect World featured eight Chinese teams – LGD, CDEC, ViCi Gaming, EHOME, Newbee.Young, Team FanTuan, CDEC.Youth and IG.Vitality – competing for the $150,000 base prize pool at the Shanghai Jiangwan Sports Centre Basketball Hall.
Dota 2 Radiant & Dire Cup 2015 LAN teams
Eight teams participated in the main event
4 teams directly invited – LGD, CDEC, ViCi Gaming, EHOME
2 teams from the Qualifiers – Newbee.Young, Team Fan Tuan
2 teams from the Wild Card – CDEC.Youth, IG.Vitality
Dota 2 Radiant & Dire Cup 2015 LAN brackets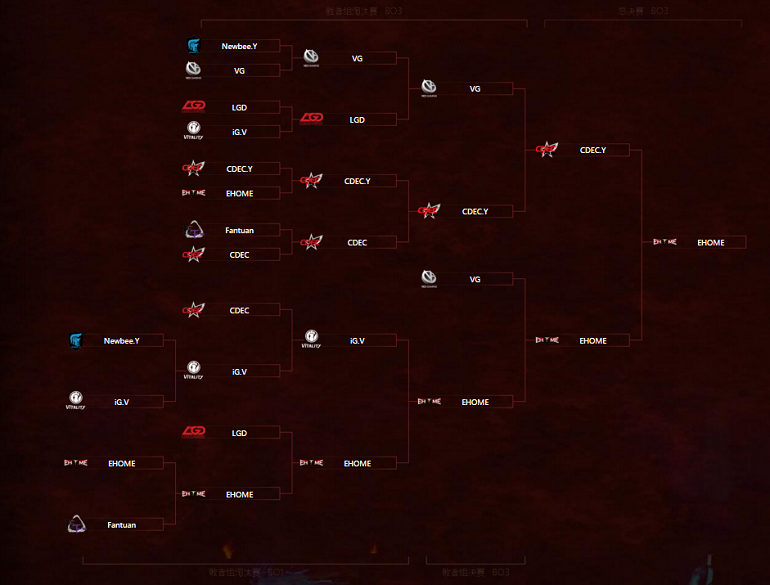 Dota 2 Radiant & Dire Cup 2015 LAN prize pool
The starting base prize pool was set at $150,000, increased through 25% of each in-game ticket sold.
As of December 23, 2015, the prize pool was $153,199 according to the PrizePool Tracker.
1st place – $61,280 – EHOME
2nd place – $30,640 – CDEC.Youth
3rd place – $18,384 – ViCi Gaming
4th place – $12,256 – IG.Vitality
5th-8th place – $7,660 – CDEC, LGD, Team FanTuan, Newbee.Young
Perfect World
Perfect World and MarsTV had partnered up to organize The Dota 2 Asia Championships (DAC) in January-February 2015, known to some as "The International of the East". The tournament was set up to be very similar to The International. The starting prize pool was set at $250,000 USD, but through crowd funding of compendium sales, the prize pool reached $3,057,519.
Perfect World also hosted the The International 5 Chinese qualifiers.
Featured image courtesy of ESL