BTS will host 18 competitions between the three regions of America, Southeast Asia and Europe, with a total of $180,000 in prize pool. The details for the events will be released in the near future. The tournaments will feature open regional qualifiers, as well as invited teams.
Announcing the BTS Series! $180k USD in prize pool over the next 12 months over 3 regions. http://t.co/CpL5qHZK3E pic.twitter.com/cTl0dIKkXK

— BeyondTheSummit (@BeyondTheSummit) August 27, 2015
Based on the success of the BTS Americas tournament held June/July 2015, the production studio will invest $180,000 in total prize pool for 18 competitions to be held over the course of the next year. The initiative will now include Europe and Southeast Asia as well.
As with the recent BTS Americas, each competition will have online open qualifiers, with the winners of each earning a spot to compete against the invited teams from their respective region. The open qualifiers are intended to help become a platform for up and coming talent and teams to have an opportunity to showcase their skills and gain exposure.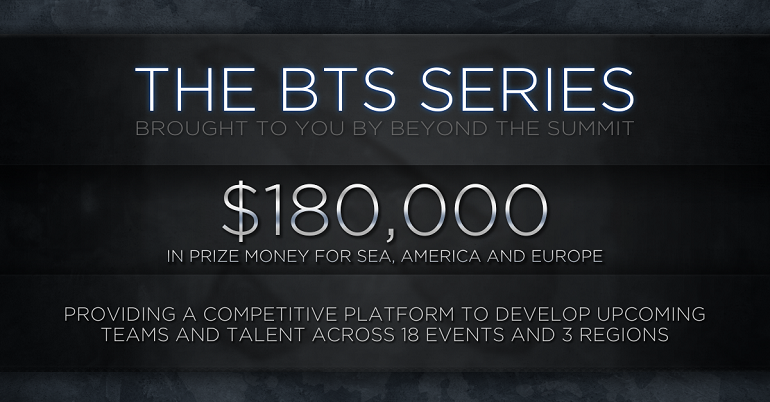 David "Godz" Parker, project manager of the BTS Series, said:
BTS Americas was a huge success. We had over 3 million unique viewers over the two weeks of games which saw TI5 attendees Archon and compLexity getting knocked out in the semi-finals by up-comers Root Gaming & Summer's Rift who provided a crazy finals watched by over 110,000 viewers at peak around the world. We're looking to continue this support of the American Dota 2 scene by running follow-up events and branching out to SEA and Europe as well. The BTS Series is looking to give upcoming teams a chance to compete against some of the more established teams as well as provide support to regions which otherwise have suffered for lack of events and support, specifically in the case of America and SEA.
BTS Series SEA region
The first BTS Series event will begin its open qualifier this coming weekend, August 29-30, on the FACEIT platform for the SEA region.
Teams will need to sign up for the open qualifiers through the FACEIT platform in order to participate. The top two teams will advance to compete against invited teams.
The invited teams from the region will include Fnatic, Mineski and MVP.Hot6ix, as well as others. The tournament will take place over a ten-day period, with a prize pool of $10,000.
BTS Americas June/July 2015
Beyond the Summit partnered up with FACEIT to host BTS Americas, featuring 16 teams and a $10,000 prize pool. The event kicked off with an open qualifier worth $750. Two qualified teams, Rebelde and Snakes, got the chance to compete alongside 14 invited teams, including ROOT Gaming, Summer's Rift, Archon and compLexity.
BTS Americas concluded with ROOT Gaming emerging as champions, after besting Summer's Rift, 3:1.
BTS Americas prize pool
1st place – $4,500 – ROOT Gaming
2nd place – $2,750 – Summer's Rift
3rd place – $1,000 – Archon
4th place – $1,000 – compLexity
Open Qualifier 1st place – $500 – Rebelde
Open Qualifier 2nd place – $250 – Snakes
BTS Americas broadcast
English coverage will be available on the Beyond the Summit Twitch channel.