BTS Americas kicks off today, at 17:00 PDT. Sixteen North and South American teams will compete for a $10,000 prize pool, over the course of three weeks.
Fourteen top teams from the Americas were directly invited: compLexity (TI5 Americas Qualifiers winners), North American Rejects (which claimed the TI5 Americas Qualifiers Wild Card slot), Boreal, eHuG, Not Today, Leviathan, Unknown.xiu, Summer's Rift, Isurus, VoidBoys, Union Gaming, Root Gaming, wayto stack (featuring well-known players Waytosexy and ixmike88), and Rebelde*. Teams EgamersX and Snakes qualified through the Open Qualifiers.
*Pain Gaming were initially announced as one of the participating teams. Their place seems to have been taken by Rebelde.
BTS Americas brackets and schedule
The main event will be held in a single elimination format, over the course of three weeks, between July 1-19.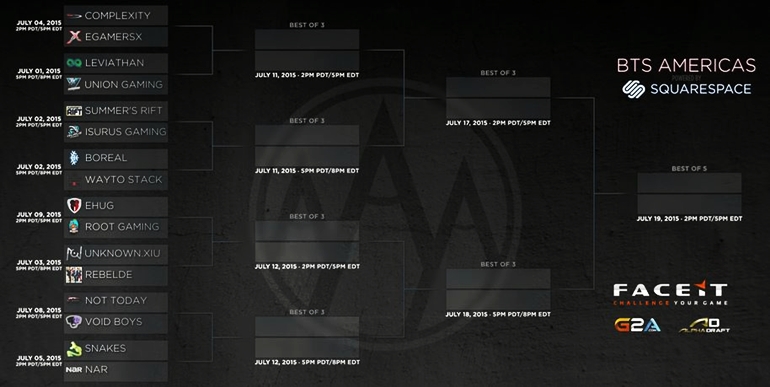 BTS Americas prize pool
1st place – $4,500
2nd place – $2,750
3rd place – $1,000
4th place – $1,000
Open Qualifier 1st place – $500
Open Qualifier 2nd place – $250
BTS Americas broadcast
English coverage will be available on the Beyond the Summit Twitch channel.