Boston Major Groups results are in for Groups C and D. LGD showed no signs of being unprepared as a last minute replacement and executed a flawless run for the top seed of Group C. OG topped Group D winning both of their series after long and hard fought battles. Team Faceless surprisingly were unable to clinch a single win to their name – placing in the last position for Group C. The action continues for the Boston Major main event on December 7th starting at 10:00 EST/16:00 CET.
After an astounding first day of the Boston Major Groups – day 2 had high standards to live up to.
The Boston Major Groups results for the remaining teams delivered just as much of a thrilling spectacle as did their predecessors.
Group C brought forward a series of surprises – one after another.
LGD Gaming topped their group with perfect performances, eradicating all of their opponents. The Chinese troop were a last minute replacement for the Filipino team – Execration which were grounded on the island following visa delays. LGD showed no signs of being ill prepared or flustered as they outdrafted and outplayed their opponents one by one. Their first match against the new SEA team – Team Faceless was their longest, clocking in at only 35 minutes. Lu "Maybe" Yao highlighting his talent and skill yet again gave several flawless matches to his teammates, closely rivaled by Wang "Ame" Chunyu's exceptional performances.
Followed by the unexpected leaders of the pack for Group C another jolt was sent through the group as compLexity Gaming – tagged as the underdog's of both the group and overall event – sent the TI5 championship team and group favorites to third place. Evil Geniuses' and compLexity Gaming's long standing North American rivalry was only heightened more with a fortuitous meeting in the Group. After EG took the first win of the series, coL struck back hard and seized the following two matches to claim the win. In their last 10 best-of-three series meetings up to this point, compLexity Gaming had only taken two of them. The upset was thrilling and electrifying. Meeting once again later in the night proved compLexity's win was not just a fluke. After an over 60 minute encounter, it was EG who would take the win. Once again, coL was not ready to be undone and once again lashed out at their rivals with a fierce attack and phenomenal performance by Zakari "Zfreek" Freedman on Rubick.
Group C was only compounded further by Team Faceless' lack of wins for the day. The newly organized SEA team had been dominating the region and stealing qualifier spots and the spotlight in a flurry of victories on the Eastern seaboard. In the damp coldness of Boston however, they struggled to find their place and chemistry. They will need to light a fire underneath themselves to warm up their frozen progress before facing the TI6 runners up – Digital Chaos in the brutal elimination series of the main event.
OG looked to be in prime shape as expected. The European team completely dismantled IG.Vitality in only 23 minutes with a score 20:4 Although IG.Vitality was playing with 2 veteran standins – Xu "BurNIng" Zhilei and Fu "Q" Bin from Invictus Gaming on loan from IG main squad – the team was helpless against with Anathan "ana" Pham 's flawless game on Timbersaw in their first game. OG did end up dropping one game to the Chinese team – and dropped another game to Ad Finem later on, but ultimately ended up winning both of their series and taking the top seed as expected.
The all Greek squad that has been slow and steady in building their brand, following and talent showed just what perseverance and hard work pays off looks like. The team not only took down EHOME in an astounding 15 minute game, but they also destroyed OG gaming one match. Ultimately, they took third in the group with tremendous promise for a relentless and unpredictable main event.
The action will continue after a two day break – on December 7th at 10:00 EST/16:00 CET with the Boston Major Main Event.
Boston Major Groups results
Groups C and D have finished in their entirety giving the final seeding results for the main event.
Boston Major Groups results group C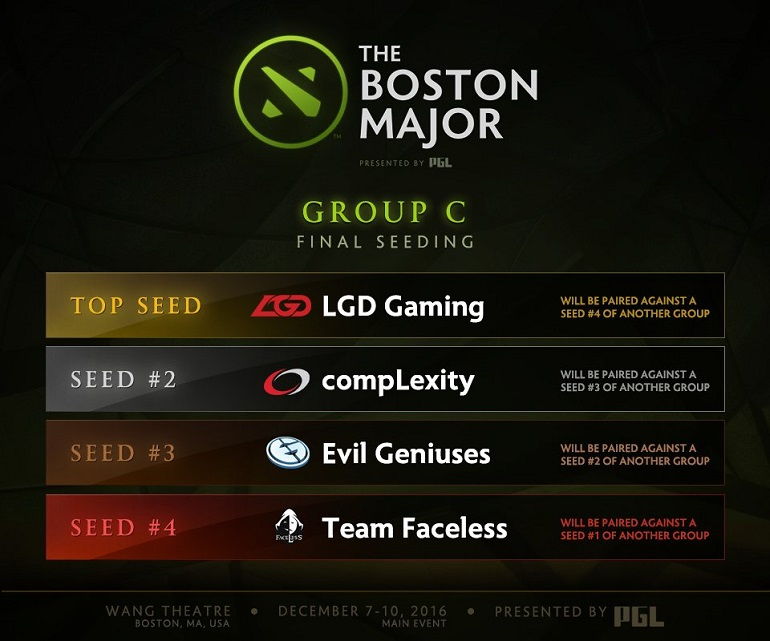 Boston Major Groups results group D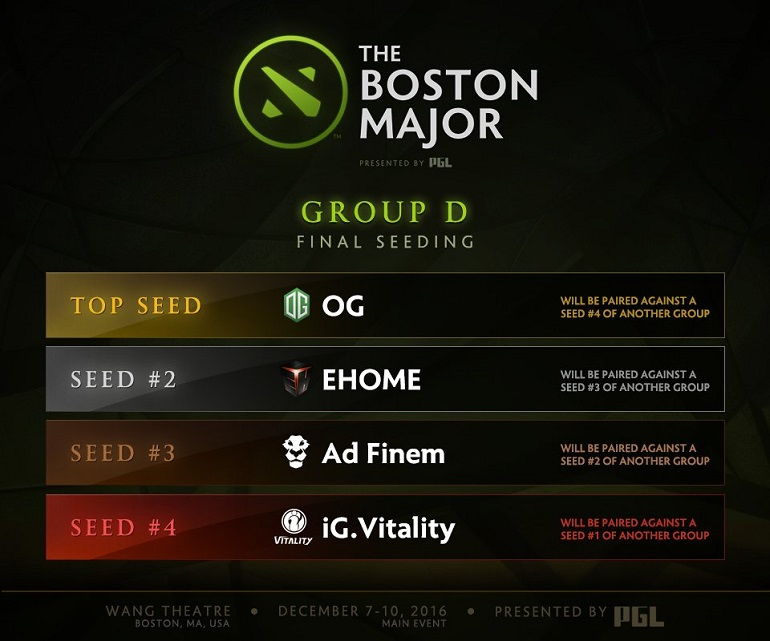 Boston Major Groups results establish the seeding for the Main Event
The sixteen Boston Major teams were split into four groups of four. No teams were eliminated during this phase of the competition. However, the teams' group stage performances were of great importance to their main event treks, seeing that the group stage established the seeding for the main event. The top seed of a group received a random 4th seed from another group. Same process with the remaining 2nd and 3rd seeds.
Sixteen teams were split into four groups of four
GSL Format
All matches best-of-three series
All 16 teams advanced to the Boston Major Main Event
Top seed of a group received a random 4th seed from another group, as 2nd seed was paired with random 3rd seed from another group

Boston Major Groups results brackets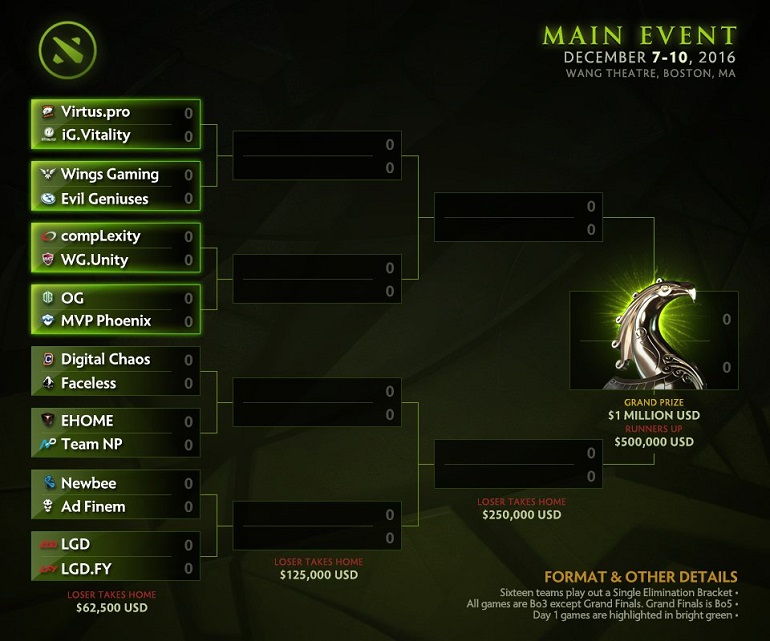 Boston Major Streams

Boston Major talent: Well-known personalities return, new faces come to light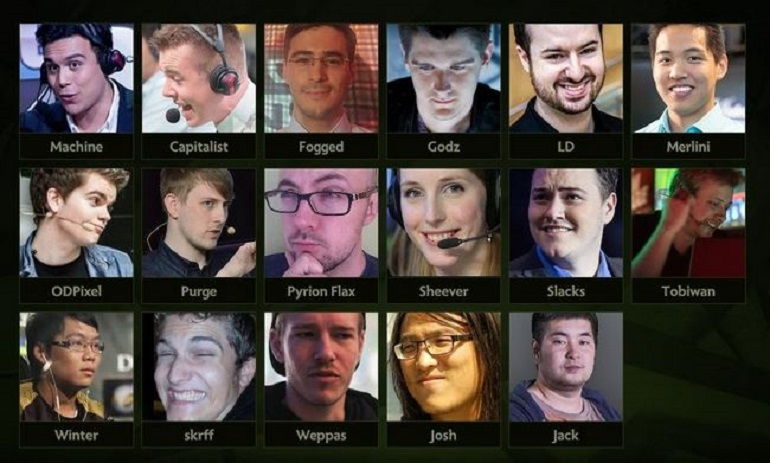 Boston Major Teams Boston Major Teams Boston Major Teams Boston Major Teams Boston Major Teams Boston Major Teams Boston Major Teams Boston Major Teams
Alex "Machine" Richardson has been chosen to be the official host of the Boston Major.
The CS:GO host and commentator will be making his big debut in Dota 2.
Machine has gained traction and popularity in the CS:GO scene with a professional and entertaining approach. Establishing himself as both a fountain of knowledge and beloved meme generator, he has been involved in almost 20 of some of the largest events in CS:GO and Call of Duty in the last year alone.
The Boston Major will also be the first time since the first International that no stats-person will be on hand.