David "MoonMeander" Tan and William "Blitz" Lee have officially joined Digital Chaos. Moon is replacing David "Moo" Hull, kicked from the team only hours earlier while Blitz has assumed the coaching position for the team.
Welcome @MoonMeanderated & @Blitz_DotAhttps://t.co/94ljv0PRLB pic.twitter.com/ginqyoudNV

— Team Digital Chaos (@DIGITALCHAOSgg) August 25, 2016
Only hours after David "Moo" Hull revealed he had been kicked from the second place TI6 team – Digital Chaos, the organization announced his replacement as none other than David "MoonMeander" Tan.
MoonMeander had been released from two time Valve Championship team – OG just two days ago.
The changes in roster composition came to a surprise to many as the team had a dramatic run through the TI6 lower brackets to upset Evil Geniuses and assume second place.
A North American based team with four of five members hailing from Europe, rumors were rampant that the team would disband or relocate to Europe. Thus far, neither of those speculations range true and with the addition of William "Blitz" Lee as a coach the team seems to be gearing up for a strong start to the new season.
Blitz had most recently coached Team Liquid, a position that he had enjoyed and seen success with. Just following TI6, the beloved caster had announced he would be taking a break from casting. With his arrival, both Per Anders Olsson "Pajkatt" Lille and Chase "Loomdun" Stearns have been released from their coaching positions within the team.
David "MoonMeander" Tan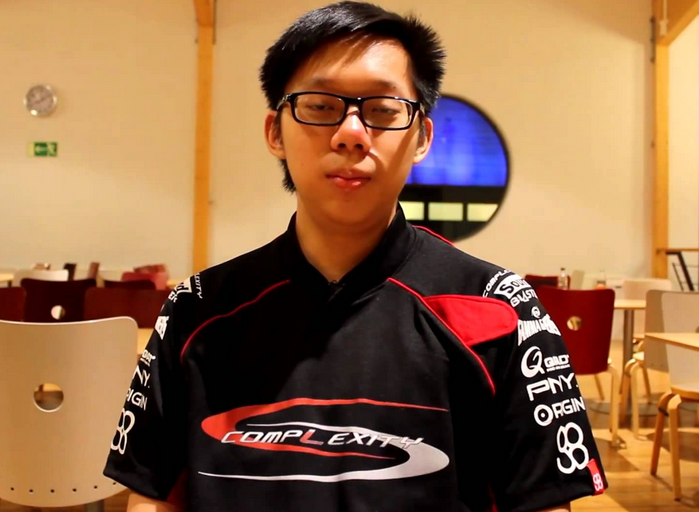 David started his competitive gaming career as a HoN player. He has been considered one of the most popular players in the competitive Heroes of Newerth scene. His entertaining personality and high skill level has always attracted high amounts of viewers to his stream. David consistently played at a high level, but had never played on a competitive team until Trademark eSports sought him out as a 5th player for a LAN event. The team ultimately took fourth place in the the NASL Season 2 finals, falling to Fnatic.MSI. When the HoN competitive scene began to decline, MoonMeander decided to switch to Dota 2, in 2014.
He first played for Dota 2 team Black Sheep, later renamed as Dream Destroyers. On August 19th, MoonMeander decided to leave Dream Destroyers and join stayGreen, replacing Rasmus "Chessie" Blomdin. In August, stayGreen was picked up by compLexity Gaming. However, MoonMeander left compLexity Gaming's Dota 2 squad in January 2015, citing that he "wasn't the right fit, both mentally and mechanically". He rejoined compLexity Gaming's roster along with Luis "Zyzzy" Perez and Tal "Simbaaa" Aizik, in May 2015.
With coL, he placed 9-12th at TI5 before leaving the team in the Post TI5 shuffle. Moon was part of the creation of (Monkey)Business with Tal "Fly" Aizik and Johan "NoTail" Sundstein.
The team rebranded into OG, a player centered and ran team-organization and went on to enjoy high achievements and accomplishments – including making history as the only team to claim two Valve Championship titles – The Frankfurt Major and Manila Major. OG took 9-12th place at TI6.
Digital Chaos


Digital Chaos was dissolved by default after they lost Theeban "1437" Siva to Team Secret as a coach and then Evil Geniuses officially welcomed back both Kurtis "Aui_2000" Ling and Sam "BuLba" Sosale to the organization, earlier this year.
The North American organization then picked up a squad consisting of Omar "w33" Aliwi, Rasmus "MiSeRy" Filipsen, Roman "Resolut1on" Fominok, David "Moo" Hull and Martin "Saksa" Sazdov. The team is attending bootcamp in the United States and competing in events, representing the NA region.
They seized a spot in the Manila Major after barreling through the Manila Major NA open qualifiers and then overcoming Shazam, 3:0, in the region's Grand Finals.
They have also proven to be a formidable enemy in the North American region, claiming the NA qualifier spots for both The Summit 5 and SL iLeague StarSeries s2.
The team's premier LAN debut was the Manila Major, where they placed 9th-12th. They then took 5th-6th place at both the Nanyang Championships and The Summit 5 and SLTV iLeague StarSeries season 2.
New Digital Chaos roster:

Aliwi "w33" Omar


Roman "Resolut1on" Fominok


David "Moon" Tan


Martin "Saksa" Sazdov


Rasmus "MiSeRy" Filipsen