Gong "ZSMJ" Jian has parted ways with White Fries Gaming after one month. The veteran player cited reasons of sub-par results and indicated he would be open to playing with another organization if the right opportunity was presented. His departure leaves the newly formed team down one player and ineligible for direct or regional invites to the Manila Major or TI6.
Gong "ZSMJ" Jian announced earlier today on his Weibo account that he has departed White Fries Gaming.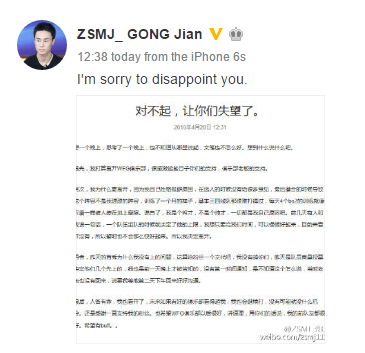 In his post, ZSMJ explains that performances were disappointing after one month of playing and showed little to no improvements. He did state that he would be open to the possibility of joining another team if the offer was suitable.
His separation will leave the team ineligible for regional or direct invites from Valve for the next five months. The team did not have an official substitute player registered.
White Fries Gaming
White Fries Gaming was formed by ZMSJ and storied Singaporean player Benedict Lim "hyhy" Han Yongat the end of March during the Manila Major/TI6 team registration period.
Joining the two players will be Fan "ayo" Tianyou who has played for Newbee, Newbee Young, IG and LGD – Pan "yCyKzXy/ychen" Shuaifang who was part of iG.Vitality, Team DK and TongFu.WanZhou -and Li "chisbug" Chen who played for Dream Gaming and CIS.
ZSMJ was most recently playing for Team FanTuan but had an extensive history playing with the top Chinese teams such as Vici Gaming, TongFu and Newbee. He gained much fame and attention starting when he was playing DotA in 2009.
Fans from SEA and China were no doubt excited to see this composition of players and anticipated high levels of performance from the team. There has been no announcement of a replacement player at this time.
White Fries Gaming

Benedict Lim "hyhy" Han Yong


Fan "ayo" Tianyou


Pan "yCyKzXy/ychen" Shuaifang


Li "chisbug" Chen