The WESG EU LAN finals playoffs yielded the last four teams to qualify for the main event in China. Team Romania, Fantastic Five, Imperial and Comanche have advanced in the playoffs and secured their tickets to China. In China, the final eight teams including Alliance, Horde, Ukraine and Ne Ru will battle it out for a share of the $1.5 million prize pool during December.
The WESG EU LAN finals playoffs from yesterday punched the tickets to China for the last four teams. Team Romania, Fantastic Five, Imperial and Comanche will join the two Swedish and two Ukrainian teams already headed East to Shanghai for the main event and $1.5 million prize pool scheduled for December.
The four teams had to battle it out against the other second and third place members from the groups during the first round of playoffs.
WESG EU LAN finals playoffs
Comanche shut out Denmark with a 2:0 victory denying Maelk another chance on a big LAN stage. After securing their main event spot, Comanche dropped 2:0 to the new Alliance roster.
Imperial faced off against the French team Que La Famille in a series that pushed to the third game. The Danish team took a quick 24 minute first victory but were slowed down by the French when they lost the second match. The deciding game was determined by a fairly one sided match with a overwhelmingly farmed Luna. Once the ticket for China was claimed, the Danish team moved into the quarter finals to face the 'other' Ukrainian team – Ne Ru. Imperial clinched a top four placement with their 2:1 victory and move ahead to the semi finals against Dendi and co.
Team Romania featuring Kaipi's bOne7 squared off against his two teammates singsing and sexybamboe on Woof. In an intense three game series, the Dutch national team secured the first win after almost an hour of play. The Romanian's bounced back in 26 minute, one sided game and then fought hard for the last victory to advance to China. With emotions running high, the Romanians moved into the quarter finals where ComeWithMe faced off against his Prodota Gaming teammate – Kefka who was leading the Swedish squad Horde. It was another long and intense battle with two of the games lasting about one hour long. In the end it was the Swedish team that would move on to the top four and semi finals to face off against their brethren – Alliance.
Fantastic Five clobbered Wombat Gaming in a overwhelming 2:0 victory. Both games lasted only approximately 24 minutes and the Russians moved on to face the Ukrainian team next. Riding high on their momentum, they took the first match of the series but quickly conceded the remaining two matches in a 2:1 loss.
Four teams remain – on the line is $75,000.
Twenty qualified national teams from from 15 different countries around Europe and CIS have gathered at Stereo Plaza in Kiev, Ukraine between October 6 – 9th. Only eight teams advanced to the main event featuring a $1,500,000 prize pool in China during the month of December.
WESG EU LAN Finals: Playoff brackets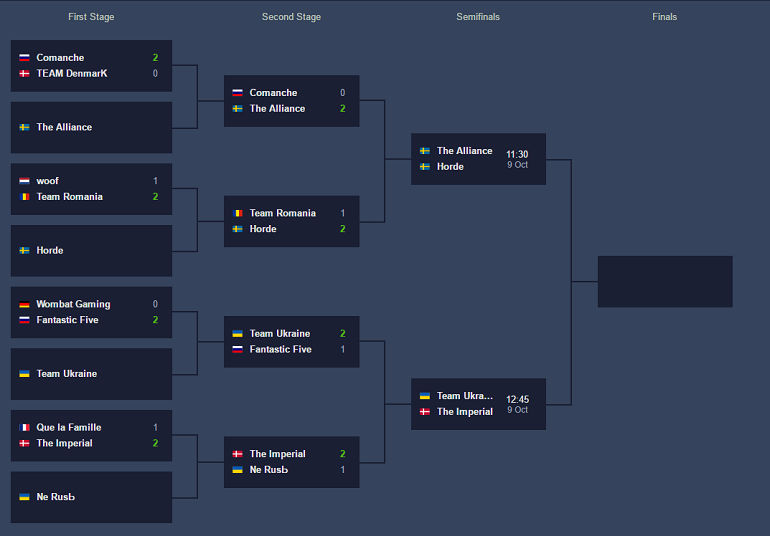 WESG EU LAN Finals: Playoff schedule
Sunday October 9th
09:30 CEST – Semi Finals – Alliance vs Horde
09:30 CEST – Semi Finals – Ukraine vs Imperial
16:00 CEST – Third place decider
19:15 CEST – Grand Finals
WESG EU LAN Finals: Participating Teams
British, Irish and Icelandic Qualifier: XENEX Gaming (meepor, whatsonwater, Mute242, 1cHiGo_, wonka)
Northern European and Post CIS Qualifier: Paragon eSports (tpecyh4uk1, Lasthero-, PoMaLL1Ka, wejustzik, Palantimos)
South-Eastern European Qualifier: Team Romania (ComeWithMe, bOne7, Ar1sE, Masakary, iLLusionisT)
Benelux Qualifier: woof (Wingblade, SingSing, Bushi, SexyBamboe, Seleri)
Central European Qualifier: NecroRaisers (Mambos, Tipek, craNich, ShapeYourMind, Hssiss)
Adriatica Qualifier: lvlUP (Chivava, kole, pwN, BAJA, Buktop)
Swedish Qualifier #1: Horde (Excalibur, Kefka, Solitude, Pablo, Akke)
Swedish Qualifier #2: Alliance (Loda, Limmp, jonassomfan, EGM, Handsken)
German Qualifier #1: Zero Hoots Given (Jabbz, Chill-, Stormstormer, EDE, HoviteY)
German Qualifier #2: Wombat Gaming (fohu, Winou, ReiGn, Archangel, Arya)
Russian Qualifier #1: Comanche (Chappie, iLTW, XaKoH, Chuvash, Misha)
Russian Qualifier #2: Fantastic Five (Illidan, Bzz, L0lik_O, rmN-, yol)
Ukraine Qualifier #1: Ukraine (Resolut1on, Dendi, GeneRaL, ALWAYSWANNAFLY, ArtStyle)
Ukraine Qualifier #2: Ne RusЬ (ARTES, Pikachu, bd1sh, orbita, CaptainLove)
Danish Qualifier #1: The Imperial (Ace, 13abyKnight, HeStEJoE-RoTTeN, NoiA, Ryze)
Danish Qualifier #2: Denmark (AngeL, Maelk, Fawh, Solen, MasterRisk)
Norwegian Qualifier: Zeta Pegasi (SaloiG, jOOOEY, Krisern_GOD_Toxic, Klaze, Blue)
Polish Qualifier: Alternate aTTaX (Fey, Exotic_Deer, Nisha, eL LisasH, kacor)
French and Monacan Qualifier: Que la Famille (Tib_, 7ckngMad, Joraal, Cerinn, Sockshka)
Iberian Qualifier: Butterfly Effect (prodigy_conwar, JIJI, runordie, Argoniur, AcidLemon)
WESG EU regional qualifiers prize pool
1st place — ¥200,000 (~ $30,067)
2nd place — ¥120,000 (~ $18,040)
3rd place — ¥60,000 (~ $9,020)
4th place — ¥40,000 (~ $6,013)
5th-8th place — ¥20,000 (~ $3,006) – Ne Ru/Fantastic Five/Team Romania/Comanche
(+ tickets to the WESG Global Grand Finals for the top eight teams)
WESG EU LAN Finals: broadcast
The event will be broadcast live from Stereo Plaza in both Russian and English streams.
Russian stream will be provided on StarLadder
English stream will be provided by StarLadder