With the first three days down and only one to go, the TI5 group stage standings are starting to paint a clear picture on the teams' seeding for the main event. Team Secret and LGD are still tied for the first position in Group A. Cloud 9 went undefeated and slid into the third position. Meanwhile, Wild Card winners CDEC continue to impress, as they have now taken the lead in Group B, topping Evil Geniuses. Both MVP.Hot6ix and Na'Vi remain at the bottom of their groups.
UPDATE (August 9):
Evil Geniuses are your TI5 champions! Grand Finals VODS, summaries, pictures and highlights: here.
LGD Gaming and Team Secret continue to share the top spot of their group, as they managed to draw their series against each other. LGD convincingly defeated Na'Vi, while Team Secret unleashed a Techies-Tuskar pick in the first game against compLexity and a mid-lane Broodmother to take the second game.
Cloud 9 had a great third day of the TI5 group stage and went undefeated in their two series, gaining six points and moving into the third position in Group A.
compLexity's losses to Team Secret left them empty handed. The North Americans slipped into fourth place going into the last day of the TI5 group stage.
Both Fnatic and Na'Vi snatched only one point each from their matches today. Fnatic dropped down a position and Na'Vi remains at the very bottom of Group A.
Invictus Gaming continued to struggle with their performances and and did not manage to win a single game. The team holds on to its three-points record and slides into the second to last position in their group.
MVP.Phoenix managed to grab three points. Although they lost both their games against Cloud 9, they won their series against Invictus Gaming. The Korean team moved up to fifth position.
Wild Card winners, CDEC, completely dominated their games today. They took six points for winning both of their series and moved into the top of their group, ahead of Evil Geniuses.
With CDEC taking the first spot, Evil Geniuses dropped into the second position in Group B, after drawing in both of their series against EHOME and Team Empire.
Despite Virtus.Pro winning four points after an overall great day, they remain in the third position.
EHOME moved into fourth position having gained four points after tying up their series versus Evil Geniuses and winning the one against MVP.Hot6ix.
Team Empire remain in fifth position after pulling draws in both of their series against Newbee and Evil Geniuses.
ViCi Gaming has slipped from fourth place to sixth place in Group B, while defending champions Newbee slipped into seventh position. MVP.Hot6ix remains at the bottom of Group B, going into the last day of the TI5 group stage.
TI5 group stage standings, day 3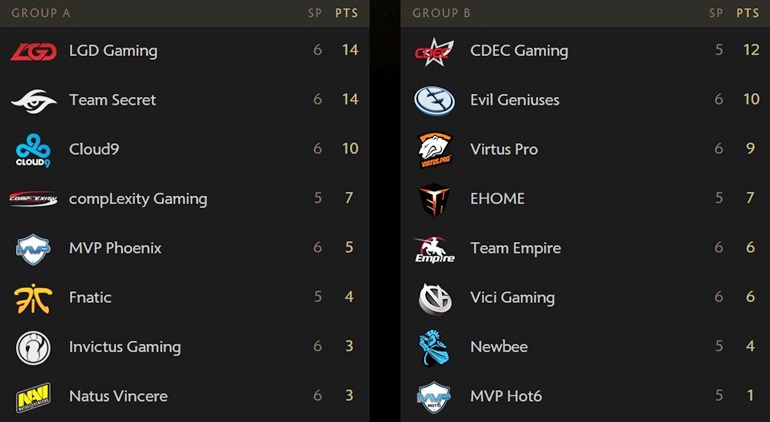 TI5 group stage day 3 recap
Group A: LGD 1:1 Team Secret
Team Secret played a great game, using wards to their advantage to gain incredible vision and map control, taking stacks in the enemy jungle and overall outplaying the Chinese team and turning an even game into their victory.
Lu "Maybe" Yao would draw first blood for LGD in the mid-lane on Gustav "s4" Magnusson's Queen of Pain. He would continue to slaughter Team Secret's heroes and, by 13 minutes into the game, Maybe had gone on a "Godlike" streak. It would another minute before Team Secret would land their first kill of the game. LGD's Leshrac and Anti Mage were too much for Team Secret to handle.
Group A: Invictus Gaming 0:2 Cloud 9
In the first game of the series, Cloud 9 drew first blood, but that would be far from the last. Cloud 9 annihilated Invictus Gaming in only 25 minutes, not even allowing the Chinese team to obtain a single kill in their favor. The game ended with a 16:0 score.
Although the second game would tread better for IG, it was still very clearly one-sided in favor of Cloud 9. Adrian "FATA-" Trinks' Shadow Fiend led Cloud 9 to victory.
Group A: Fnatic 1:1 Natus Vincere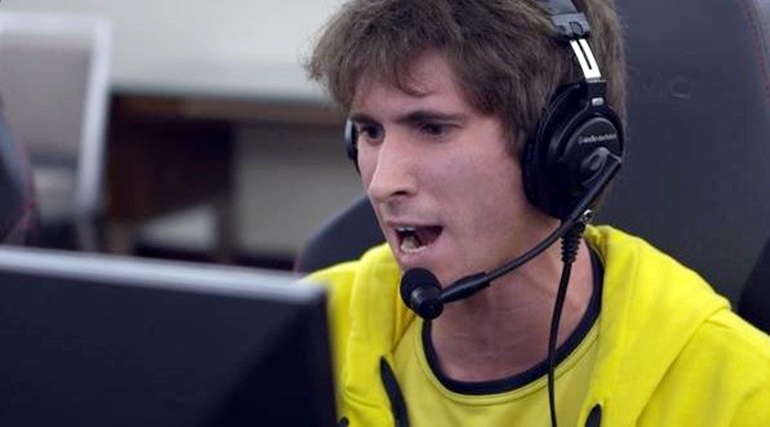 After Fnatic picked Winter Wyvern, denying Na'Vi the chance to run Akbar "SoNNeikO" Butaev's signature hero in the first game, Fnatic drew first blood. However, Danil "Dendi" Ishutin on Queen of Pain would go on an ultra kill by 10 minutes into the game. Dendi ended the match with a score of 20:0:15.
The second game was a 70 minute long and brimming with action. It ended in a base race and took a four-man wipe in Na'vi's base before Fnatic could finally take the win. The transition of Naga Siren support to carry which ended up to be the most farmed hero in the game was not enough to out-carry Fnatic.
Group A: Natus Vincere 0:2 LGD
LGD drew first blood and the game was relatively even, with Na'Vi taking a slight advantage during the early game. However, the mobility and map control from LGD's Tiny-Io combo and their well farmed Gyrocopter would prove to be too much for Na'Vi.
For the second game of the series, LGD went with a Lycan, allowing Liu "Sylar" Jiajun to draw first blood against "Dendi" and kick off the match. Despite doing well during the laning phase and early part of the game, "Sylar" turned into too much trouble in between being well farmed, his damage and his pushing power.
Group A: Cloud 9 2:0 MVP.Phoenix
Cloud 9 carried on the momentum from their earlier series, slaughtering their opponents and showing no mercy. In Game 1, Cloud 9 had a really good lineup against MVP's Io combinations and Jacky "Eternal Envy" Mao's Clinkz was incredibly farmed, with a final score of 20:2:8. MVP.Phoenix had no real good way to deal with him and the game was lost quickly, in 32 minutes.
Cloud 9's five-man lineup in the second game of the series was incredibly strong in team fights. Although the game would start out relatively even with some back and forth trades, Cloud 9 would convincingly take the victory, due to both Eternal Envy's Bloodseeker and FATA-'s Dragon Knight being very farmed.
Group A: compLexity 0:2 Team Secret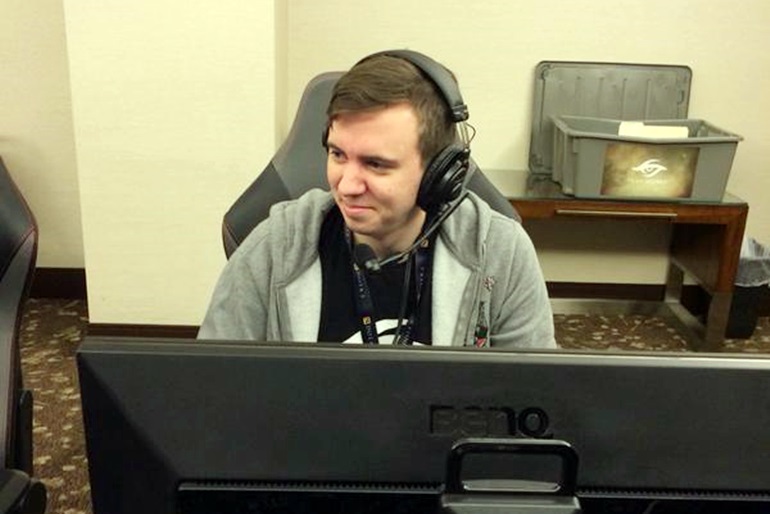 Team Secret started the first game with a Techies-Tuskar pick. Surprisingly, compLexity played well against the Europeans, holding their own and even outplaying them at times. The game lasted for 50 exciting minutes, but in the end it would be Artour "Arteezy" Babaev's Templar Assassin that would prove too much for the North Americans to contend with.
compLexity went with the Techies-Tuskar combo in Game 2. Ludwig "zai" Wåhlberg on Broodmother did an amazing job for his team, ganking, roshan, pushing towers, and doing everything to get his team the advantage. He became the leader in net-worth by a large margin. Team Secret were then able to plow through compLexity and end the game in 25 minutes.
Group B: MVP.Hot6ix 0:2 Virtus Pro
After securing three of the top meta picks, Earthshaker, Gyrocopter and Tuskar, Virtus.Pro went on to crush MVP.Hot6ix in only 24 minutes, with a score of 26:5.
The second game of the series was an overall easy domination for Virtus.Pro over the Koreans. With Alexander "DkPhobos" Kucheria playing a spot on Earthshaker, Ilya "Illidan" Pivcaev's great Lina and Sergey "God" Alexandrovich Bragin's flawless Bloodseeker, VP were able to easily grab the victory.
Group A: Invictus Gaming 0:2 MVP.Phoenix
Invictus Gaming took the first blood versus MVP.Phoenix and the slight advantage during the laning phase. However, MVP.Phoenix managed to pull ahead of them. Armed with double rapiers and insanely farmed, Kim "QO" Seon-yeop's Ember Spirit would bring the Koreans to victory after 72 minutes.
The second game of the series would be heavily one-sided in favor of MVP.Phoenix, with Damien "kphoenii" Chok's Leshrac having significantly more farm than anyone else in the game and ending up with a score of 8:1:12. The game lasted for 29 minutes, a stark contrast to first one of the series.
Group B: Team Empire 1:1 Newbee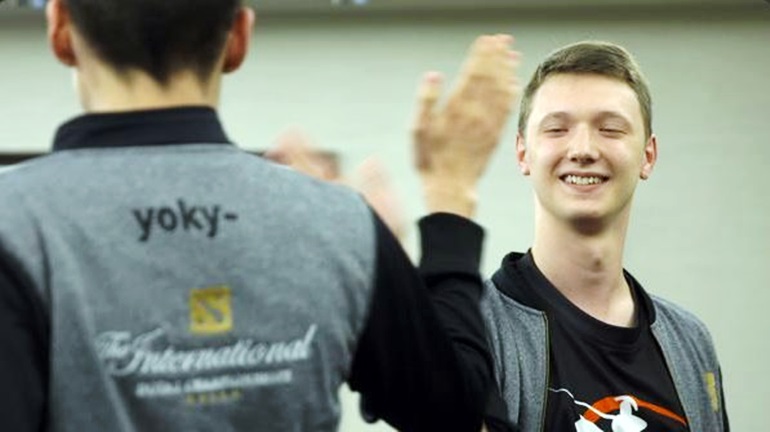 Despite Team Empire picking up a Naga Siren and the game starting out relatively even, it would all be over quickly. In just over 30 minutes, Newbee had gained control with Zhang "Mu" Pan's Queen of Pain and Lin "June" Shiyang's Tuskar both having incredible games. The defending champions managed to create a genuine bloodbath and ended the game with a 38:11 score.
The second game of the series belonged to Team Empire. With Maxim "yoky" Kim performing extraordinarily well on Magnus, the Russian team was able to secure a win.
Group B: EHOME 1:1 Evil Geniuses
Evil Geniuses ran an unusual lineup with a Lich pick. By delaying the game and winning team fights with track kills, they were able to gain momentum and eventually defeat EHOME, after the Chinese team was forced to stay as a five-man group.
In Game 2, Evil Geniuses played really well for the most part, but it seems they just didn't have what it took to stop both EHOME"s Luna and Leshrac from becoming over-farmed.
Group B: ViCi Gaming 1:1 Virtus.Pro
The first game of the series started off relatively even, with Virtus.Pro having a slight advantage. Chen "Hao" Zhihao's Queen of Pain would quickly become a problem for the CIS team and ViCi Gaming closed out the match in 27 minutes.
ViCi Gaming drafted a Broodmother and gave Hao the Anti Mage. ViCi Gaming were dominant the entire game, basically winning almost all of the team fights. Even when they were not winning the fights, they were split pushing and forcing VP to stay around their own base. However, a big fight and fast kill on the Anti Mage without buyback created the space that VP needed to win the game.
Group B: Newbee 0: 2 CDEC
The first game of the series started off fairly even. However, a flawless game by CDEC's Sun "Agressif" Zheng on his incredibly farmed Phantom Lancer would push through to end the game in 32 minutes.
In the second game, CDEC completely crushed the defending champions Newbee with another exceptional performance by Agressif and a flawless game from Chen "Xz" Zezhi.
Group B: Evil Geniuses 1:1 Team Empire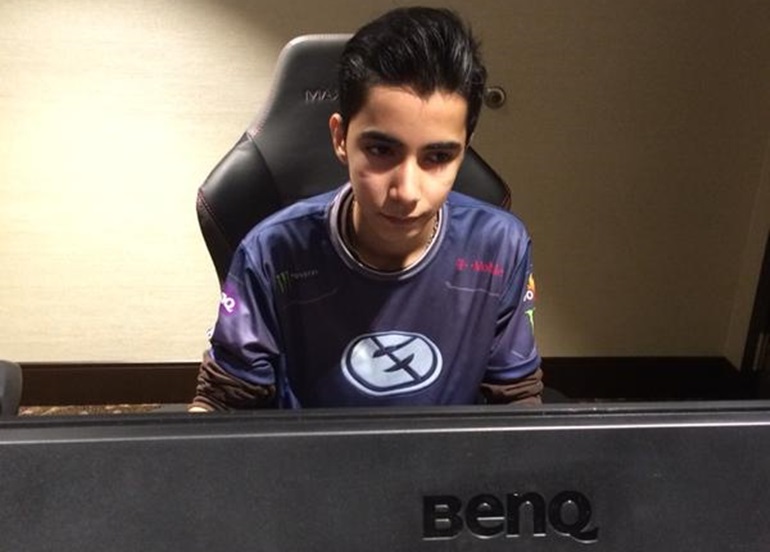 Team Empire drafted an uncommon Night Stalker in their first game against Evil Geniuses. However, the North American team took control of the game and became fully dominant, with Clinton "Fear" Loomis leading the way. Syed "SumaiL" Sumail Hassan had a fantastic game on Queen of Pain, and EG took the victory in 36 minutes, with a score of 28:9.
Team Empire would strike back in Game 2, taking full control of the map. The game ended relatively quickly, in 34 minutes.
Group B: EHOME 2:0 MVP.Hot6ix
EHOME came out swinging for their last match of the day and easily destroyed MVP.Hot6ix, with Chen "Cty" Tianyu's overpowered Queen of Pain going 19:1:7 by the end. With a final score of 39:13, the Chinese claimed their victory.
EHOME started off the second game of the series with the advantage, but MVP.Hot6ix held their own and even managed to take the lead during the early game. However, the farmed Phantom Lancer and Cty on mid-lane would end up being too much for the Korean team to control.
Group B: ViCi Gaming 0:2 CDEC
CDEC would continue to dominate the teams in their group, this time in the first game against ViCi Gaming. Once again, both Xz and Agressif showcased their talent and skills, leading the team in a final fight by Roshan and then to victory.
In the second game of the series, CDEC drew first blood and yet again continued to show strong performances, dominating their opponents. Agressif had another flawless game, this time on Slardar ,and Huang "Shiki" Jiwei took Bristleback to mid with a score of 11:1:11.









TI5 group stage schedule, day 4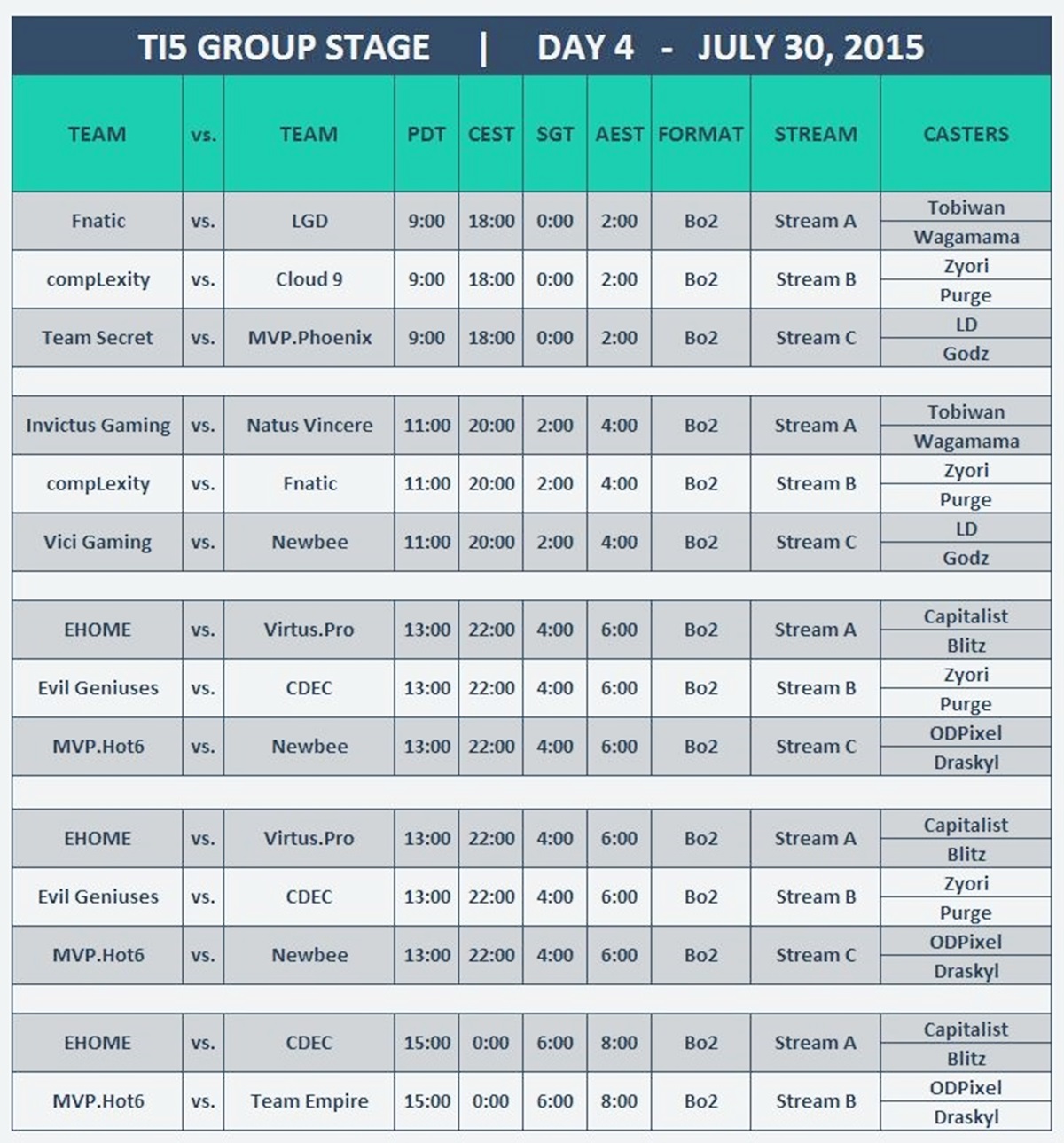 TI5 group stage format
Ten invited teams: Team Secret, Evil Geniuses, Vici Gaming, Team Empire, Virtus.Pro, LGD Gaming, Fnatic, Invictus Gaming, Newbee, Cloud 9
Four qualified teams: Natus Vincere (TI5 European Qualifiers), MVP.Hot6ix (TI5 SEA Qualifiers), compLexity Gaming (TI5 Americas Qualifiers), EHOME (TI5 Chinese Qualifiers)
Two Wild Card teams: CDEC and MVP.Phoenix
Teams are placed into two groups of eight.
Each team faces all the other teams in their group in a best-of-two series, over the course of four days, July 27-30.
The winner of a best-of-two series takes 3 points. If the series is tied, both teams receive 1 point.
Potential tiebreakers are played on the fourth day of the TI5 Group Stage, on July 30.
Bottom four teams in each group will be placed into Lower Bracket of the Main Event.
Top four teams in each group will advance into the Upper Brackets of the Main Event.
The TI5 Group Stage establishes the seeding for the main event. All 16 teams will advance to the TI5 Main Event.
TI5 Streams