Only three days since the TI5 compendium was released, sales are going through the roof, outpacing the TI4 compendium purchases in the same time frame by over 36%.
Merely 63 hours after the TI5 compendium became available, The International 5 total prize pool had already broken the 5 million dollar mark, showing no signs of slowing down anytime soon.
At 1 pm GMT, on May 4, the total prize pool has reached $5,286,879. If we take away the $1,600,000 Valve chipped in, we're left with $3,686,879 raised by the community.

However, only 25% of the proceeds of each sale contributes to the tournament's prize pool. Therefore, the Dota 2 community actually spent $14,747,516 on TI5 compendiums and compendium points, over three days, leaving Valve with a $9,460,637 gross profit.
The TI5 compendium sales are growing at a faster pace than last year's. Cyborgmatt's prize pool tracker provides real time comparison graphs.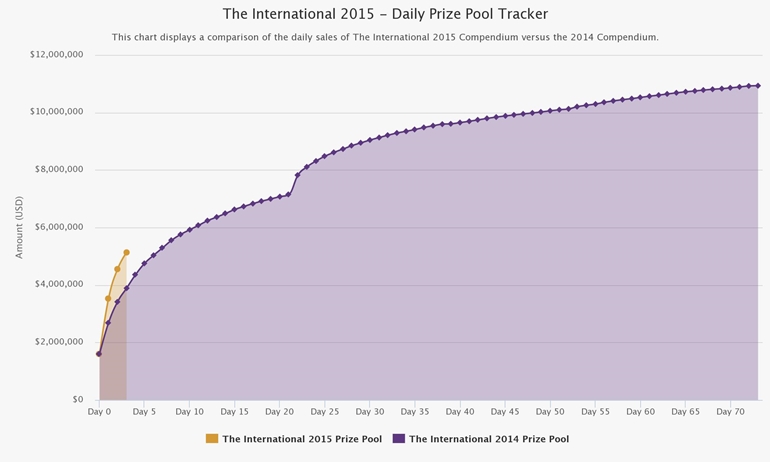 Should this be an indication of the trends to be expected and continued, The International 5 prize pool could potentially surpass last year's record breaking prize of $10,931,100 – the largest in eSports history.
In order to raise the total prize pool to this year's $15 million goal, the Dota 2 community would have to spend $53,600,000, leaving Valve with over $38 million on their hands.
TI5 compendium unlocked stretch goals
The TI5 compendium stretch goals go all the way up to the $15 million mark. Eight out of the 20 TI5 compendium stretch goals have already been unlocked. The Cursor Pack was the first bonus to be unlocked, minutes after the $2,000,000 mark was reached. The All Star Vote, Arcana Vote and The Immortal Treasure I have become available, when the TI5 prize pool got to $3,000,000. Owners get a chance to win a rare Night Stalker: Black Nihility set and the extremely rare Luna: Golden Moonfall shield. Compendium Effigies, Loading Screens and Emoticons have also been unlocked.

12 TI5 compendium stretch goals to unlock
Twelve more TI5 compendium stretch goals are waiting to be unlocked. The International HUD Skin will become available when the prize pool comes to a total of $5,500,000. The Immortal Treasure II will be released once the $7,000,000 stretch goal is achieved.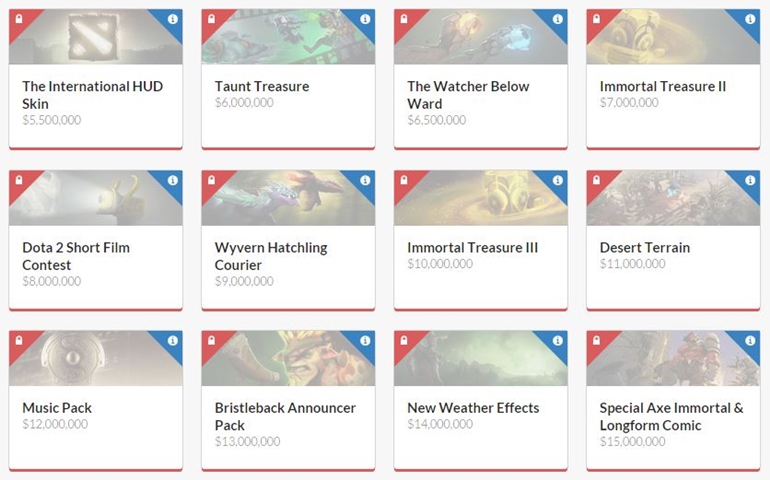 The TI5 compendium can be purchased for a base price of $9.99 or straight at level 50, for $26.99.