The Gaming Resorts and Gaming.RS have partnered up for a new festival and LAN experience scheduled to be held in Portorož, Slovenia, between September 10-12, featuring eight invited top tier teams and a $50,000 prize pool.
According to The Gaming Resorts official website, the main event of Dota 2 will take place between September 10-12 in Portorož, Slovenia. The event will be hosted by Gaming.RS, which consists of former staff members of E-Frag.net, including former CEO Petar "Peca" Markovic.
The event will last for seven days from September 6- 13 and include Dota 2 and CS:GO as main tournaments, with smaller ones for League of Legends, Pro Evolution Soccer 2015 a Fighting game TBA, Sid Meier's Civilization V, and Hearthstone occurring simultaneously.
The teams
Eight top tier teams will be invited to participate.
Confirmed teams include:
Na'Vi
Team Empire
Ninjas in Pyjamas
The Festival
The gaming resort will feature onsite music venues, guest and player lodging facilities, VIP section, restaurants, and expo centers. Situated on the Adriatic coast of Portorož, Slovenia the surrounding tourist area boasts beaches, spas, beach-side dining and exciting nightlife options.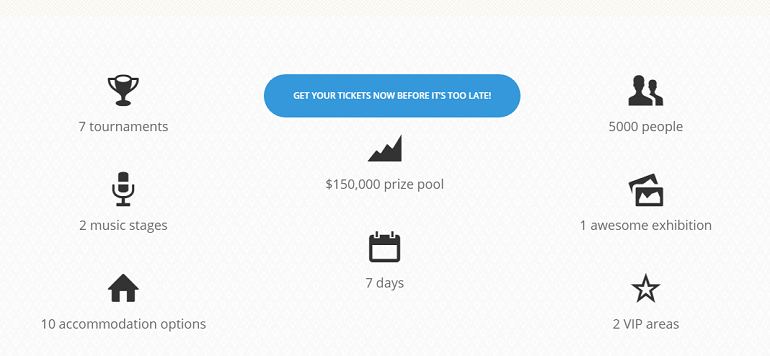 Tickets
Tickets for the Dota 2 event are on sale ]until September 6th, and range from $30-$195.
Options include:
Paladin Dota 2:
4 nights in a 4-star (5-bed) apartment + 4-day VIP access to the festival during the Dota 2 tournament (10–13 September) for €195.00 + €5.20 fee
Rogue Dota 2:
3 nights at a campsite by the sea + 3-day access to the festival during the Dota 2 tournament (10–13 September) for €135.00 + €3.83 fee
Barbarian Dota 2:
3-day access to the festival during the Dota 2 tournament (10–13 September) for €90.00 + €2.80 fee
Barbarian for a Thursday:
1-day ticket for Thursday, 10 September 2015 for €30.00 + €1.44 fee
Barbarian for a Friday:
1-day ticket for Friday, 11 September 2015 for €30.00 + €1.44 fee
Barbarian for a Saturday:
1-day ticket for the Dota 2 finals on Saturday, 12 September 2015 for €40.00 + €1.66fee
Photo Credits: Yegor Markelov Twitter and TGResorts Facebook