Sudamerican Master League returns with a $4000 prize pool for their new season. Sixteen teams – ten invited and six qualified – will compete in a group stage starting on February 21st. The event will then advance into a playoffs stage and eventually the grand finals to be played on April 10th. The event will be streamed in four languages – Spanish, Portuguese, English and Russian.
Sudamerican Master League returns for the fourth season in partnership with LiveDota.TV, Dota2bestyolo, hitbox, MundoLG and DarkDOG. This iteration of the event features a $4000 prize pool and sixteen teams competing from Latin America.
Ten of the top teams in the region have been directly invited to participate – Elite Wolves, Infamous (ex-Unknown), Luccini, NotToday, Unknown.xiu, swag, Pain, Kawaii and eKeepo.
140 teams battled their way through the open qualifiers. Only six teams were able to qualify for the main event – Lambs to Matedareo, RES NON VERVA, Musuq, Absolute Control, Virus.nIRVANA, and 2Kill.
Sudamerican Master League format
There will be two stages of game play – Group stage and playoffs
Group stage
Group stage teams are divided into 4 groups of 4 teams
Groups stage is played in a Round Robin format
The point system awards 2 points for series win, 1 point for draw, 0 points for loss
Top two teams from each group move into the playoffs
Playoff stage
Playoffs are double elimination format
Games are played as best-of-three series
Grand Finals are best-of-five
There is no winner bracket advantage
Sudamerican Master League groups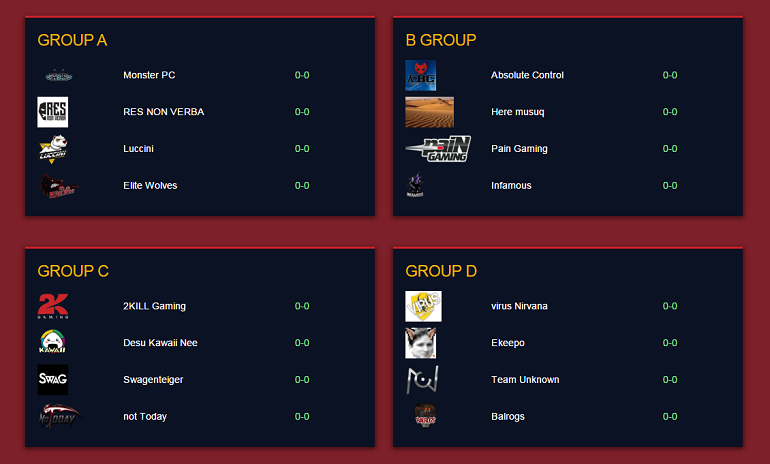 Sudamerican Master League prize pool
1st place – $2400
2nd place – $1040
3rd place – $560
Sudamerican Master League broadcast and ticket
An in-game ticket is available for purchase here for $1.99
The tournament will feature broadcasts in 4 languages:
In Spanish at Livedota.TV
In Portuguese at ImpetusTV
In English with TedCast
In Russian at Dotascl
Featured image courtesy of ESL