MamasBoys and Alaan "SexyBamboe" Faraj have parted ways. The separation comes one month after the team rebranded and named themselves MamasBoys from 4CLovers and Lepricon. The offlane veteran was the last original member of 4CL remaining on the squad. No replacement has been identified yet.
Updated 19:45CET: It was announced and confirmed that MamasBoys have withdrawn from WePlay until their roster issues have been sorted out
Only one month after 4 Clovers and Lepricon rebranded themselves as MamasBoys, the last original member has parted ways with the squad.
Alaan "SexyBamboe" Faraj had been a longtime member of the team. He was part of the original mix put together in March 2015, along with Artur "Goblak" Kostenko and Kai "H4nn1" Hanbückers.
According to SexyBamboe, problems with synergy are the contributing factors for the separation. No replacements have been identified and no future plans for the offlaner have been revealed.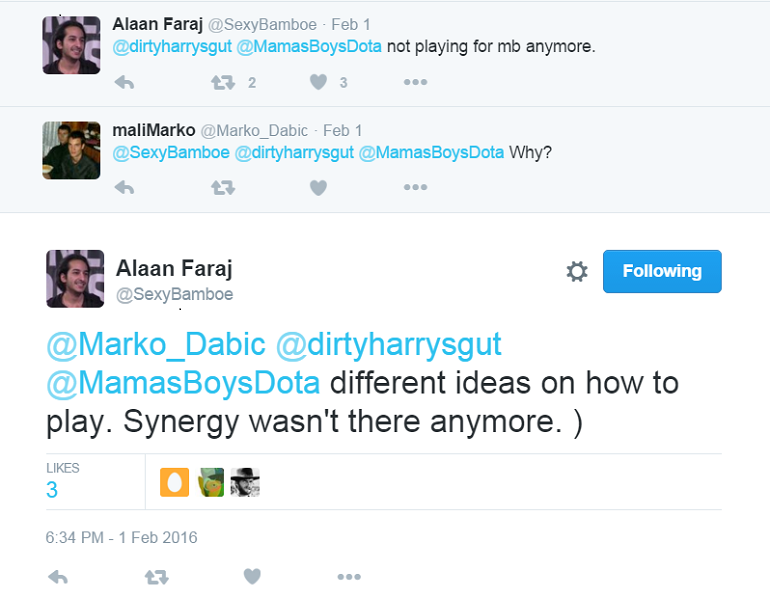 The current roster includes Per "Anders" Pajkatt Olsson, who parted ways with Alliance on August 18th and Martin "Saksa" Sazdov who had been first on the MMR leaderboards and most recently a part of Team Moriarity.
Most recently, the team had added Mohammad "Hook" Al-Sheikh and Yazied "YapzOr" Jaradat, both former teammates from Balkan Bears and players from Jordan.
Although the team has recently been seen playing with Cosmin "Masakary" Nechifor as a stand in, there has been confirmation of his status with the team.
DotaBlast has reached out to Mamas Boys and was told:
Bamboe decided he wanted to head in a different direction and we wish him the best of luck with his future ventures. Mamas Boys are currently trying out players for the offlane role.
-Joe Eastham, MamasBoys Manager
The team has continued to experience a rough patch after the departure of SexyBamboe. They lost their most recent games against Natus Vincere in the Dota Pit 4 European Qualifier and against Ad Finem for the WePlay League Season 4 Europe West Qualifier.
The team will be playing in the upcoming ESL One Manila European Qualifiers and continue to play in DotaPit season 4, Captains'Draf and WePlay.
MamasBoys current roster:

Yazied "YapzOr" Jaradat


Per Anders "Pajkatt" Olsson


Martin "Saksa" Sazdov


Mohammad "Hook" Al-Sheikh