Roman "Resolut1on" Fominok has parted ways with Team Empire and will instead be playing with the North American team Digital Chaos. This surprising and unprecedented move of a CIS player to a North American team has put the Dota 2 community in disarray. The Ukraine player will be assuming the place of Yawar "YawaR" Hassan. No further information has been revealed to YawaR's future plans or replacement for Team Empire.
.@Resolut1on_ покидает Team Empire || https://t.co/8W1CUrDnCy pic.twitter.com/VJTBnM9qsS

— Team Empire (@team_empire) February 4, 2016
Updated 21:25CET: Digital Chaose announced that Resolut1on would be taking the place of Tyler "TC" Cook. The organization indicated that further changes in the current roster may take place in the form of role swaps or bringing new talent to the team.
According to Team Empire in an official post today, Roman "Resolut1on" Fominok will be parting ways with the team. Subsequently, he will join the North American organization Digital Chaos.
No further information on a replacement for the young Ukrainian mid player has been provided.
His new home will be Digital Chaos, a team from North America founded in the summer of this year by the owners of youtube-channel DotaCinema . As part of Team Empire, Roman won 9 tournaments and participated twice in The International. The composition of Team of Empire: ALOHADANCE XBOCT Funn1k and NoFear. The estimated composition of Digital Chaos is: TC, Resolut1on, Bulba, Aui_2000 and 1437.
The addition of Resolut1on to the North American team also means that Digital Chaos is parting ways with Yawar "YawaR" Hassan, brother of Syed Sumail "Suma1L" Hassan of Evil Geniuses. No information has been provided to the status or future of YawaR.
Roman "Resolut1on" Fominok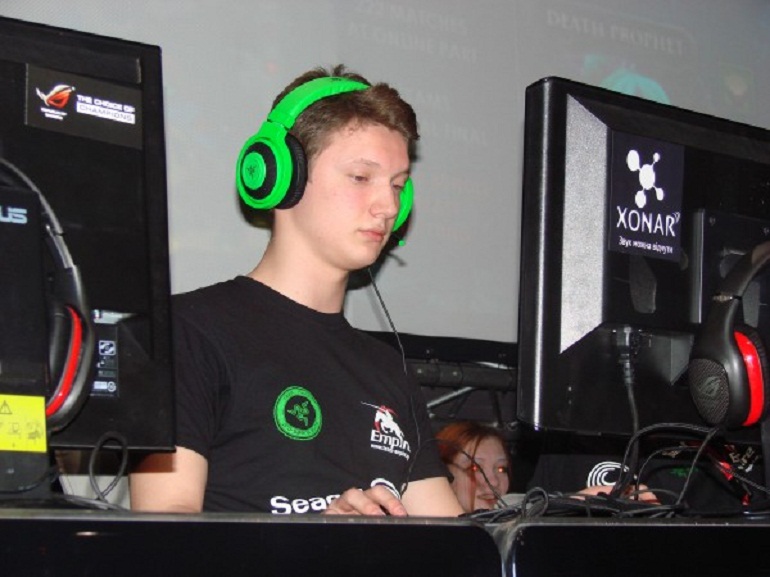 Resolut1on started his Dota 2 career not long ago, in the spring of 2013. After some impressive results with team iCCup, later becoming Terrible Terrible Damage when they lost sponsorship, Roman started to catch the attention and eye of some of the more known and seasoned veterans in the scene. Two days after leaving TTD he played with them as a stand-in at 2013 Techlabs Cup August, which they won, claiming the $5,000 prize. Virtus.pro picked him up in the post-TI3 reshuffle and Roman would switch from his mid role to carry.
He stayed with Virtus.Pro for only two months before joining RoxKiss for a few weeks and then going to Team Empire in November of 2013, where he has remained since. Along with teammates, Silent and ALWAYSWANNAFLY, Resolut1on remained with the team following their lackluster performance at TI4 and TI5.
Team Empire
After a well-deserved break following The International 5, Team Empire had announced roster changes for the new season when they parted ways with Maxim "yoky" Kim and Andrey "ALWAYSWANNAFLY" Bondarenko and welcomed former XX5 and Molodoya Komanda player, Ivan "ubah" Kapustin and former Aspera player Andrey "The_apathy" Aleshkov.
For the Frankfurt Major open qualifiers, the team welcomed back Yoky, Alexander "NoFear" Churochkin as the captain and confirmed their Open Qualifiers lineup to include nofear, Resolut1on, Silent, yoky and ALOHADANCE.
However, Empire struggled to maintain a stable roster and find an appropriate replacement, with Yoky leaving once again. The team continued to struggle with results and stability.
Gleb "Funn1k" Lipatnikov stood in for the CIS team for DreamLeague Season 4 and the team was able to grab second place in the event, giving new hope to the team.
Team Empire's lineup was given new life for the upcoming Shanghai Majors. Former teammates and Na'Vi players, Gleb "Funn1k" Lipatnikov and Alexander "XBOCT" Dashkevich joined the squad in time to compete in the Game Show Global eSports Cup playoffs in Lithuania and finals in Moscow.
The team managed to seize the championship title, their first in seven months.
Team Empire current roster:

Gleb "Funn1k" Lipatnikov


Ilya "ALOHADANCE" Korobkin


Alexander "NoFear" Churochkin


Alexander "XBOCT" Dashkevich
Digital Chaos
Seasoned Dota 2 stars Aui_2000, BuLba and TC had started out trying their luck in the new season alongside up and coming players YawaR and Biryu, on a brand new team, Digital Chaos, founded by SUNSfan.
Although the team's online presence had been noticeable, they did not really have the chance to shine on another level initially.
Shortly later, Dat Quoc "Biryu" Ha was released from Digital Chaos' active roster and the team welcomed Theeban "1437" Siva in his stead as their fifth player. The move prompted the dissolution of his departing team – Cloud 9.
Since the addition of 1437, the team grabbed an eighth place finish at The Summit 4 and seventh place at the Nanyang Championships LAN. They most recently took 4th place in the DotaCup Canada Season 6 on January 29th.
Digital Chaos roster:

Kurtis "Aui" Ling


Sam "BuLba" Sosale


Tyler "TC" Cook


Theeban "1437" Siva


Roman "Resolut1on" Fominok