Only four days after announcing the complete dissolution of their Dota 2 squad, Natus Vincere have revealed that Danil "Dendi" Ishutin and Akbar "SoNNeikO" Butaev will remain with the organization. The new Na'Vi team will be built around Dendi and Sonneiko, who will recruit the other players themselves.

The announcement alleviates the rumors about Dendi's retirement intentions.
According to the announcement, Danil "Dendi" Ishutin and Akbar "SoNNeikO" Butaev will join the new Na'Vi team and be in charge of recruiting three other players to finalize the lineup.
Dendi and SoNNeikO will be testing various players along with ingame combinations in order to make the right decision and form an optimal roster.
Natus Vincere's COO, Igor "caff" Sydorenko, welcomes Dendi and Sonneiko back on the team and talks about his hopes for the future:
We are glad to announce that Danil and Akbar will become the core of our renewed team. We are sure that their talent, energy and aspiration to work will contribute to the achievement of the set goals. Meanwhile we continue working to determine the players, who will join us in the near future. Stay tuned!
Natus Vincere will announce the names of the remaining three players "in the near future".
Na'Vi Dota 2 team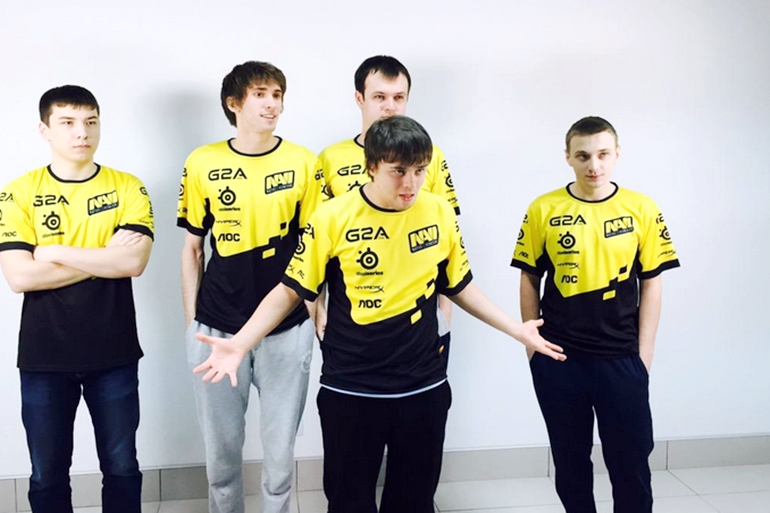 Natus Vincere did not receive a direct invite for The International 5, due to their numerous recent roster changes and inconsistent performances. The Ukrainian team had always been an ever present fixture at the event, seizing first place at The International 1, second place at TI2 and TI3 and eighth place at TI4. Determined to not miss a year and break tradition, Na'Vi gave it their all to gain access for the fifth time. They earned their spot after defeating Vega Squadron, 3:1, in the TI5 European Qualifier grand finals.
However, they had a disappointing performance at TI5, where they came in 14th, after being knocked out of contention on the very first day of the main event.
Despite the sub-par year the team has had, the Ukrainian organization only replaced Ivan "ArtStyle" Antonov during the post-TI5 shuffle, while Daniil "Dendi" Ishutin, Alexander "XBOCT" Dashkevich, Gleb "Funn1k" Lipatnikov and Akbar "SoNNeikO" Butaev remained on Na'Vi's roster for the new season. On September 2nd, Na'Vi welcomed former Kompas Gaming and Yellow Submarine player, Andrew "PSM" Dunaev.
The new lineup failed to qualify for the Frankfurt Major. Natus Vincere didn't make it through the group stage and finished last in their group, with a total of 2 points, after two draws and two losses.
On October 16th, Na'Vi announced the dissolution of their Dota 2 squad – including long-time members Danil "Dendi" Ishutin and Alexander "XBOCT" Dashkevich, both whom have been with the organization since 2010.
Dendi and Sonneiko have now been brought back on the team and will be in charge of finalizing the lineup. The three remaining positions will be filled in the near future.
New Na'Vi team:

Danil "Dendi" Ishutin


Akbar "SoNNeikO" Butaev
TBA
TBA
TBA