Team Secret have seized the Nanyang Championships LAN title – their second consecutive LAN Championship win – after besting ViCi Gaming, 3:2, in Singapore.
This is feeling like the best and craziest dota that's ever happened since like TI3 finals or something. VG vs Secret making history here.

— David GoDz Parker (@BTSGoDz) November 1, 2015
Team Secret have grabbed their second consecutive championship title only two weeks after seizing the trophy at the MLG World Finals in New Orleans.
Team Secret swept through Virtus.Pro in the Upper Bracket semifinals, while ViCi Gaming defeated EHOME in the same phase of the competition. The two teams then went head to head in the Upper Bracket finals, where Team Secret outplayed ViCi Gaming, 2:0, and moved into the Grand Finals. ViCi Gaming then had to defeat EHOME once again in the Lower Bracket Finals and go up against Team Secret for a second time, in the Nanyang LAN Grand Finals.
The Nanyang LAN Grand Finals best-of-five series (with no Upper Bracket advantage) was filled with exhilarating plays, intense moments, close games and an incredible display of both individual and team skill. Both teams show immense promise for the Frankfurt Major.
Nanyang LAN brackets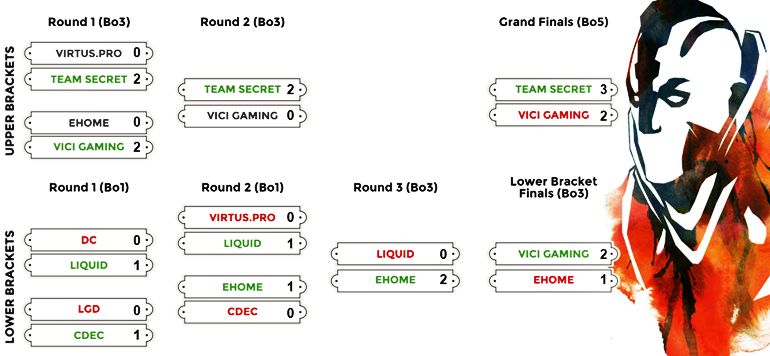 Nanyang LAN Grand Finals
Team Secret 3:2 ViCi Gaming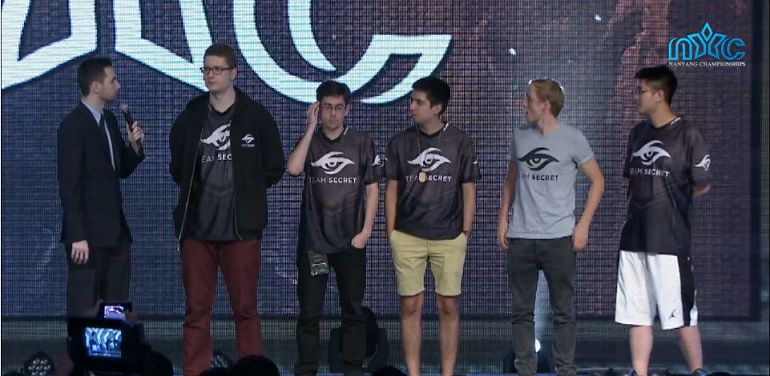 In the first game, ViCi Gaming took first blood on Doom. The game was balanced. Even though Alchemist was able to pick up the items he needed to farm well early on, Team Secret managed to play around it effectively enough to extend the game out until almost an hour. In the end, ViCi Gaming's lineup outplayed Team Secret and took the first win.
The second game started out with a first blood for Xu "BurNIng" Zhilei, once again only seconds into the match. Everything was incredibly even until minute 25. There was no clear winner until the second Roshan was taken by Secret. Following the Roshan, Team Secret were able to come out on top in fights and began to snowball ahead with an incredible lead. Much credit should be given to Johan "pieliedie" Åström for his outstanding Rubick plays. ViCi Gaming did a fantastic job in holding on and prolonging the game, but after one hour, the Europeans grabbed the victory to even out the series.
In the third game of the series, ViCi Gaming took an interesting lineup including a Death Prophet. Thirteen minutes into the game, Lu "Fenrir" Chao already had five kills and wasn't even at level 6 yet after getting first blood before the creeps even spawned and then a second kill within a minute. However, Team Secret was able to push ahead with Jacky "Eternal Envy" Mao on AntiMage, taking down towers quickly while ViCi Gaming had no way to fight the hero or counter it. Team Secret seized the win in 27 minutes, taking the lead for the series.
The fourth game gave a Meepo to Omar "w33" Aliwi. Although Team Secret got the first blood, ViCi Gaming answered immediately with a double kill. ViCi Gaming were ready for the Meepo and went with a Timbersaw and a Clinkz. BurNIng and Daryl Koh "iceiceice" Pei Xiang did an amazing job at keeping Team Secret down, starting early on. ViCi Gaming's victory pushed the series to a fifth deciding game.
The last and final game of the tournament had some interesting picks with a Wind Ranger support for ViCi Gaming and a Tiny in the middle lane without the Io support for Team Secret. w33 did really well in the middle lane and Eternal Envy put a lot of pressure early on with his Anti-Mage. Team Secret showed no mercy as they plowed through the Chinese team.
Nanyang LAN Grand Finals: Team Secret have become the Nanyang champions, after defeating ViCi Gaming, 3:2.
Nanyang Dota 2 Championships prize pool breakdown
According to the prize pool tracker, as of October 23rd, the prize pool has reached $220,077.
1st place – Team Secret $100,000 + 48% crowdfunded amount
2nd place – ViCi Gaming $50,000 + 24% crowdfunded amount
3rd place – EHOME $25,000 + 12% crowdfunded amount
4th place – Team Liquid $10,000 + 8% crowdfunded amount
5-6 place – Virtus.Pro/CDEC $7,500 + 4% crowdfunded amount
Team Secret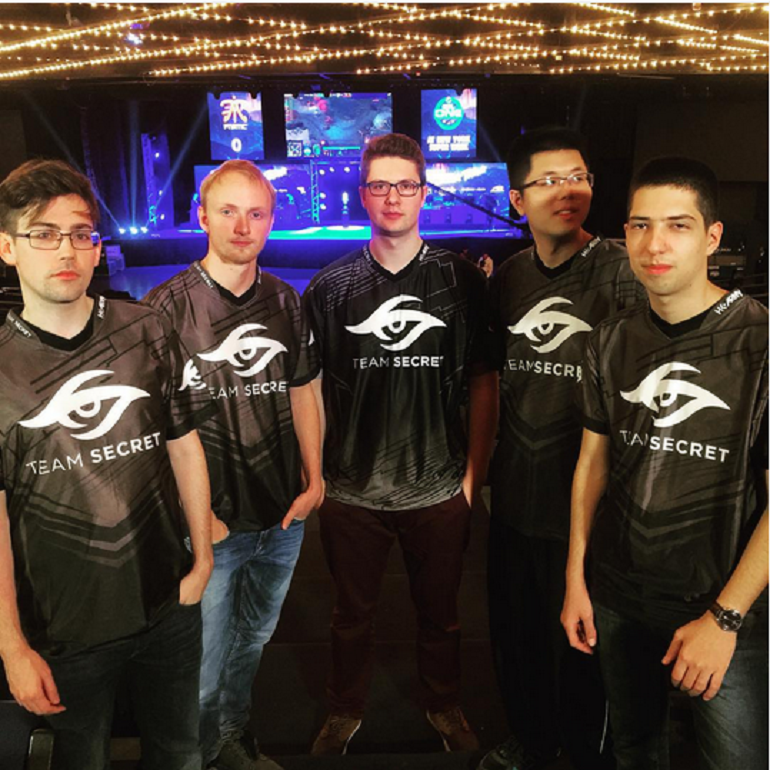 After a disappointing eighth place finish at TI5, Team Secret announced a completely revamped roster on August 22nd. Since Clement "Puppey" Ivanov is the only original member on the current roster, the fact that Team Secret received numerous direct invites, without having to prove themselves first, brought forth much debate.
However, they quickly put to ease all the questions with their dominating presence and impressive performances. They finished second in their LAN debut, at ESL One New York, and managed to seize the MLG World Finals championship title and the Nanyang Championships trophy. In two weeks, they will continue their journey in Frankfurt, Germany, at the first Dota 2 Major.
Team Secret roster:

Clement "Puppey" Ivanov


Omar "w33haa" Aliwi


Rasmus "MiSeRy" Filipsen


Jacky "Eternal Envy" Mao


Johan "pieliedie" Åström