The Manila Major NA Qualifiers results for day 1 are in. FDL are sitting at the top of their group, while Not Today are topping theirs. Digital Chaos is in the second spot in Group A, having played one series less than FDL, and Team Freedom/Dragneel are tied for second in Group B. EverNovaS are last in their group – the only team to have been denied any wins. The second day of the Round Robin group stage will pick up again on May 4th, at 19:00 CEST.
The Manila Major NA Qualifiers results are in after a long and eventful day in the group stage segment of the competition.
One of the qualified teams – FDL, had an impressive first day and sits at the top of their group with five points, taking five wins and one loss.
Close on their heels is newly formed Digital Chaos, being undefeated so far in their matches with four points. Not Today also comes out of the first day undefeated.
EverNovaS struggled on the first day, unable to grasp a single win.
The matches resume on May 4th, at 19:00 CEST, and are expected to be intense, as the teams continue their quest towards the second stage of the qualifiers – the double elimination brackets.
Manila Major NA Qualifiers results: day 1
Manila Major NA Qualifiers results, day 1: Group A
The Peruvians Not Today have assumed the first place in their group. Having played only one match so far, they were able to take the series against Kingdom.
Team Freedom and Dragneel are both tied for the second place having taken two wins and two losses each in their four matches. The two teams split their series against each other then Team Freedom split their series with Shazam, while Dragneel tied their series with Kingdom.
Shazam's only series was against Team Freedom, 1:1.
Even though Kingdom is tied with Shazam with one point each, Kingdom played one extra series. They tied against Dagneel and lost to Not Today.
Manila Major NA Qualifiers results, day 1: Group B
Friendship, Dedication & Love have started their journey in the main qualifiers with a bang. With six matches under their belt, they suffered only one loss at the hands of Enemy GG, when they split the series, 1:1. FDL has one more series to complete as they go head to head with Digital Chaos who so far are undefeated.
The newly formed European/NA mix Digital Chaos had a strong start, dominating all of their matches without suffering a single loss. They wiped through both Enemy GG and Infamous, 2:0.
Infamous came in third, but faced some difficulties as they won the series against EverNovaS, but lost all of their games versus FDL and Digital Chaos.
Enemy GG was the only team to so far take one game off of FDL, 1:1. That was the only win they were able to secure in the group so far, as they fell to Digital Chaos, 0:2.
EverNovaS had a rough start to the day and were unable to secure any wins.
Manila Major NA Qualifiers format
The ten teams have been divided into two Round Robin groups of five.
Top two teams will advance to a double elimination bracket.
Round robin first place teams will face the second place from the other group.
Grand Final is Best-of-five.
The first place team from the Manila Major NA Qualifiers will advance to the main event in Manila, Philippines.
Manila Major NA Qualifiers groups
Group A
Shazam
Team Freedom
Animal Kingdom
Not Today
Dragneel (Winner of the Americas Open Qualifiers #1)
Group B
Digital Chaos
Enemy
Infamous
EvernovaS
FDL (Winner of the Americas Open Qualifiers #2)
Manila Major NA Qualifiers schedule
Wednesday, May 4th
19:00 CEST – NME vs. InF
19:00 CEST – DC vs. ENS
21:30 CEST – NoT vs. Dragneel
21:30 CEST – KD vs. Shazam
Thursday, May 5th
00:00 CEST – DC vs. FDL
00:30 CEST – ENS vs. NME
02:30 CEST – Shazam vs. NoT
02:30 CEST – TF vs. KD
05:00 CEST – Shazam vs. Dragneel
05:00 CEST – NoT vs. TF
Manila Major Regional Qualifiers Streams
Manila Major Regional Qualifiers streams: English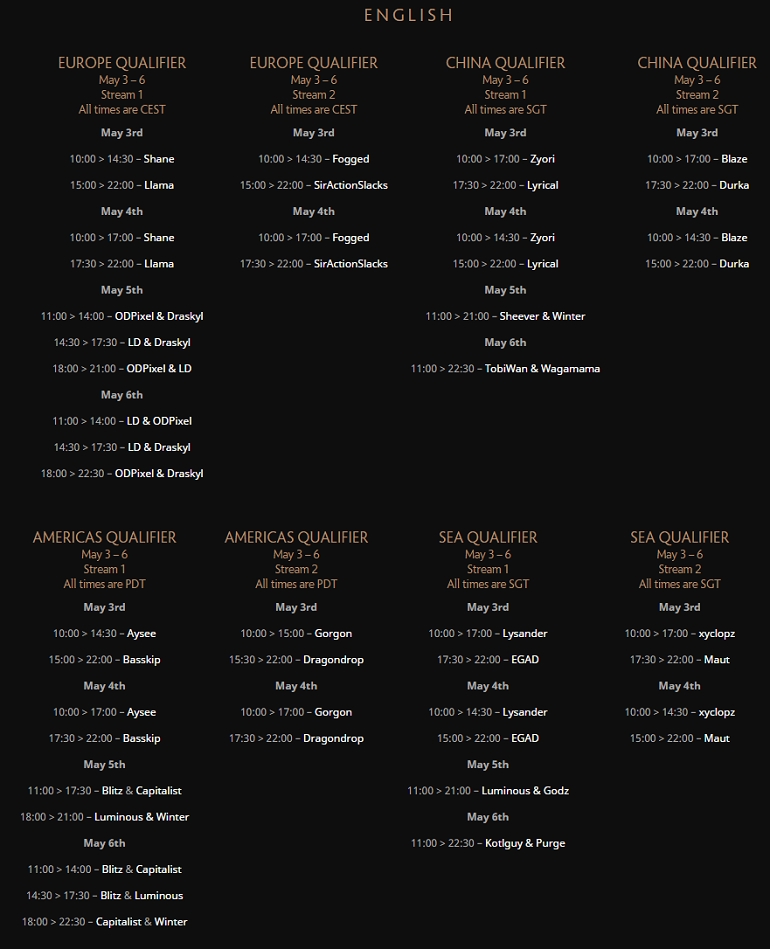 Manila Major Regional Qualifiers streams: Russian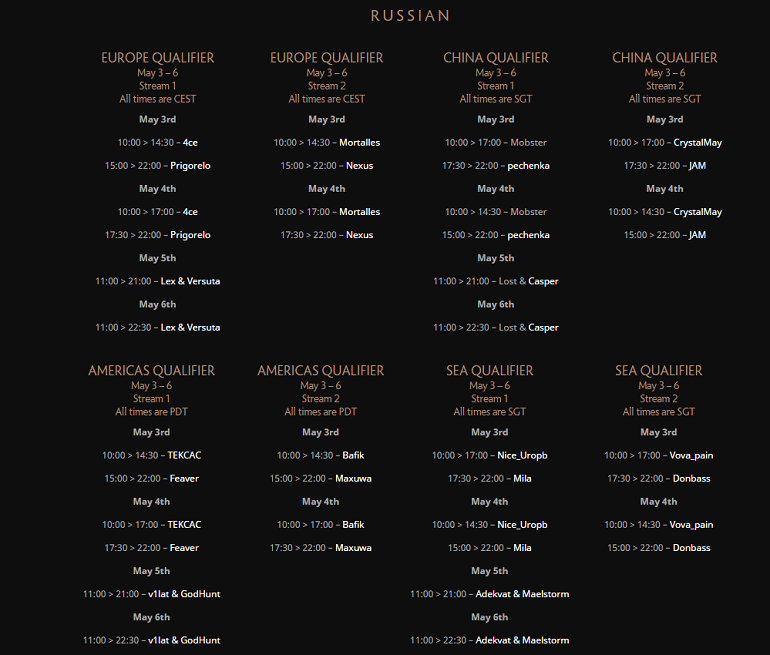 Manila Major Regional Qualifiers streams: Chinese