Djardel Jicko "Dj" Mampusti possibly has returned to the Philippines to play with local team Execration, rounding out the roster along with Kim "Gabbi" Villafuerte. Dj left Fnatic last week while XctN had parted ways with two of their players. The arrangement is not official and teams have until September 18th to register their roster for the Fall Major.
Standin, Not Official

— Execration (@ExecrationGG) August 23, 2016
Earlier today Djardel Jicko "Dj" Mampusti was spotted playing with Execration in the ProDota Cup series against RRQ, inciting rumors and speculation of the Filipino's return to the region. Furthering the move was a now removed picture of Dj on the team logo.
One post by the Filipino organization has since been replaced with "stand in" – possibly due to pending contracts, negotiations or official announcements.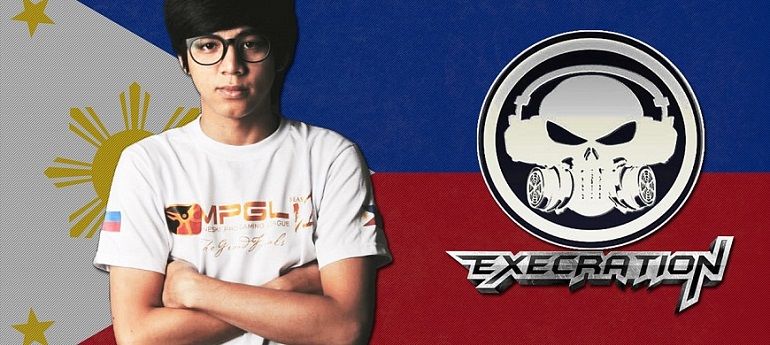 Dj had been playing with Fnatic in Malayisa since the post TI5 shuffle in August 2015 and left the roster only hours after the first phase of the new Fall Major team registration began.
Within the same 24 hours it was surprising for many to see Fernando "Nando" Mendoza and Ralph Richard "RR" Peñano were let go from Execration after having secured a place in the TI6 Wild Card series and making history as one of the first two teams to travel to compete in the Internationals.
According to one report, management has also stated that the team has recruited Kim "Gabbi" Villafuerte Santos from Acion Arena.
Execration roster

Abed "Abed" Yusop


Timothy "Tims" Randrup


Kimuel "Kim0" Rodis


Djardel "DJ" Mampusti (tentative)


Kim "Gabbi" Villafuerte (tentative)
Fall Major registration
For the team registrations this year, there is a two step or phase registration period including drop phase and add phase.
Teams have 17 days (now until September 4th) to release players from their current rosters for the upcoming season. This is an active process unlike previous seasons where the entire team was automatically dropped. Therefore players must leave the team or the management needs to remove any players that will not continue competing with the team. Any players that are still remaining on the team after September 4th are automatically locked in to the team.
New players can then be added to the roster between September 4-18th (two weeks) – locking on September 18th at 12:00AM PDT. This includes re-adding players that left or were dropped in the first phase.