The first day of DreamLeague Season 4 playoffs began earlier today. Eight teams competed in the DreamLeague Season 4 League Play, six teams – OG, Team Empire, 4CL, Alliance, Vega, MFF- qualified for the LAN playoffs at DreamHack Winter in Jönköping, Sweden. Over the course of three days, the new DreamLeague Season 4 champion will be crowned as the squads compete for the $150,000 prize pool.
Day 1 of DreamLeague Season 4 kicked off at 14:00 CET with a CIS showdown between Vega Squadron and Team Empire in a best-of-one series. It was followed by a European clash between 4CL and MFF best-of-one. The first series of the event set the path for the teams, advancing further in either upper or lower brackets for the day. However, by the end of the day two teams will be eliminated and two teams will advance into day 2 to face OG and Alliance.
Vega Squadron came out of their best-of-one match victorious. The ESL New York Champions had taken the lead and control of the game from the beginning, leading to a convincing victory in 32 minutes with a score of 31:10.
With a dominating performance by Per Anders Olsson "Pajkatt" Lille on Shadow Fiend and incredible support coming out from Alaan "SexyBamboe" Faraj on EarthShaker, 4CL destroyed the disbanded Monkey Freedom Fighters in 39 minutes despite Yazied "YapzOr" Jaradat playing his famed Rubick.
4CL then advanced to meet Vega in the Upper bracket portion, where they bested the CIS team 2:1. While Vega took a very heavily one sided first game, leaving 4CL with 27 deaths and only 5 kills by the end, the European squad came back in full force. 4CL took the following two games, one being just as lopsided as the first, but this time in their favor, and the second game being much more evenly matched.
4CL is the first team to advance into tomorrow's matches to face Alliance at 14:00 CET.
MFF were able to grab the first win of the series against Team Empire. However, the Empire strikes back in the following two games and easily took the series, eliminating the European squad.
Team Empire continued to look strong as they were able to shutout Vega 2:0 in the lower brackets. Airat "Silent" Gaziev destroyed Vega in both games. The first match was heavily one sided from the start, while Vega took the lead early in the second match, losing their hold on it mid game. The CIS team will face OG tomorrow at 16:30 CET.
Surprisingly Vega Squadron have been eliminated in the first day along with MFF.
DreamLeague Season 4 playoffs brackets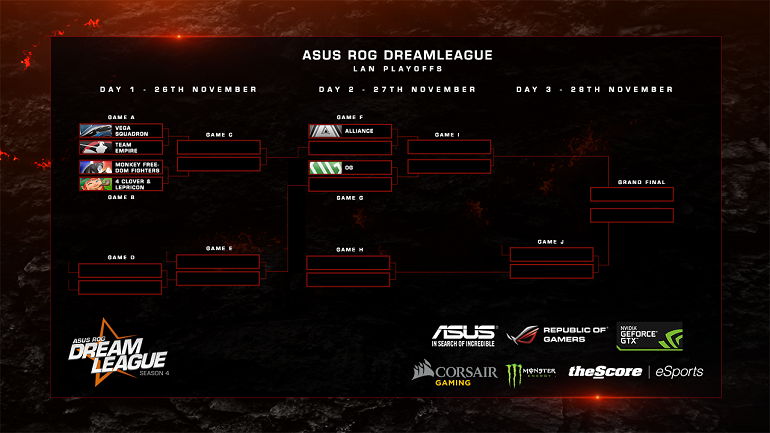 DreamLeague Season 4 playoffs schedule, Day 1
November 26th
13:30 – Preshow
14:00 – Match A – Vega Squadron vs. Team Empire (Bo1)
15:15 – Match B – 4 Clovers & Lepricon vs. Monkey Freedom Fighters – (Bo1)
16:30 – Match C – Winners of Matches A & B – (Bo3)
19:00 – Match D – Losers of Matches A & B – (Bo3)
21:30 – Match E – Loser of Match C vs. Winner of Match D – (Bo3)
DreamLeague Season 4 playoffs teams
OG
Team Empire
4 Clovers & Lepricon
Alliance
Vega Squadron
Monkey Freedom Fighters
DreamLeague Season 4 playoffs prize pool
1st place – $55,000
2nd place – $30,000
3rd place – $20,000
4th place – $15,000
5th place – $12,000
6th place – $10,000
7th place – No Logic Gaming -$5,000
8th place – NIP -$3,000
The six teams that have qualified for the DreamLeague Season 4 playoffs at DreamHack Winter will receive $5,000 each in travel support.
DreamLeague Season 4 playoffs talent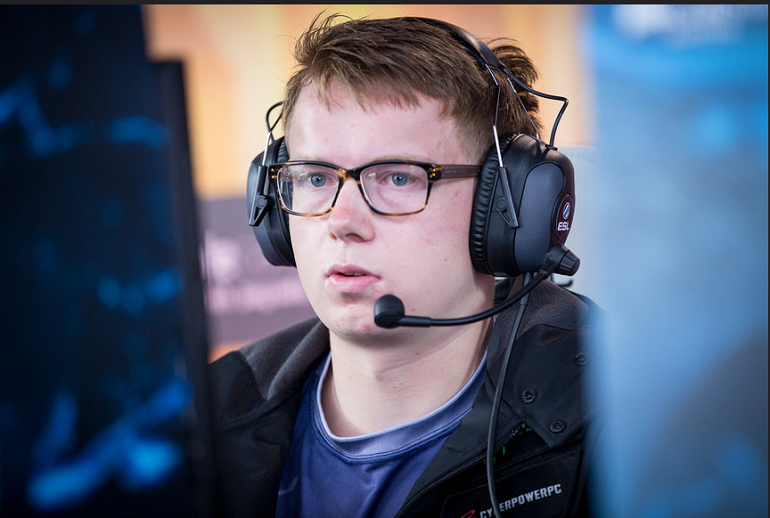 Peter "PPD" Dager will be a guest in DreamLeague as a member of the analyst team and also casting a few of games.
Jorien "Sheever" van der Heijden
Shane "Shaneomad" Clarke
Andy "Draskyl" Stiles
Owen "ODpixel" Davies
David "Luminous" Zhang
Peter "ppd" Dager
Troels "syndereN" Nielsen
DreamLeague Season 4 playoffs broadcast
The event will be broadcasted on DreamLeague's twitch channel