DreamLeague Season 4 playoff finals have come to an end today. OG are the new champions of DreamLeague Season 4. The European team flourished again, clearing through Team Empire 3:0 in the grand finals. Eight teams competed in the DreamLeague Season 4 League Play, six teams – OG, Team Empire, 4CL, Alliance, Vega, MFF- qualified for the LAN playoffs at DreamHack Winter in Jönköping, Sweden, three teams – Vega Squadron, MFF and Alliance- had already been eliminated, leaving OG, 4CL and Team Empire to battle it out for the title and $55,000 prize.
After Alliance was eliminated on day 2, only three teams were left standing hoping the first place prize and "haste rune" trophy.
OG were the first team to advance directly into the Grand Finals after sweeping through 4CL in the upper bracket finals.
Team Empire had eliminated Alliance in the lower brackets with a clean 2:0 victory and then faced 4CL in the lower bracket finals.
8k MingLee pic.twitter.com/lz9vBXlx7P

— MoonMeander (@MoonMeanderated) November 11, 2015
The first best-of-five series occurred between Team Empire and 4 Clovers & Lepricon. The two teams went head to head to each take a game at the beginning of the series, evening things up immediately and promising to be a very exciting and evenly matched set of games. Airat "Silent" Gaziev had some strong performances. The third match gave the advantage back to Team Empire, which they quickly followed up with one more victor to cinch their place at the Grand Finals.
4CL have been eliminated and walked away with third place and $20,000 in prize money. Anders Olsson "Pajkatt" Lille and Alaan "SexyBamboe" Faraj continue to impress with their performances at the Swedish event. Fans will see much more of the European squad as they have been qualifying and being invited to a variety of upcoming events such as Game Show Global eSports Cup Studio LAN in only two days.
Team Empire advanced into the grand finals to meet OG, who had advanced yesterday. Having played four matches already in the day, Team Empire dove into the Grand Finals against the tournament favorites. While the first game started out well for Team Empire, they quickly fell to OG in the mid game. The following two games, were fairly one sided and OG were able to dominate the CIS team with convincing victories.
This is the second consecutive LAN win for OG, having just recently surprising everyone with their Frankfurt Major Championship title only two weeks ago.
What a stomp! @OGDota2 are undefeated champions of the ASUS ROG DreamLeague at #DHW15, they are unstoppable! pic.twitter.com/uqKgTOjwFg

— ASUS ROG DreamLeague (@DHDreamLeague) November 28, 2015
DreamLeague Season 4 playoff finals brackets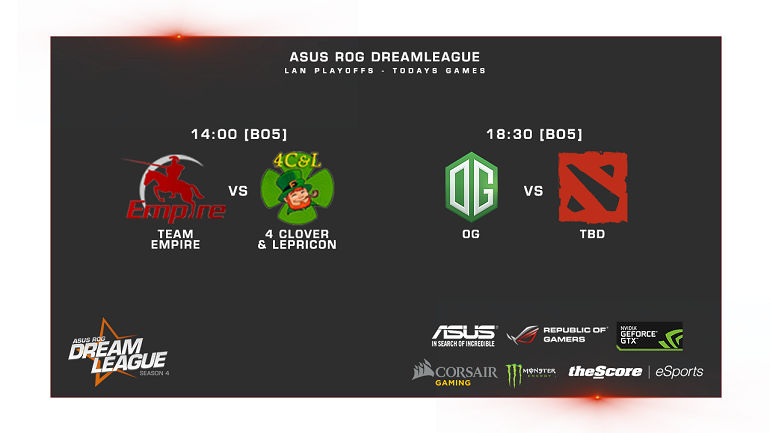 DreamLeague Season 4 playoff finals schedule
November 28th
November 28th
13:30 – Preshow
14:00 – Match J – Team Empire vs 4 Clovers & Lepricon – (Bo5)
18:30 – Grand Finals – OG vs Winner of Match J – (Bo5)
DreamLeague Season 4 playoffs teams
OG
Team Empire
4 Clovers & Lepricon
Alliance
Vega Squadron
Monkey Freedom Fighters
DreamLeague Season 4 playoffs prize pool
1st place – OG – $55,000
2nd place – Team Empire – $30,000
3rd place – 4 Clovers & Lepricon -$20,000
4th place – Alliance – $15,000
5th place -Vega Squadron – $12,000
6th place – Monkey Freedom Fighters – $10,000
7th place – No Logic Gaming -$5,000
8th place – NIP -$3,000
The six teams that have qualified for the DreamLeague Season 4 playoffs at DreamHack Winter will receive $5,000 each in travel support.
DreamLeague Season 4 playoffs talent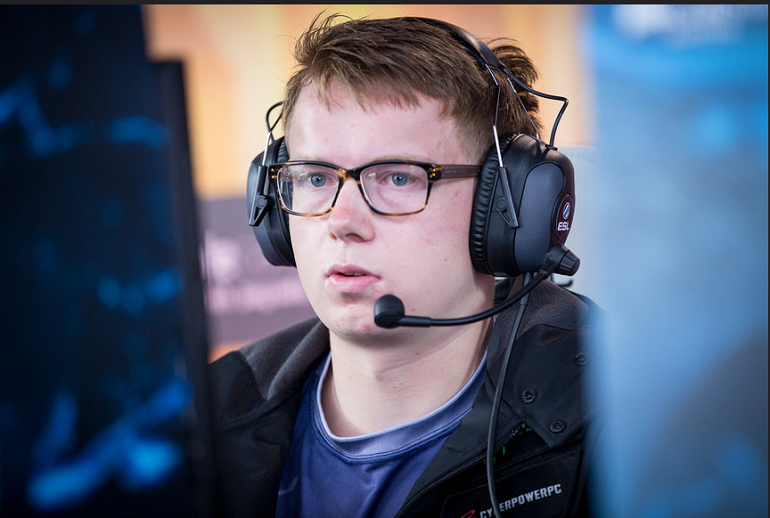 Peter "PPD" Dager will be a guest in DreamLeague as a member of the analyst team and also casting a few of games.
Jorien "Sheever" van der Heijden
Shane "Shaneomad" Clarke
Andy "Draskyl" Stiles
Owen "ODpixel" Davies
David "Luminous" Zhang
Peter "ppd" Dager
Troels "syndereN" Nielsen
DreamLeague Season 4 playoffs broadcast
The event will be broadcasted on DreamLeague's twitch channel