Winter is coming and so are the DreamLeague Finals. The DreamLeague season 6 has concluded and all of the details for the playoffs have been ironed out. The finals will be held at DreamHack Winter – November 25 -26th, in Jönköping, Sweden. A prize-pool of $185,000 is up for grabs for the four participating teams – Imperial Gaming, Escape Gaming, Team Liquid and Alliance. Casters, brackets and schedule are all included.
Ready for ASUS ROG DreamLeague Finals?! So are we, with the casters, bracket, and schedule!https://t.co/7sQQjUL9Sd pic.twitter.com/NR1n2T5WUN

— ASUS ROG DreamLeague (@DHDreamLeague) November 18, 2016
The DreamLeague Finals are coming together with the release of the casters, brackets and schedule.
In the depths of the cold Swedish winter, Imperial Gaming, Escape Gaming, Team Liquid and Alliance will heat things up for one of the last LANs of 2016.
Look through the quick and easy all access guide to get up to speed on the details needed for this condensed LAN event.
DreamLeague Finals
Dates: November 25th-26th
Teams: 4 – Imperial, Alliance, Team Liquid, Escape Gaming
Location: DreamHack Winter – Jönköping, Sweden
Format: Double Elimination Bo3 brackets
Grand Finals: Bo5
Prize-pool: $185,000
Travel support: Full travel support per each team
DreamLeague Finals Brackets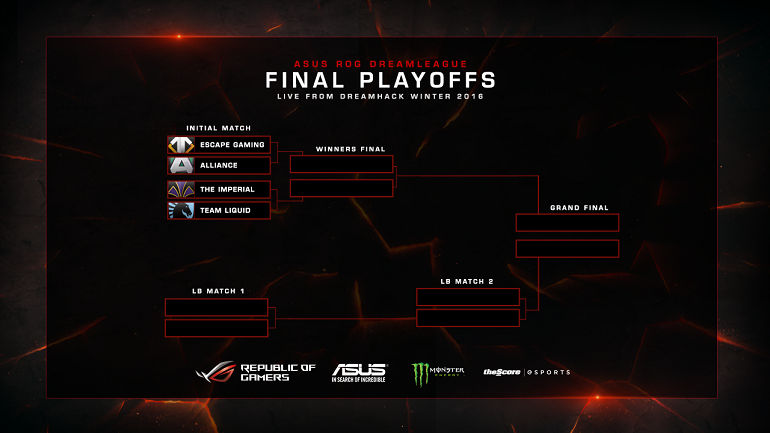 DreamLeague Finals Schedule
Friday, November 25th
11:00 CET: ESC vs Alliance
14:00 CET: Imperial vs Liquid
17:00 CET: Upper Bracket Final
20:00 CET: Lower Bracket Semifinal
Saturday, November 26th
12:00 CET: Lower Bracket Final
16:00 CET: Grand Final
DreamLeague Finals prize pool
The prize pool for the grand finals is now a total of $185,000, on top of the $1,000 each team earned for a regular season victory in every set.
1st place – $90,000
2nd place – $45,000
3rd place – $30,000
4th place – $20,000
5th place – Vega Squadron, $6,000
6th place – Ad Finem, $5,000
DreamLeague Finals Casters
Coming to a living room, or possibly a DreamHack Winter stage, near you is a collection of your favorite DreamLeague casters, new and old. The returning cast will almost all be familiar faces from the regular season, with the addition of Anneedroid who will be joining the fray for the first time!
Jorien 'Sheever' van der Heijden
Jake 'SirActionSlacks' Kanner
David 'GoDz' Parker
Owen 'ODPixel' Davies
Ioannis 'Fogged' Loucas
Annie 'Anneedroid' LeClair
DreamLeague Finals Streams