The Clearcut Challenge – the TI6 Battle Pass trees challenge – has the Dota 2 community waging war against trees. With a goal of chopping 20 billion trees towards unlocking battle points, the community has been pooling all of their resources into a single goal. In four days, almost 2 billion trees have been cut down through the Clearcut Challenge and players have developed various methods to increase the cutting rates.

On May 17th, Valve released the new TI6 Battle Pass.
This year's International Compendium features Community Challenges. Whenever players carry off challenge objectives in their winning matches, they contribute to the community progress bar. When the progress bar is filled, all the Battle Pass owners will be granted three fireballs that can be dropped in Lina's Battle Blaze for a chance to win Battle Points.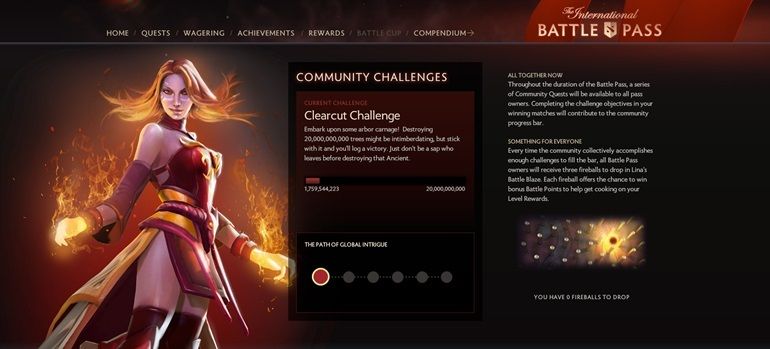 The TI6 Battle Pass trees challenge – The Clearcut Challenge – has created a stir and turned the Dota 2 world upside down. The goal to cut down 20 billion trees has been deemed as an impossible and unrealistic challenge by the community.
With 1.8 billion trees taken down in 4 days, approximately 18.2 billion remain in order for the Clearcut Challenge to be fulfilled. At the current cutting rate of 450 million trees per day, the target would be achieved in 40 days. However, with the community taking the Clearcut Challenge very seriously and pooling all their resources to get it done, chances are it will be over sooner, especially with a little help from Valve, who have released the Clearcut Challenge minigame.

Anyone else feel that 20BILLION trees to cut is a bit much for our timespan? We need to accelerate!! pic.twitter.com/0C9nvH4JEr

— WagaGaming (@WagaGaming) May 18, 2016

Clearcut Challenge minigame

It seems clear that Valve did not quite think things through before releasing the Clearcut Challenge and didn't realize the objective they set would be difficult to achieve. Luckily, they have now released a helpful minigame, in the May 19th update.
The Clearcut Challenge minigame can be accessed while Finding a Match. In a game solely developed to decrease the number of trees, TI6 Battle Pass owners can click their way to destroying trees while waiting for their match.

Find Match
Access by clicking on the Timbersaw icon at the right-bottom corner
Click on trees to kill them
Special bonus drops that award 10 points instead of 1 happen randomly

Clearcut Challenge solutions

As part of the Clearcut Challenge, various means have been employed to reach the goal. While some may border on the moral grounds and legality, other ways have been creative and innovative.

C.U.T. Corps: Players get enrolled as Clearcut Challenge soldiers

Jake "SirActionSlacks" Kanner developed the C.U.T. Corps for compendium owners to take part in as an effort to fulfill the Clearcut Challenge.

DO YOU HAVE WHAT IT TAKES TO BE A OFFICER OF THE C.U.T. CORPS STEAM GROUP, AND ARE YOU WILLING TO ORGANIZE 10V10 LOBBIES? DM ME DEAD TREES

— SirActionSlacks (@SirActionSlacks) May 19, 2016

In the exclusive C.U.T. Corps recruitment video, SirActionSlacks calls for all players to work together in a common mission of "treextermination". The informative video helps players identify heroes, "weapons of war" such as quelling blades and battle fury and even strategies that will aid in the war on trees.
By joining the steam group, players become enrolled as Clearcut Challenge soldiers. Players are encouraged to motivate and reward members of the C.U.T. CORPS with commendations and coin tipping to keep the morale high and results coming.


Clearcut Challenge scripts

Scripts have been developed as part of the warfare tactics to complete the Clearcut Challenge. One such script promises to chop about 40,000 trees per minute, so approximately 2.4 million trees per hour.
Since the introduction of various scripts, Valve has made an in-game update regarding the Clearcut Challenge:
The Clearcut Challenge Helper is rate limited to reasonable human values on the server and always has been. Excessive scripting does not contribute to the overall total.
However, claims by players indicate that the scripting is beneficial by allowing the number of trees to still be decreased more rapidly.

The International 2016 Battle Pass

The International 2016 Battle Pass has been released on May 17th. TI6 Compendium owners can enhance their Battle Levels to earn Immortal Treasures, equippable terrain, emoticons, hero taunts and many other new and exciting rewards by completing Quests, winning Wagers, unlocking Community Goals, or buying Battle Level Bundles.
This year's Compendium comes with three Immortal Treasures, community challenges and exciting daily quests, a brand new wagering system, the possibility to compete in weekly Battle Cups, and a myriad of rewards waiting to be unlocked for up to level 2,500.
Certainly among the most exciting features of the 2016 Compendium – apart from the Clearcut Challenge – is the chance of recalibrating current MMR. After playing at least 40 International Ranked games, TI6 Battle Pass owners can opt to replace their regular Match-making Rating with their new seasonal one.
The base prize-pool for this year's International is at $1,600,000, with 25% of all TI6 Battle Pass sales being added to the prize fund. In the first two hours, the sales have enhanced the prize-pool by close to $275,000 – a 38% increase compared to the TI5 sales in the same period of time. As of May 21st, the total TI6 prize-pool is already over $6.8 million.