Boston Major visa issues are already starting to flood the social media circuits and threatening to disrupt the hopes of several young players. Both LGD.FY and IG.Vitality have already reported denials in their first round of visa interviews earlier today. The main event will take place in Boston, United States from December 7-11, however the group stage is scheduled for December 3rd, just over two weeks away.
LGD.FY and IG.Vitality are already wrestling with the bureaucratic tape and facing Boston Major visa issues.
Both teams qualified through the Boston Major Chinese regional qualifiers, knocking out bigger fish such as their primary sister squad teams and TI5 runners up – CDEC.Gaming.
For LGD.FY, more than likely the player at risk is Du "Monet" Peng, the young 17 year old that has joined the mostly veteran squad. Xie "Super" Junhao, Yao "Yao" Zhengzheng and Zhang "xiao8" Ning have previously been to Internationals held in the US.
Lu "Maybe" Yao is their official substitute registered on the Pro Team Roster registration list and currently plays for LGD Gaming. Despite taking the top spot in the group stage of the Boston Major Chinese qualifiers, LGD Gaming were knocked out of contention by IG.Vitality in the lower bracket finals.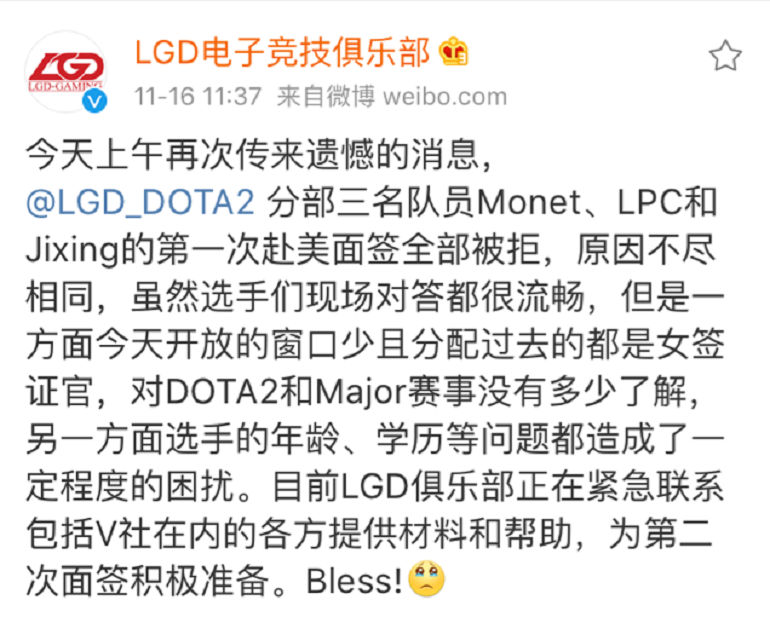 the players responded well, but most visa officers on duty were female who don't have much knowledge about Dota 2 and Major Championships, the age and education background of the players can be somewhat troublesome as well. LGD is contacting all sides including Valve for materials and help to get through the second interview. Bless!

– translation provided
It was also reported that IG.Vitality had encountered some issues with their visa interviews earlier today.

The younger and less experienced roster for IG.Vitality could face further difficulties as it seems that all five players were effected by the typical challenges. According to the team's weibo account, their next interview is scheduled for November 18th.
Xu "BurNIng" Zhilei is the official substitute for the team, currently playing for the main squad of Invictus Gaming. IG was unable to advance past the group stage of the Boston Major Chinese qualifiers, missing the playoffs slightly when they tied EHOME.KEEN for 4th place but lost out having dropped a match to them in head to head tie breaker rules.
Boston Major visa issues Boston Major visa issues Boston Major visa issues
Boston Major
The Boston Major will be held between December 7th-11th, at the Wang Theater, in Boston, USA, with a set prize-pool of $3,000,000. Sixteen teams will compete in the main event hosted by PGL and Valve. Wings Gaming, Digital Chaos, Evil Geniuses, Newbee, EHOME, Execration, OG and MVP.Phoenix have already been directly invited to the event. Team NP and compLexity, LGD.FY, IG.Vitality, Ad Finem, Virtus.Pro, Team Faceless and WarriorsGaming.Unity have all qualified.