AGES 2016 (ASEAN Games for Esports) – a regional tournament organized by Platinum Eden Sdn Bhd, in partnership with Esports Malaysia, the Malaysian Ministry of Youth and Sports, the Ministry of Communications and Multimedia, and the Ministry of Higher Education – has come under heavy backlash from Malaysian players after introducing a 60-minute time constraint rule for all games played in the qualifier stage.

UPDATE: Esports Malaysia has told DotaBlast that AGES 2016 is "endorsed and supported" by their association and that the event is organized by Platinum Eden Sdn Bhd – a private company from Malaysia, focused on commodity trading. The inquiries sent by DotaBlast through the contact form provided on ages.my have remained unanswered as of yet. However, the organizers posted a clarification on the AGES 2016 Facebook page, admitting that FACEIT do not have a time constraint rule in place on their platform and that the AGES qualifiers will not be hosted by FACEIT. According to their latest statement retrieved in full text below, the 60-minute time constraint rule will remain unaltered.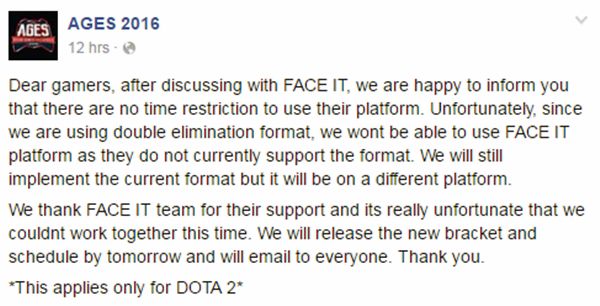 ORIGINAL TEXT:

According to the AGES 2016 Rules and Regulations, the qualifier games that are not completed in 60 minutes will be paused at the 60-minute mark and the winners will be determined by points earned for hero kills (5 points), towers destroyed (10 points), and barracks destroyed (15 points).


In an attempt to justify the measures, organizers have implied that the Dota 2 qualifiers will be hosted on the FACEIT platform, claiming that the unorthodox rule was prompted by time constraints required by FACEIT.


However, the Head of Games Department at FACEIT, Milos "Mikey" Nedeljkovic, has confirmed for DotaBlast that FACEIT does not have an automatic walkover rule in place and that games played on the platform are completed without any time constraints. Moreover, not only is FACEIT not involved in hosting the AGES 2016 tournament, but they had no knowledge of its existence.
FACEIT is not involved in hosting the online qualifiers for AGES 2016. As a matter of fact, we only found out about the tournament, after our friends from SEA notified us of this statement. Regarding the time constraint rule AGES organizers falsely claim FACEIT has in place: there is no such rule and everyone who has ever played on FACEIT knows that. People can play for as long as they want – one hour, two, three, 10 hours! However, we'd be grateful to players if they didn't drag games for more than 10 hours. We might run out of coffee supplies!
AGES 2016 was announced on February 4th. The tournament's main event was originally supposed to take place between March 18-20 in Kuala Lumpur, Malaysia, with a 1 million MYR (approximately $240,000) prize pool split among three games: Dota 2, Counter-Strike: Global Offensive and FIFA16.
Last month, the organizers postponed the event due to Internet troubles experienced by Telekom Malaysia, the country's largest Internet service provider. New dates for the main event have yet to be announced.
The online qualifying stage was extended to April 16 and 17. Registration is open on the tournament's website and costs 100RM (approximately $25) per team.